Battalion 1944: Release über Square Enix / Alpha im Mai
Das Entwickler Studio Bulkhead Interactive hat für den kommenden WW2 Shooter "Battalion 1944"  einen Publisher Deal mit Sqaure Enix abgeschlossen. Zudem soll eine Alpha im Mai an den Start gehen.
Mit Battalion 1944 erwartet euch ein WW2 Shooter auf Basis der Unreal Engine 4. Als Vorbilder für den Titel dienten dabei Shooter wie Call of Duty 2 und Medal of Honor. In einem aktuellen Blog-Eintrag sprachen die Entwickler über den aktuellen Stand ihres des Shooters. Daraus geht hervor das eine Alpha Testphase bereits im Mai diesen Jahres starten soll. Darüber hinaus kündigten Bulkhead Interactive den Zusammenschluss mit Square Enix Collective für dessen Veröffentlichung an. Battalion 1944 wird auf PC, Xbox One und Playstation 4 erscheinen.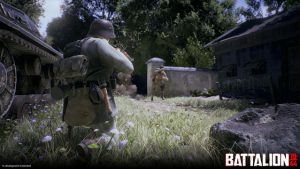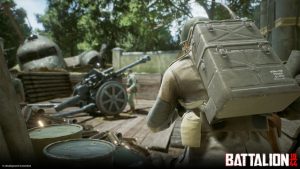 Reval Trailer, die arbeiten mit Square Enix und GDC 2017
Bereits im vergangenen Jahr veröffentlichten Bulkhead Interactive gemeinsam mit Square Enix ihr erstes Spiel "The Turning Test" auf Xbox One, Playstation 4 und PC. Wie das Entwicklerstudio mitteilte, erhielten sie für die Veröffentlichung von Battalion 1944 einige großartige Angebote, jedoch stach Square Enix hervor. Nachdem die Kickstarter Kampagne des Spiles nicht alle Streach Goals erreichen konnte, sind die Entwickler nun froh darüber, mit Square Enix einen starken Partner zu erhalten, der ihnen möglich macht, das beste aus dem Spiel heraus zu holen. Der Publisher verfügt über die selben Kontakte und Vermarktungspartner, die Activision für ihr Franchise Call of Duty und DICE für Battlefield nutzen.  Auf der GDC konnten die Entwickler zudem neue Kontakte knüpfen, die ihnen dabei helfen, den Shooter weiter zu optimieren. Zudem teilte man mit, das ein Ankündigungs Trailer zu Battalion 1944 schon in kürze veröffentlicht werdn soll.
Multiplayer Karten inspieriert von echten Locations
Auch das Map Design macht gute Fortschritte. Viele Locations wurden bereits ausgesucht und befinden sich im Redering Prozess. Weiter erklärte das Studio, dass die Multiplayer Karten nicht nach wirklichen Schauplätzen bennenen möchte. Sie sind lediglich von diesen Inspiert. Dadurch möchte man verhindern, das Kreative Barrieren das Gameplay beeinflussen können. Gameplay steht für die Entwickler an erster Stelle. Weiter betonten sie, dass alle Level sich anfühlen und aussehen wie echte Weltkriegsschaupätze. Darüber Hinaus bieten sie weiter eine Competive WW2-Shooter Erfahrung.
Hier geht's zum VLOG:
VLOG_009: Battalion Publisher Announcement & First Screenshots Revealed!