Games with Gold – Juli 2017 – Kane & Lynch 2 – Uncut Fassung herunterladen
In diesem Monat erhalten alle Xbox Live Gold-Mitglieder wieder vier gratis Spiele. Mit dabei ist für die Xbox 360 der Titel "Kane & Lynch 2: Dog Days". Dieser wurde in Deutschland jedoch nur zensiert veröffentlicht. Nachfolgend erklären wir euch, wie ihr das Spiel ungeschnitten laden könnt.
Am einfachsten haben es hierbei die Spieler auf der Xbox One. Die Lizenz der Download Version ist in diesem Fall Marktplatz-Übergreifend (siehe Bilder). Daher könnt ihr einfach nach dem Erwerb in Deutschland an eurer Konsole die Region wechseln, indem ihr England oder ein anderes Land außerhalb Deutschlands einstellt, und erhaltet Zugriff auf die unzensierte Fassung des Spiels. Navigiert hierzu auf: Einstellungen -> System -> Sprache & Ort und stellt den Ort auf Österreich, Schweiz oder England. Dann könnt ihr die PEGI Version von "Kane & Lynch 2: Dog Days" auf eure Xbox One herunterladen.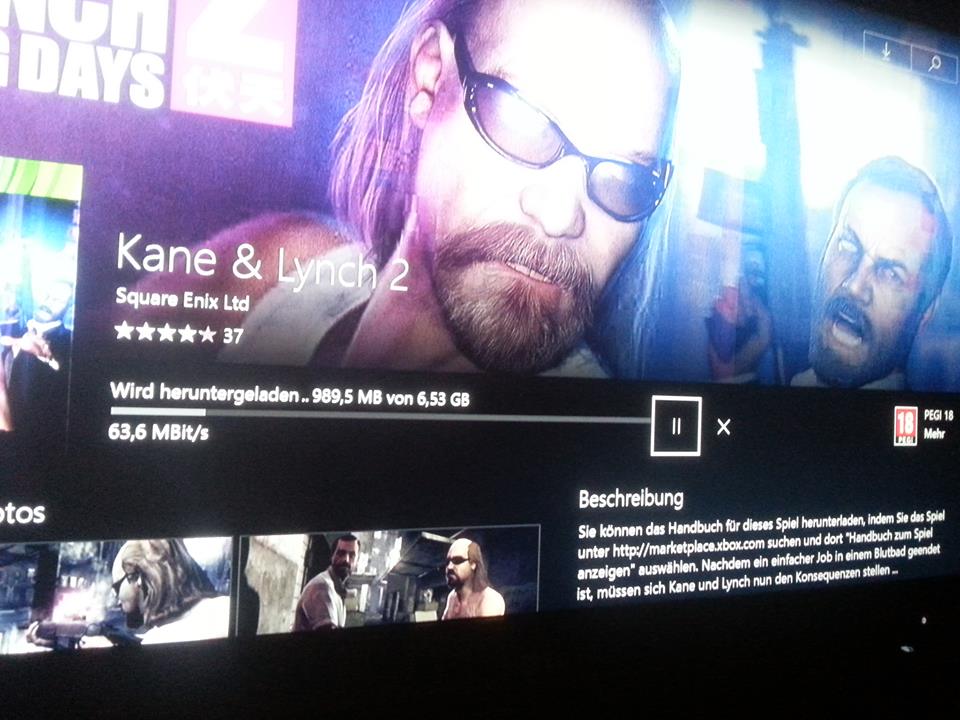 Marktplatz übergreifende Lizenzen
Xbox 360 nur mit VPN
Solltet ihr nur die Xbox 360 besitzen, so müsst ihr zum Download eine VPN Verbindung einrichten. Zunächst müsst ihr jedoch über die Website Xbox.com eure Region wechseln. HINWEIS: Ihr solltet dabei beachten, das der Wechsel der Region dort nur alle drei Monate möglich ist. Somit könntet ihr im Falle unterschiedlicher Angebote der Gold Games oder Deals with Gold der kommenden Monate keine deutschen Angebote bis zum nächstmöglichen Wechsel mehr erwerben. Daher solltet ihr euch wirklich sicher sein.
Um eure Xbox 360 via VPN zu verbinden, solltet ihr über einen Laptop oder PC mit zwei Netzwerkkarten, oder wahlweise einer Netzwerkkarte und W-LAN Stick etc, verfügen. Verbindet eure Xbox 360 via Kabel mit der Netzwerkkarte des PC's und den PC via W-LAN oder der zweiten Netzwerkkarte mit eurem Modem/ Router. Aktiviert die VPN Verbindung am PC/ Laptop und stellt bei der Xbox 360 die IP Adresse ein.
Hier findet ihr eine Anleitung
Infos über Zensur von Kane & Lynch 2
In der deustchen Version fehlen:
Ragdoll-Effekte: Nur in der unzensierten Version lassen sich tote Charaktere mit Waffengewalt bewegen.
Tote Zivilisten: In der dt. Version kann der Spieler nicht mehr auf Zivilisten schießen.
Verwundete Feinde: Ab und an gehen Feinde "nur" schwer verletzt zu Boden. In der dt. sowie in der unzensierten Version wird ihr dahinscheiden mit einer Animation dargestellt. In der unzensierten Version lässt sich der Vorgang einfach beschleunigen,da der Spieler den verletzten Gegner erschießen kann. In der dt. Version ist dies nicht möglich.
Weitere Infos zu den Kürzungen findet ihr auf schnittberichte.com