Wolfenstein II – Die Freiheitschroniken-Season Pass & Vorbestellung
Bethesda kündigte heute einen Season Pass für "Wolfenstein II – The New Colossus" an. Nachfolgend erfahrt ihr mehr zu den Inhalten der "Freiheitschroniken". Zudem wurde ein neuer Trailer veröffentlicht.
Es ist wieder Zeit, den Baum der Freiheit mit dem Blut von Patrioten und Tyrannen zu gießen. Das Regime hält die Welt in seinem eisernen Griff. Und während B.J. Blazkowicz eine neue Revolution in Amerika anzettelt, bekämpfen andere Freiheitskämpfer das Regime an ihren eigenen Fronten. Bald könnt ihr in die Schuhe eines ehemaligen Footballspielers, einer Assassine und eines Army-Captains schlüpfen, um in Wolfenstein II: Die Freiheitschroniken Amerikas Seele zu retten. Die Freiheitschroniken enthalten drei DLC-Pakete mit drei beeindruckenden Helden in den Hauptrollen:
Die Abenteuer des Revolverhelden Joe – Als ehemaliger Profi-Quarterback Joseph Stallion pflügt ihr durch die Reihen der Regimesoldaten – von den Ruinen Chicagos bis hin zu den Weiten des Weltalls!
Die Tagebücher von Agentin Stiller Tod – Als ehemalige Geheimagentin Jessica Valiant infiltriert ihr Regimebunker in Kalifornien und lüftet das Geheimnis von Operation San Andreas!
Die unglaublichen Taten von Captain Wilkins – Als US-Army-Held Captain Gerald Wilkins unterbindet ihr die Operation "Schwarze Sonne" in Alaska!
Alle drei DLC-Pakete sind als Teil des Die Freiheitschroniken-Season Pass erhältlich, der für 24,99 € erhältlich ist. In Kürze sollen weitere Informationen, darunter Veröffentlichungsdaten und Einzelheiten zum Gameplay enthüllt werden.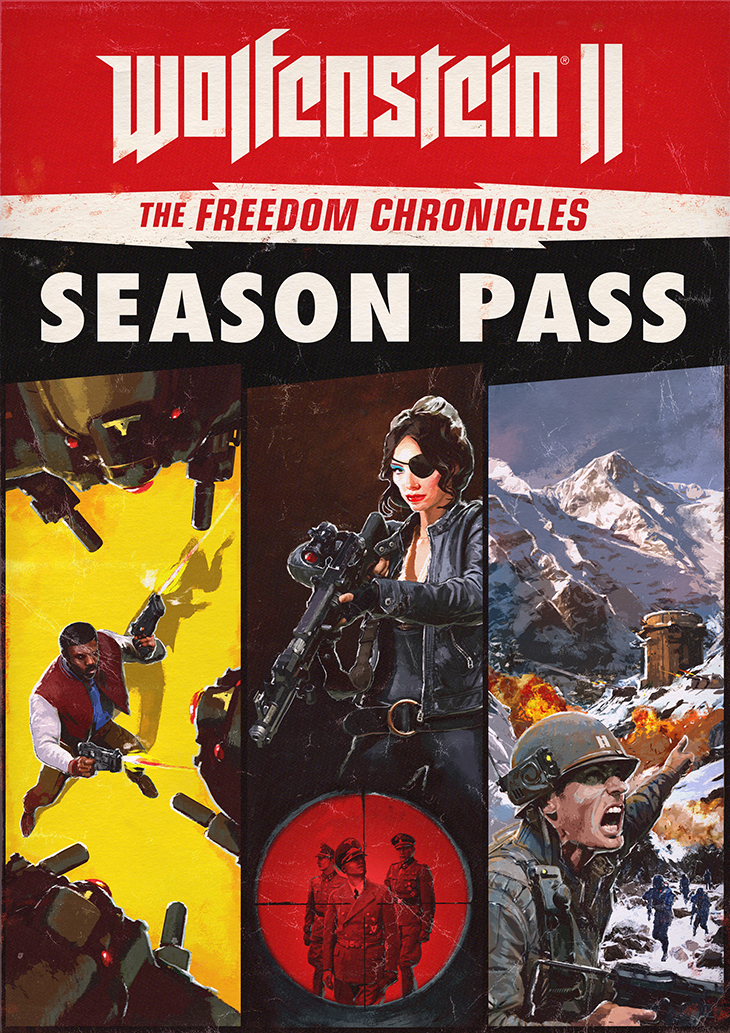 Vorbesteller Bonus
Die Freiheitschroniken: Episode Null
Für die Helden der Freiheitschroniken beginnt alles mit Episode Null. Diese stellt Joseph Stallion, Jessica Valiant und Gerald Wilkins und ihren Kampf in Amerika vor. Setzt in der Mission dieses ersten DLCs ihre einzigartigen Fähigkeiten und ihre Waffensammlung gezielt ein, um euch durch die Reihen des Regimes zu kämpfen.
Episode Null ist ein besonderer Bonus für Vorbesteller von Wolfenstein II: The New Colossus.
(Hinweis: Episode Null ist auch im Season Pass enthalten.)
Erdbeermilch Trailer
Wolfenstein II: The New Colossus – Erdbeermilch