CoD: WW2 – Resistance Event angekündigt; Infos & Trailer
Passend zum Launch der ersten Erweiterung "Widerstand" für "Call of Duty: WWII" kündigte SHG heute ein neues Community Event an. Zwar wird der DLC zunächst am 30. Januar 2018 zeitexklusiv für Playstation 4 erscheinen, das Event jedoch wird auf allen Plattformen an den Start gehen.
Im Rahmen des Events erwarten euch:
Die Rückkehr von Cap. Butcher im HQ
Neue Waffen
Neue Modi "Demolition" + "Prop Hunt"
Neue Resistance-Ausrüstung
Doppel-XP-Playlisten
Die Resistance Division
+ mehr
Das Event startet am 23. Januar 2018 und endet am 27. Februar 2018.
Featured Playlists / Spiemodes:
Woche: 23. Januar – 29. Januar : Demolition mit 2XP
Woche: 30. Januar  – 5. Feburar : Keine  Featured Playlist
Woche: 6. Februar –  12. Februar : Prop Hunt 24/7
Woche: 13. Februar – 19. Februar : Waffenspiel mit (2XP, 2X Waffen XP, 2X Division XP)
Woche: 20. Febraur – 27. Februar: Prop Hunt mit 2XP & Bomb Mosh Pit (Demolition und S&D) mit 2XP
Official Call of Duty®: WWII – The Resistance Event Trailer
Die neue Division bietet folgende Freischaltungen:
Pistol Tactical Knife
Störung der Mini-map von Feinden in der Nähe
Zusätzliches Attachment für Pistole
Zeigt Richtung nahe gelegener Gegener auf der Mini-map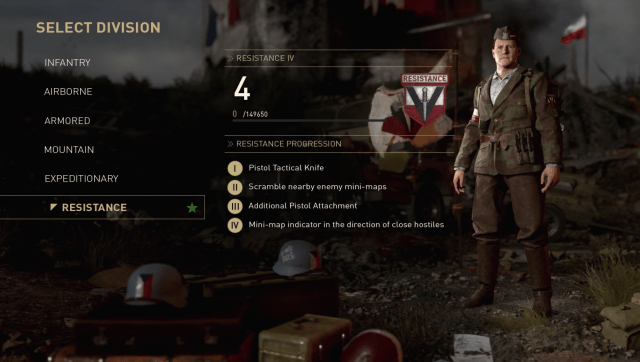 Die neuen Waffen:
Strumgewehr: Volkssturmgewehr
SMG: Orso
Nahkampf: Combat Knife.
Neue Gear Sets: