Far Cry 5: Season Pass Inhalte vorgestellt; Zombie Mode, Far Cry 3 & mehr
Ubisoft® gab heute den Inhalt des Far Cry® 5 Season Pass bekannt, der in der Far Cry 5 Gold Edition enthalten oder für PlayStation® 4, Xbox One und PC separat erhältlich ist. Nach der Veröffentlichung von Far Cry 5 am 27. März wird der Season Pass noch weitere Erlebnisse mit dem einzigartigen Far Cry-Twist mitbringen, der die Spieler zu verblüffenden Abenteuern mit drei ungewöhnlichen Szenarien führt:
Hours of Darkness: Die Spieler reisen in die Vergangenheit und kämpfen im Vietnamkrieg gegen Guerillasoldaten
Dead Living Zombies: Die Spieler stellen sich Horden von Zombies in zahlreichen B-Movie-Szenarien
Lost on Mars: Die Spieler verlassen die Erde und stellen sich marsianischen Arachnoiden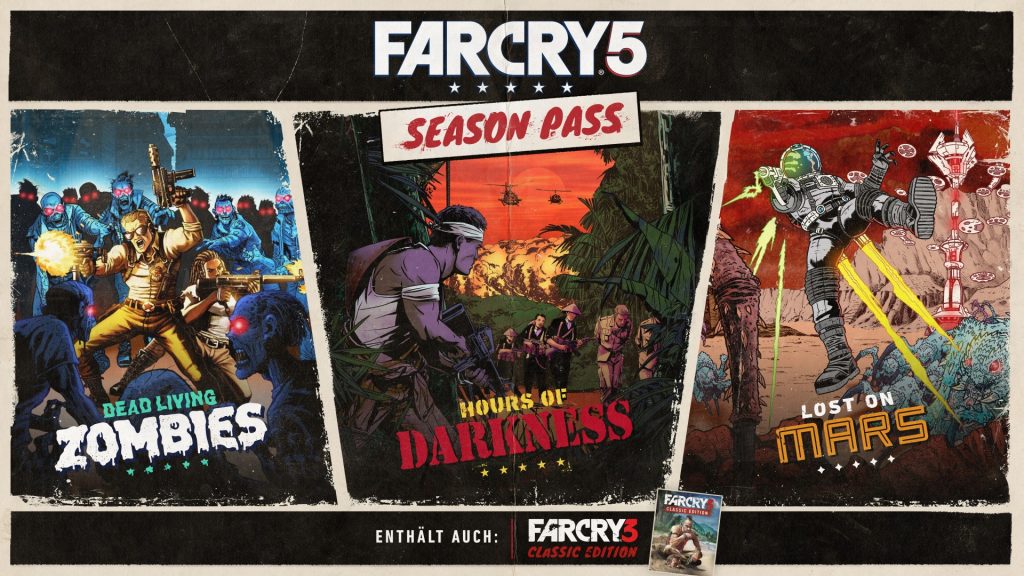 Far Cry 5 – Story-Trailer | Ubisoft [DE]
Far Cry 3 als Bonus
Jeder Besitzer des Far Cry 5-Season Pass für Konsolen bekommt mit der Far Cry 3® Classic Edition einen weiteren, von Kritikern gefeierten Far Cry-Ableger. Dieser wird für die Besitzer des Season Pass vier Wochen vor dem offiziellen Verkauf als Einzelangebot im Sommer 2018 auf PlayStation® 4 und Xbox One verfügbar sein. Fans und Neulinge der Serie lässt Far Cry 3® Classic Edition nach Rook Island zurückkehren, wo sie auf den berüchtigten Schurken Vaas treffen, der von Michael Mando verkörpert wird. Sie entdecken als Jason Brody die tropische Insel und versuchen ihre gefangenen Freunde zu finden und zu retten. PC-Spieler, die den Season Pass oder die Far Cry 5 Gold Edition be sitzen, erhalten die Vollversion von Far Cry 3®.
Far Cry 3 Classic Edition: Ankündigungs-Trailer | Ubisoft [DE]