Rainbow Six Siege: Operation Chimera – Patch Notes deutsch
Ubisoft hat heute die Patch Notes zu Operation Chimera bereitgestellt. Der neue DLC wird ab dem 19. Februar auf den Technischen Testservern und am 6. März auf allen Plattformen verfügbar sein. Outbreak wird am 20. Februar auf den Technischen Testservern von Operation Chimera auf PC spielbar sein. Im Anschluss daran wird es vom 6. März bis einschließlich 3. April auf allen Plattformen verfügbar sein.
2 Neue Operator
In Operation Chimera stoßen zwei neue Operator zum Rainbow-Team, um bei der Bekämpfung einer mysteriösen Parasiteninfektion zu helfen, die eine Kleinstadt in New Mexico befallen hat. Um die Sicherheit des Gebiets zu gewährleisten, hat Six die fähigsten Bio-Gefahrenspezialisten der Welt ausgesucht: Lion und Finka.
Lion aus Frankreich und Finka aus Russland sind Operator, die auf den Einsatz in Krisengebieten spezialisiert sind und Erfahrung in zahlreichen Konflikten mit biochemischen Bedrohungen gesammelt haben. Sie treten dem Rainbow-Team bei, um eine CBRN-Gefahreneinheit zu bilden, die über die taktische Ausrüstung und Expertise verfügt, die biologische Gefahren erfordern.
3 Neue Ko-Op Karten
RESORT
In Resort werdet ihr für eine Angriffsoperation auf den Straßen von Truth or Consequences abgesetzt. Ihr müsst euch Zugang zu einem in die Jahre gekommenen und von Feinden überlaufenen Resort verschaffen. Unseren Informationen zufolge baut der Parasit eine Brutstätte. Findet einen Weg durch tückische Spalten, kitschige Einrichtung und feindselige Urlauber.
KRANKENHAUS
Das Krankenhaus bietet eine ausgefallene Operation zur Geiselrettung tief im Infizierten-Gebiet. Die düsteren und schmalen Korridore schaffen optimale Voraussetzungen für Nahkampftaktiken. Aber das Risiko ist es wert. Die Ärztin, die im Krankenhaus festsitzt, könnte der Schlüssel zur Herstellung eines Heilmittels sein.
SCHROTTPLATZ
Die neuesten Informationen weisen auf ein privates Grundstück in den Außenbezirken von Truth or Consequences hin. Der Schrottplatz bietet ein offenes Setting im Freien mit einzigartigen Hindernissen, durch die ihr und euer Team wie auf dem Präsentierteller sitzt. Haltet den Wellen von Feinden stand, die das Zentrum dieser Infektion verteidigen.
Outbreak Event
Dieses Mal begegnet Team Rainbow eine völlig andere Bedrohung: Ein Befall unbekannten Ursprungs bedroht die Kleinstadt Truth or Consequences in New Mexiko. Die Gefahr ist so groß, dass die Behörden die gesamte Stadt unter Quarantäne gesetzt haben und dabei Zivilisten und Soldaten im Innern einschlossen. In Outbreak müsst ihr euch der Herausforderung stellen. Geht in die Offensive und begebt euch in die Quarantänezone, um die Infektion an der Ausbreitung in ganz Nordamerika zu hindern. Erkundet mit eurem Trupp unsere drei neuen Karten, überlebt die feindlichen Horden und findet den Ursprung dieses Parasiten.
Dieses zeitlich begrenzte Koop-Event für bis zu drei Spieler ist für alle Besitzer von Rainbow Six Siege kostenlos. In diesem Event gibt es außerdem exklusive Kopfbedeckungen, Uniformen, Waffen-Designs und Talismane, um die Operator von Rainbow Six individuell anzupassen. In Outbreak trefft ihr auf fünf verschiedene Arten von infizierten. Mehr zu diesen erfahrt ihr in den vorherigen News.
Operator-Ausgewogenheit
ELA
Mit weiteren wesentlichen Änderungen wollen wir in dieser Saison auf den bisherigen Anpassungen für Ela aufbauen. Sie ist noch immer zu mächtig und wird – logischerweise – viel zu oft ausgewählt. Das liegt im Wesentlichen daran, dass ihre MP immer noch zu stark ist. Daher nehmen wir die folgenden Änderungen vor:
Stärkerer Rückstoß
Der Rückstoß wird jetzt schwieriger zu kontrollieren sein. Die Kamera verzieht mehr und der maximale Rückstoß (maximale Rautengröße) ist höher.
Verringerter Schaden
Der Schaden wird von 28 auf 23 reduziert, um der hohen Feuerrate besser Rechnung zu tragen.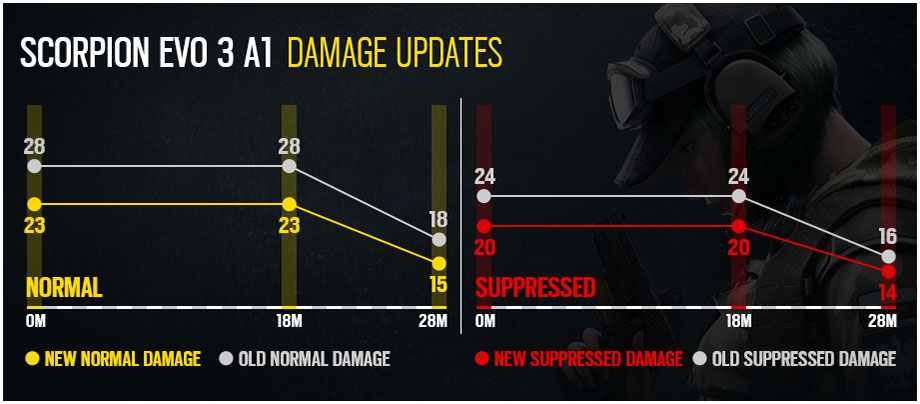 Das Ziel ist, dass sie effizient bleibt, wenn sie auf kurze Distanz von Gegnern bedrängt wird, aber auch einen klaren Nachteil hat, wenn sie es auf mittlere oder große Entfernung mit Sturmgewehren mit ACOG-Visier zu tun bekommt.
Ausrüstungsänderung
Ein mobiler Schild ersetzt ihre Kontaktgranaten. Wie viele von euch erkannt haben, war sie zu gut darin, alle Patrouillenaufgaben selbst zu erledigen: Sie bereitete Wanddurchgänge vor, wurde von Sprengminen gewarnt und eliminierte natürlich Feinde mit ihrer MP.
Durch diese Änderung an ihrer Ausrüstung wird sie gezwungen, sich für Wanddurchgänge auf ihre Teammitglieder zu verlassen oder eine Schrotflinte zu wählen, wenn sie sie selber setzen möchte.
KAPKAN
Kontaktgranaten ersetzen Kapkans Stacheldraht. Er hat in der Vorbereitungsphase bereits genug, als das er noch weitere Fallen aufstellen könnte – Kontaktgranaten für schnelleren Zugang eignen sich besser für seinen Spielstil.
BLITZ
Der Operator Blitz hat trainiert und bietet jetzt eine Geschwindigkeit von 2 und eine Rüstungsstärke von 2.
Die frühe Anpassung an Blitz, durch die er beim Halten seines Schilds sprinten konnte, hatte einen positiven Einfluss auf seine Beliebtheit, aber noch steht er weit unten auf der Skala. Wir finden, dass eine Erhöhung seiner Geschwindigkeit der nächste logische Schritt ist, um ihn beliebter zu machen. So kann er Entfernungen schneller überwinden und im Nahkampf mit isolierten Verteidigern zeigen, was er kann.
Allgemeine Anpassungen & Verbesserungen
Gesundheit des Spiels
Rotations-Desynchronisation bei außer Gefecht gesetzten Spielern
In einigen Fällen hat der Server Schüsse auf Spieler im Zustand "Am Boden" nicht akzeptiert. Das lag an einer Asynchronität mit dem Spielserver. Nachdem ein Gegner außer Gefecht gesetzt wurde, sah man, wie er sich in eine Richtung drehte, während seine Bewegung auf dem Server eine ganz andere war. Deswegen wurden Schüsse auf Ziele am Boden manchmal nicht registriert.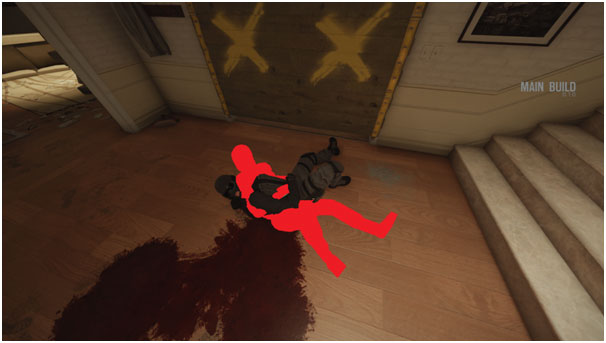 Das Bild oben zeigt den Unterschied zwischen dem, was der Spieler sieht, und dem, was auf dem Server geschieht (in Rot). Wir haben uns dieser Asynchronität angenommen und eure Schüsse sollten am Boden liegende Gegner jetzt akkurat treffen.
Spielerkomfort
Änderungen beim Nachladen
Änderungen beim Timing der Munitionsaktualisierung
Beim Nachladen einer Waffe gibt es immer einen Zeitpunkt in der Animation, an dem eure Munitionsanzeige aktualisiert wird. Wir haben den Zeitpunkt dieses "Schlüssel"-Moments in der Animation überarbeitet. Alle Munitionsaktualisierungen gehen jetzt schneller vonstatten. Sie wurden sinnvoll an ihre Animationen angepasst. Das Nachladen sollte somit wesentlich komfortabler ablaufen.
Unterbrechen des taktischen Nachladens durch die Visier-Ansicht
Ihr könnt ein taktisches Nachladen (Nachladen bei verbleibender Kugel in der Kammer) jetzt unterbrechen, indem ihr durch das Visier zielt. Zuvor war dies nur durch Sprinten möglich, doch wenn ihr jetzt beim Nachladen überrascht werdet und schießen wollt, braucht ihr nur euer Visier zu benutzen und eure verbleibenden Kugeln abzufeuern.
Nachlade-Wiedereinstiegspunkte
Fehlende Nachlade-Wiedereinstiegspunkte für alle Waffen wurden hinzugefügt. Wenn ihr einen kompletten Nachladevorgang unterbrecht und bereits bestimmte Schritte ausgeführt habt (z. B. das Entfernen des leeren Magazins), werdet ihr diese Schritte nicht wiederholen, wenn ihr die Nachladeanimation fortsetzt.
Rohdateneingabe auf PC
Wir bauen eine neue Eingabemethode für den PC ein. Diese Rohdaten-Eingabemethode liest die Maus-/Tastaturwerte direkt aus der Hardware, ohne jegliche Nachbearbeitung. Dadurch könnte die Reaktionszeit von Maus und Tastatur bei Vollauslastung leicht verbessert werden. Diese Option findet man unter Steuerung > Rohdateneingabe.
Spiellisten-Änderungen
Aktualisierung der Locker-Spielliste
Wir entfernen "Bartlett University" aus der Locker-Spielliste und fügen "Jacht" wieder hinzu.
Die "Mit Rang"-Spielliste bleibt unverändert.
Ausgewogenheit des Spiels
Laufen über mobile Schilde
Es ist nicht mehr möglich, über mobile Schilde zu laufen. Sobald ein Operator auf einem Schild läuft, fällt dieser Schild in sich zusammen (wird also zerstört) und wird in das Inventar des Verteidigers zurückgelegt, der ihn platziert hat. Das verhindert Fehlerausnutzungen durch Laufen über einen Schild.
Nahkampf-Treffervalidierung
Während der letzten Saison haben wir euer Feedback zu Treffervalidierung im Allgemeinen und Nahkampf-Treffervalidierung im Speziellen gesammelt. Viele von euch haben beschrieben, wie ihr euch Gegnern von hinten oder von der Flanke aus nähert, einen eindeutigen Treffer mit dem Messer landet, den Soundeffekt hört, aber keine Eliminierung erhaltet. Uns ist klar, wie frustrierend das sein kann, deshalb haben wir in Patch 3.1 einige Anpassungen und Änderungen eingeführt, um Nahkampfangriffe zuverlässiger zu machen. Wir freuen uns schon auf euer Feedback!
Main bug fixes
(Die Übersetzung für den unten stehenden Text wird in den nächsten Tagen folgen. Vielen dank für euer Verständnis.)
Gameplay
Fixed – The gadget crosshair will persist after switching to drone toss.
Fixed – It is possible to hear Mute's jammer even when standing very far away from it.
Fixed – The barbwires' slow down effect is still ongoing even after the player is no longer into the barbwire's effective range, or when the barbwire is destroyed.
Fixed – Resetting animation when switching views between one player standing up and one crouch.
Fixed – Rubberbanding can happen after detaching from rappelling.
Fixed – After scanning enemies, the distance to them might not be shown.
Fixed – A player will not take damage when spamming crouch.
Fixed – When the drone owner dies while controlling his drone, others can't rotate the camera view of the dead player's drone.
Fixed – Following certain steps, it's possible to have some gadgets out in a stance you normally can't.
Fixed – When the player interrupts the reload animation of the LFP586 revolver by switching weapons, then switches back to LFP586 and reloads again, there will be no new rounds loaded.
Fixed – Operator's body rotation is not replicated correctly when vaulting.
Fixed – Moving once you hit the ground after entering a window in rappel will lock the character's movement for a couple of seconds.
Fixed – Operators can teleport if they remove a breaching charge while ending the rappel animation.
Fixed – The "American Anarchy" headgear's hairstyle slightly extends the hitbox upwards.
Fixed – When friendly fire is off, drones don't get destroyed by going out of bounds.
Fixed – Players randomly die by falling during Multiplayer sessions.
Operators
Bandit
Fixed – The shock battery disappears when the barbwire it is placed on is destroyed.
Blitz
Fixed – Blitz's first person animation is faster than third person animation when equipping his shield from the back.
Doc
Fixed – Stim Pistol's reticule turns blue when aiming at an attacker.
Fixed – Doc is able to sprint and use his stim pistol without slowing down.
Echo
Fixed – Yokai drone can be placed in a door/window frame in a way that a barricade placed over, allows it to see and fire on both sides.
Fixed – HUD will display "Kill assist" when a teammate kills a stunned player but will not count on the scoreboard.
Ela
Fixed – The Grzmot mine can be deployed between wall panels causing the tip of the gadget to clip through the wall.
Fixed – The laser under barrel is applied to the other side of the weapon in preview.
Fuze
Fixed – The character can freeze while deploying the gadget from rappelling position.
Hibana
Fixed – Pellets stick incorrectly in the corner of some trapdoors.
Fixed – When shooting at least two times before detonating, X-Kairos do not produce any sound in third person.
IQ
Fixed – Deploying IQ's gadget and entering Observation Mode at the same time causes the gadget to become opaque.
Jäger
Fixed – Jäger's gadget floats in the air when placed in certain locations.
Fixed – Jäger's gadget clips through the wall when placed in certain locations.
Lesion
Fixed – The laser under barrel is applied to the other side of the weapon in preview.
Montagne
Fixed – Following certain steps, it is possible to have Montagne's shield up while rappelling.
Tachanka
Fixed – Tachanka's LMG shields are inconsistent, players can get shot through them in some instances.
Vigil
Fixed – Vigil's ERC-7 is deactivated when climbing or descending ladders.
Fixed – The laser under barrel is applied to the other side of the weapon in preview.
Ying
Fixed – The character can freeze while deploying the gadget from rappelling position.
Game modes
Multiplayer
Fixed – The play ranked button can be selected for a second after a user below clearance level 20 joins the squad.
Fixed – In some instances, squads of two can split when matchmaking, forcing both players to play against each other.
Fixed – A squad is able to join a Ranked match even if there is one squad member below level 20.
Fixed – Sometimes a squad of 2+ can be split when trying to join a casual or ranked match.
Custom Game
Fixed – Users are able to create Player Hosted Custom Online Games.
Level design
All maps
Fixed – When entering from rappel while breaching a window, the character animation will remain stuck looking up.
Fixed – Operators fall through the map when spawning.
Fixed – Rappelling while falling will make the character fall out of the map.
Fixed – Long rifle weapons can clip through walls.
Fixed – Players are able to land on window sills to spawn kill.
Bank
Fixed – A small gap in 1F Staff room reveals a spot in EXT Terrace.
Fixed – Attackers can place a drone inside the ceiling in B Server Room allowing them to see all of the basement area.
Fixed – Valkyrie can place a Black Eye inside the ceiling of B sever room.
Bartlett University
Fixed – Defenders are able to spawn kill attackers from 2F Classroom.
Fixed – Ela's concussion mines are very difficult to pick up when place in the boat model.
Chalet
Fixed – Great room can be seen through a gap in the floor on 2F bedrooms hallway.
Fixed – There is a gap at the doorway located at 2F Office area allowing to see the EXT Backyard Patio and 1F Great Room area.
Fixed – Players can place drones inside the walls of Chalet from 2F office balcony.
Fixed – The red wall does not cover the full Kitchen window, which allows Echo to throw his drone outside during Preparation Phase.
Fixed – Players can push teammates out or into geometry with the use of reinforcements in Kitchen.
Clubhouse
Fixed – Jäger gets stuck in 2F Logistic Office's bookcase after placing the ADS on the second shelf.
Fixed – The player is stuck under the table at 1F Bar when trying to get out from under it.
Coastline
Fixed – Jäger can clip through a wall after placing his ADS in a specific spot of the 2F Penthouse area.
Fixed – Players can get onto the purple tarps in EXT Pool by walking along the pool's glass border.
Fixed – When shot from the rooftop, Hibana pellets will not stick to the destructible wall from 1F Blue Bar area.
Consulate
Fixed – It's possible to melee through reinforced walls when doing a rappel enter in 2F Exit Stairs.
Fixed – Defenders can spawn kill attackers near Riot Barricade from 2F Administration Office.
Fixed – One Way Mirror can be deployed on the opposite side of the reinforcement in 2F Break Room.
Favela
Fixed – Attackers are killed if they enter rappel on the wall near to the EXT Courtyard metal platform while sliding off the platform.
Hereford Base
Fixed – In Terrorist Hunt, a player can spawn inside another when choosing EXT Shooting Range as spawn location.
Fixed – Defenders can have a one-way view outside from 2F laundry room.
Fixed – Valkyrie's camera becomes invisible if thrown on an iron frame between B Corridor and B Armory.
Fixed – Textures between reinforceable and indestructible walls allow bullets to pass through.
House
Fixed – Attackers near EXT Construction Site can be spawn killed by defenders from the window at 2F Upper Hallway.
Fixed – The Defuser can be planted between pillows and cannot be detected by defenders.
Kafe
Fixed – Inconsistent deployment of Active Defence System on walls with a lower wood panel.
Kanal
Fixed – A small gap in indestructible window allows players to see outside.
Oregon
Fixed – Some collisions with barbed wires and Grzmot mines are inconsistent.
Fixed – There is a space between the window frame and the wall at EXT Junkyard that allows the player to see inside the building.
Fixed – It is possible to shoot through textures from 1F Meeting Hall inside the B Supply Closet.
Plane
Fixed – Drone can be placed inside walls of Plane from 3F cockpit stairs.
Fixed – Destroying South side of 2F Meeting room ceiling reveals a gap that exposes attackers coming in from EXT Caterer.
Fixed – Drone can be placed inside the plane ceilings from EXT Caterer.
Skyscraper
Fixed – Players can vault on the wooden beam on 2F Work Office using a deployable shield.
Fixed – It's possible to shoot from 1F Bathroom to 1F bedroom through the indestructible cabinet.
Fixed – Operators are able to clip through the stairs when prone and moving.
Fixed – The wood blinds in the windows block bullets completely until broken.
Fixed – Skyscraper map name is not in capital letters as the rest of the maps list in PVP & PVE map preferences.
Theme Park
Fixed – Players can clip through the unbreakable wall between 2F Office and 2F Rail Corridor.
Fixed – A Black mirror cannot be placed next to another one when a reinforcement is placed on wall of 2F Daycare.
Fixed – Kapkan's EDD is sometimes destroyed when breaking a barricade.
Tower
Fixed – There is a gap in the wall that allows the player to see through it with a drone at 2F Exhibit Hallway.
Fixed – The glass in 1F West Balcony facing the west side is indestructible.
Fixed – It is possible to walk in the air in some areas of the map.
Fixed – The lights on the side of the tower can block the attacker's rappel trajectory.
Fixed – Users may experience FPS drops when shooting a specific screen at 1F West Observatory.
Yacht
Fixed – Characters can clip through the stairs when prone and moving.
User experience
Fixed – Spawn Locations are missing in the waiting screen of the Preparation Phase when Attacker Unique Spawn match setting is activated.
Fixed – Killer's pawn orientation is sideways during the death cam zoom in.
Fixed – "This weapon skin is available for" section can only display up to 4 operator icons when unlocking weapon-specific weapon skins in an Alpha Pack.
Fixed – Placing gadgets such as breach charges on exterior small barricades will show no prompt for removing the gadget.
Fixed – The Dialog Volume affects environmental sounds, especially footsteps.
Fixed – The exterior part of the tactical map is missing in the spawn selection menu.
Fixed – There's no visual indicator for muted players.
Fixed – Sometimes hovering over a bundle in the shop will not show its description.
Fixed – There is no username voice chat display when a squad member speaks in the menu.
Fixed – Players are not notified to collect reward from a completed Ubisoft Club Challenge.
Fixed – Voice chat cuts off in MVP screen.
Fixed – No scoreboard is displayed at the end of the game.
Fixed – After collecting rewards from a Ubisoft Club challenge, in-game challenge tab won't update.
Fixed – Renown-counting sound is still playing in transition if the player quits the match.
Fixed – When a player loses connection, the message displayed is "spectator, GAMESERVER, has left the game".
Fixed – Player will remain with the shield while spectating in drone.
Fixed – Caster and Spectator have a team chat.
Fixed – The concussion effects of mines and Echo's drone are shown on the caster camera.