Battlefield 2018: DICE kündigt baldige Trailer Premiere an
Der Senior Video & Media Director Randy Evans kündigte via Twitter eine baldige Premiere des Reveal Trailers für Battlefield 2018 an. Erste Gerüchte, basierend auf den Aussagen des Branchen Insiders und Youtubers "AlmightyDaq" soll euch der diesjährige Ableger in ein Szenario im Zweiten Weltkrieg verfrachten. In der Vergangenheit trat der Youtuber bereits mit Leaks zu "Battlefield 1" in Erscheinung, die sich als zutreffend herausgestellt haben.
Battlefield 2018 reveal trailer is underway.

— Randy Evans (@killat0n_) February 24, 2018
Auch ein Artwork im Portfolio des ehemaligen DICE Mitarbeiters "Peter Olofsson Hermanrud" deutet auf ein Setting im Zweiten Weltkrieg hin. Es zeigt die sowjetische Maschinenpistole "PPSh-41", welche während dieser Zeit zum Einsatz kam.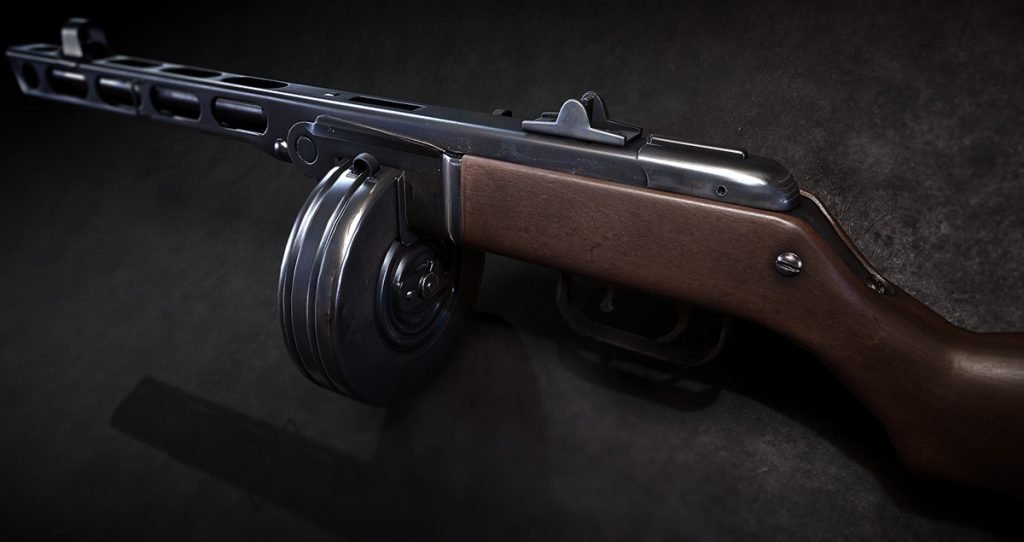 Wenn sich die Aussagen des Youtubers bewahrheiten, dann wird Battlefield 2018 folgendes bieten:

Singleplayer:
Die Geschichte wird aus den unterschiedlichen Perspektiven amerikanischer Soldaten erzählt. Während des Verlaufs der Kampagne sollen die Storylines zusammen laufen.
Euch erwartet in der Kampagne ein Mix aus den "Battlefield 1" Kriegsgeschichten und einer Erzählung im Stil von "Band of Brothers" und "Call of Duty: WW2".
Gameplay:
Das Gameplay (Bewegungssystem, Waffenhandhabung, Zerstörung etc.) soll sich grundlegend an Battlefield 1 orientieren. Darüber hinaus soll es auch viele Verbesserungen und Anpassungen geben.
Die Steuerung der Fahrzeuge wird Ähnlichkeit mit "Battlefield 4" und "Battlefield 1" aufweisen. Automatische Reparaturfunktionen soll es nicht geben. Zudem wird der Fahrer des Panzers auch die Kontrolle über das Hauptgeschütz haben.
Flugzeuge und Dogfights sollen eine wichtigere Rolle als in "Battlefield 1″spielen. Außerdem werden Behemoths zurückkehren.
Das Waffenarsenal soll sich ebenfalls an "Battlefield 1" orientieren. Unter anderem erwarten euch Prototypen, die zur Zeit des Zweiten Weltkrieges erst entwickelt, aber nicht eingesetzt wurden. Weiter heißt es, das DICE auf den Bajonett-Sturmangriff verzichten will, auch wenn diese an Waffen angebracht werden können.
Die Gewaltdarstellung ist vergleichbar mit "Battlefield 1".
Multiplayer:
Zu den spielbaren Fraktionen im Multiplayer-Part zählen zum Launch die USA, UdSSR, Deutschland und Japan. Insgesamt sollen 7 Nationen ins Spiel integriert werden. Frankreich, Italien und Großbritanien.
Die spielbaren Klassen sind Assault, Engineer, Support und Recon. Eine Medic Klasse soll es diesesmal nicht geben, die Sanitäter Funktion übernimmt die Assault-Klasse. DICE möchte zudem eine umfangreichere Anpassung der Soldaten bieten. Das Gesicht wird allerdings nicht anpassbar sein.
Auch die Individualisierung der Waffen soll umfangreicher als in "Battlefield 1" werden.
Die Loadout-Anpassungsoptionen lassen sich mit "Battlefield 4" vergleichen.
Wie in allen Vorherigen Teielen, werdet ihr bestimmte Waffen erst dann benutzen können, wenn ihr innerhalb der Fraktion die benötigte Stufe erreicht. Nach der Freischaltung einer fraktionsspezifischen Waffe, soll diese auch in anderen Fraktionen nutzbar sein.
Die Karten sollen sehr groß ausfallen. Eine optische Begrenzung wird es nicht geben. Zudem sollen die meisten Maps für den Conquest-Modus vorgesehen sein. Ebenfalls ist eine Rückkehr der Operationen vorgesehen. Zum Launch erwarten euch Mindestens zehn Karten inkl. Ostfront-Szenario.
Es soll weibliche Soldaten und Soldaten verschiedener ethnischer Gruppen geben.
DLC, Mikrotranaktionen:
Außerdem ist die Rede von DLCs und einem Premium-Pass. Dabei werdn wie üblich neue Karten und mehr geboten.
Mikrotransaktionen sollen aber nur kosmetischer Natur sein.