The Division: Year3 mit 2 Titel-Updates & mehr; Roadmap mit Terminen
Am Donnerstag bestätigte Ubisoft die Entwicklung von "The Division 2". Doch das bedeutet nicht, dass die Arbeit an "The Division 1" zu Ende ist. Nach den Feierlichkeiten des 2-jährigen Jubiläums, wird es zwei weitere Titelaktualisierungen geben. Diese werden zwei brandneue Globale Events; weitere Missionen mit dem 'Legendär'-Schwierigkeitsgrad sowie ein Xbox One X Update beinhalten, mittels dem ihr das wunderschöne und symbolträchtige New York City mit all seinen atemberaubenden Details in sowohl 4K, als auch 1080p neu entdecken können werdet.
Darüber hinaus werden Spieler ab Juni 2018 auch 'Wappen' spielen können, bei denen es sich um spezifische Erfolge handelt, mittels derer ihr Belohnungen für The Division 2 freischalten können werdet. Diese werden monatlich erscheinen und sollen euch lange Beschäftigung bieten.
Roadmap Year 3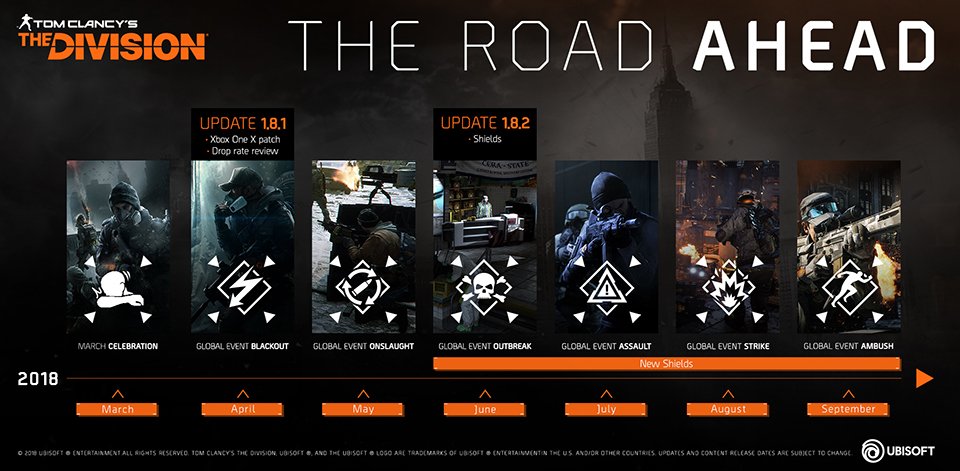 April – Update 1.8.1 beinhaltet den Patch für Xbox One X und die Umsetzung von Änderungen an der Droprate von Geheimen Ausstattungsobjekten die in einem früheren State of the Game besprochen wurden. Wir präsentieren ebenfalls zwei neue Legendär-Modi und ein neues Global-Event: Blackout.
Mai – Neues Global-Event: Ansturm.
Juni – Aktualisierung 1.8.2, wird zwei weitere Legendär-Einsatzmodi einführen und Global-Event: Ausbruch zurückbringen. Diese Aktualisierung bedeutet auch den Beginn der brandneuen monatlichen Wappen-Funktion, mit der in The Division verdiente Erfolge besondere Belohnungen in The Division 2 freischalten.
Juli – Global-Event: Überfall, mit der Fortsetzung von Shields.
August – Global-Event: Angriff, mit der Fortsetzung der Wappen.
September – Global-Event: Hinterhalt, mit der Fortsetzung von Wappen.