CoD WW2: Update 1.11 Patch Notes; Shipment Map Remake kommt mit St. Patrick's Day Event
Wie bereits angekündigt wurde heute das neueste Update für "Call of Duty: WWII" auf Xbox One, Playstation 4 und PC veröffentlicht. Dieses bringt neben neuen Waffen, Supplydrops, Items und einigen Fehlerkorrekturen und Balancing Anpassungen auch das St. Patrick's Day Event ins Spiel. Hierzu wurde ebenfalls die "Call of Duty4: Modern Warfare" Karte Shipment integriert. Operation Shamrock and Awe läuft von heute, dem 13. März bis zum 3. April 2018.
Official Call of Duty®: WWII - Operation: Shamrock & Awe Trailer
Neue Playlist : Kobold-Mosh-Pit
Der Kobold-Mosh-Pit bietet die Spielmodi "Team-Deathmatch", "Stellung", "Abschuss bestätigt" und "Herrschaft", allerdings mit einer kleinen Besonderheit: Auf jeder Map versteckt sich ein flinker Zombiekobold. Spieler, die den grauenerregenden kleinen Wicht ausschalten, erhalten zur Belohnung etwas Besseres als einen Topf voller Gold: All ihre ausgerüsteten Punkteserien sind voll aufgeladen und einsatzbereit.
Dieser Modus steht alle Spielern als vorgestellte öffentliche Liste zwischen dem 16. März, 18 Uhr MEZ, und dem 19. März, 18 Uhr MEZ, im Rahm der Operation: Kleeblatt & platt zur Verfügung und bietet dabei 2xEP.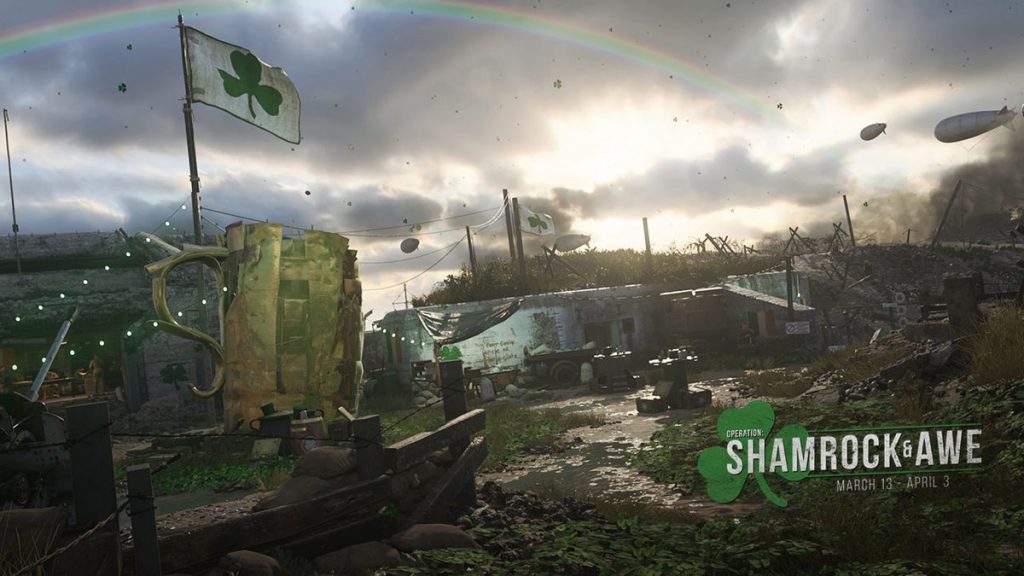 Erste Bilder zu den neuen Waffen, Anpassung des Menüs & mehr
Spieler können sich über brandneue St. Patrick's Day-Ausrüstung freuen, einschließlich Uniformen, Helmen, Waffentarnungen und mehr, nur erhältlich im Rahmen von Operation: Kleeblatt & platt. Neben neuer Ausrüstung erwarten euch auch zwei neue Waffen. Bei diesen handelt es sich um die MP M-38 und das leichte Maschinengewehr MG 81. Für beide Waffen gibt es St. Paddy's Day-Varianten, nur im Rahmen von Operation: Kleeblatt & platt, auch wenn andere Varianten beider Waffen im Spiel zur Verfügung stehen werden, sobald das Community-Event endet.
Shipment 1944
Shipment 1944, eine neu interpretierte Version der klassischen Nahkampf-Map für den Multiplayer, ist kostenlos in Call of Duty: WWII verfügbar. Besitzer des Season Pass erhalten schon heute Vorabzugriff, allen anderen steht die Map ab Freitag, den 16. März, zur Verfügung. 
Patch Notes:
Nochmal die wichtigsten Änderungen in der Übersicht:
Anzahl der Waffen & Premium-Inhalte erhöht – SHG fügt neue Fernkampfwaffen, mehr kosmetische Waffenvarianten und thematische Uniformen hinzu. Zudem soll euch fortan die Möglichkeit geboten sein, mehr Inhalte zu erhalten, die ihr wirklich wollt.

Mehr Möglichkeiten Waffen zu verdienen – SHG wird eine Vielzahl von Optionen bieten, um die beliebtesten Waffen und Waffenvarianten im Spiel zu erhalten. Dies geschieht durch die Bereitstellung weiterer Aufträge und Befehle neben den Waffensammlungen und Supply Drops.

Duplikate werden reduziert – SHG wird die Häufigkeit von Duplikaten reduzieren, die ihr innerhalb der Supply Drops erhaltet, um euch so mehr neue Inhalte zu gewährleisten.

Balancing der Belohnungkategorien – dadurch soll sichergestellt werden, dass ihr eine größere Vielfalt an Inhalten verschiedener Kategorien erhaltet. SHG reagiert damit auf das Feedback im Bezug auf doppelte Pistolengriffe u.ä., die für Frustration beim Öffnen von Kisten sorgen.

Neue Spezialbefehle

– Es wird neue Spezialbefehle geben, um bestimmte Waffen, zu erhalten, deren Droprate sehr gering ist.
Neue Waffen-Camos, Waffen-Charms und Fadenkreuze.

Inhaltsänderungen

– SHG entfernt bestimmte Rufzeichen (Goldfolien) und wird zudem künftig darauf verzichten, dem Lootpool neue Pistolengriffe hinzuzufügen.
Armoury Drops – SHG fügt mit Armoury Drops eine neue Kategorie von Supply Drops hinzu. Diese werden ähnlich wie Bestechungen funktionieren. Man kann diese mit verdientem Sold erwerben. Somit soll eine weitere Möglichkeit geschaffen werden, bestimmte Dinge zu erhalten.

Balancing Änderungen – Das Volksturmgewehr wurde abgeschwächt.  Erhöhter Rückstoß und verminderter Schaden.
Die Herrschaft XL Playlist wird nach dem Ende des Events live gehen.
FEATURE UPDATES
Updates to loot system: More details here.
Operation: Shamrock & Awe Community Event in MP and Zombies
New content (weapons, camos, uniforms, charms, reticles, etc)
Shipment 1944 (available Season Pass holders today, and for free for non-Season Pass holders starting March 16th)
Prop Hunt on DLC maps
MULTIPLAYER
Connectivity/Spawns/Performance/Split Screen/Mechanics
Fixed issue in Hardcore where players were able to rejoin a match from which they were just kicked
Fixed issue where Player 2 in split screen on a guest account was being kicked to Local Play when creating first loadout Offline
Fixed issue where players were crashing when equipping Scorestreaks
Fixed issue where players crash after accepting invites to a public War match
Fixed issue where matches were not starting properly from Featured playlists
Fixed loss of functionality issue when players return to MP Menu after completing match in Local Play
Maps
Fixed map exploits on Gustav Cannon and Occupation
Fixed error when loading into a Custom TDM match on Anthropoid
Party System/HQ
Fixed issue where upon opening supply drops from the Options menu while in HQ, players would sometimes be transported to another part of HQ
Fixed issue where players were unable to abandon Orders when in Major Howard's menu
UI
Various UI fixes and improvements (split screen, text descriptions, in-game store, menu tabs, Firing Range, missing/incorrect icons, Division slots, Soldier stats, widgets, text overlap)
Fixed issue where "My Emblems" tab was not informing players of how many emblem slots they had left
Fixed issue where green star notification in the Dossier menu was not disappearing for Calling Cards section
Audio
Fixed issue where players would hear the sound of a truck driving when loading into HQ
WEAPONS/SCORESTREAKS
Fixed issue where unlocking new Scorestreaks also equips them when players have three already equipped
Fixed issue where players were able to reload the Combat Shotgun past the max amount of ammo
Fixed explosive scorestreaks behavior underwater
Nerfed the Volkssturmgewehr (Increased recoil and decreased damage range to be more on par with other rifles in its class)
RANKED PLAY
Pushed through some fixes for issue where players were losing MMR
Fixed issue where when Player 1 (party leader) leaves a lobby, Player 2 will not be automatically pulled out with Player 1
Various UI fixes and improvements (icons, menu tabs)
Fixed issue where when one player is kicked for inactivity, remaining players were also kicked
GAMEBATTLES/CoDCASTER/ESPORTS MODE
Fixed issues with lobby placement
Fixed UI issues with Soldier tab and MLG Divisions
Fixed issue where Team two (Axis)'s objective colors were not updating properly
Fixed issue where some restricted items were still able to be equipped
ZOMBIES
Various UI fixes and improvements (menu displays, description text, weapon personalization, text overlap, unlock requirements)
Fixed issue in TDS where some players who were revived were teleported out of playable area
Fixed issue where upgraded camo was not displaying for various weapons
Fixed issues with Wüstling and other zombies pathing and behavior
Fixed functionality issues with 9mm SAP
Fixed issues with upgrading the Ripsaw
Fixed issue where Pommel grenade fails to regenerate uses
Eliminated fall damage (meaning, it can no longer take your armor)
Reduced "red screen of death" opacity to make it less obfuscating