The Crew 2: Release Date, neuer Trailer & Infos zu M-Edition
Ubisoft® kündigte heute an, dass The Crew® 2, der Nachfolger des revolutionären Open-World-Rennspiels The Crew®, am 29. Juni 2018 erscheinen wird. Das Spiel wird auf PlayStation®4, PlayStation®4 Pro, der Familie der Xbox One-Geräte und Windows PC erhältlich sein.
THE CREW 2: Ankündigung des Erscheinungsdatums / Gameplay Trailer | Ubisoft [DE]
Info zum Spiel
In The Crew 2, das von Ubisoft Ivory Tower* in Lyon entwickelt wird, können Spieler die Spannung des amerikanischen Motorsports in den vollständig überarbeiteten und neu gestalteten USA erleben. The Crew 2 erweitert die physikalischen Grenzen und stellt die Fähigkeiten von Renn- und Open World-Fans im endlosen Wettbewerb oder bei der Erkundung erneut auf die Probe – ganz egal ob alleine oder mit Freunden. Von Küste zu Küste können die Rennfahrer Amerika erkunden und gegeneinander um den Titel des größten Motorsport-Champions antreten. Dabei können sie eine Vielzahl exotischer Autos, Motorräder, Boote und Flugzeuge sammeln, mit denen sie die Motorsportszene auf dem Land, zu Wasser und in der Luft dominieren. Da s Spiel bietet Herausforderungen und Inspirationen der vier verschiedenen Motorsportfamilien: Street Racing, Off-Road, Pro Racing und Freestyle. Hierfür steht eine breite Auswahl an verschiedenen Fahrzeugtypen zur Verfügung stehen.
M-Edition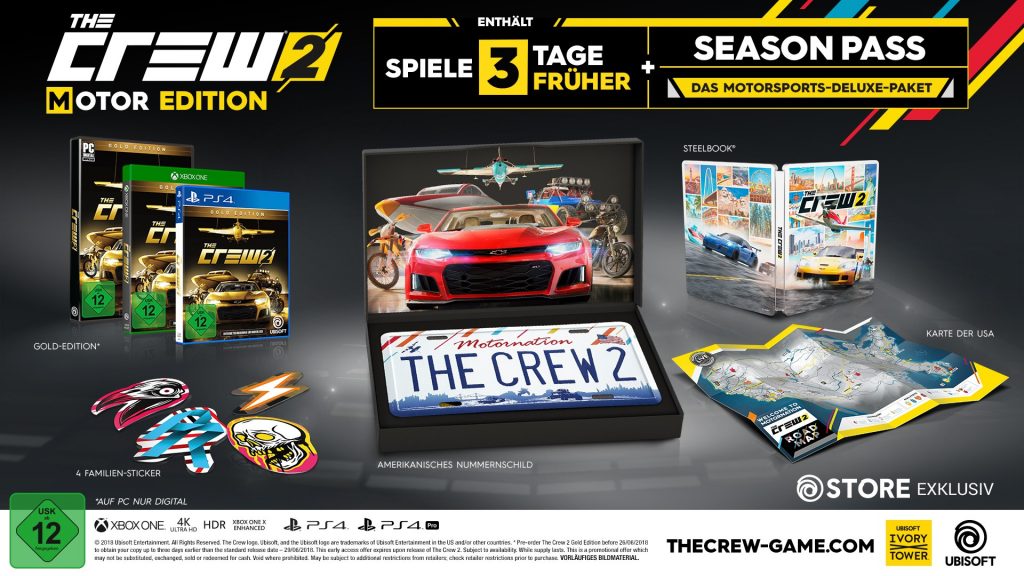 Ubisoft enthüllte ebenfalls die The Crew 2 Motor Edition. Mit dieser können Fans das Spiel drei Tage früher starten und somit ihre Motoren bereits aufrüsten, bevor der Wettkampf am 29. Juni für alle startet. Die Motor Edition ist ab sofort und exklusiv im Ubisoft Store erhältlich. Sie beinhaltet außerdem:
The Crew 2 Gold Edition und den Season Pass, welcher neue Fahrzeuge, Outfits, zusätzliche Inhalte und vieles mehr beinhaltet.
Das Motorsport Deluxe-Paket, welches einzigartige Outfits und Fahrzeuge beinhaltet. Hierzu gehört der 2017er FORD F-150 RAPTOR RACE TRUCK, das 2002er PILATUS PC-21 AIR RACE EDITION-Flugzeug und der 2008er ABARTH 500 MONSTER TRUCK EDITION.
Ein amerikanisches Nummernschild, welches speziell für The Crew 2 angepasst wurde und in einer hochwertigen Sammlerbox verschickt wird, ein exklusives Steelbook®, die offizielle Landkarte des Spiels sowie vier originale Sticker.
Vorbesteller Details
Vorbesteller des Spiels erhalten zudem das The Crew 2 Legendary Motors-Paket, mit dem sie exklusive Fahrzeuge wie den 2016er Mercedes-AMG C 63 Touring Car und die 2017er HARLEY-DAVIDSON® IRON 883™ erhalten.
Belohnungs Programm
Mit dem The Crew-Belohnungs-Programm können Spieler schon jetzt mit ihrer Fahrzeug-Sammlung beginnen. Durch das Abschließen einer Reihe von monatlichen Herausforderungen im ersten Teil von The Crew, können sie bis zu 19 Fahrzeuge in The Crew 2 freischalten. Hierzu gehören exklusive Wasserfahrzeuge. Weitere Informationen hierzu gibt es unter www.thecrewgame.com/rewardsprogram/