PUBG: Wüstenkarte "Miramar" erscheint im Mai für Xbox One Version
Die Wüstenkarte "Miramar" erscheint im Mai für die Xbox One Game Preview Version von "PUBG. Dies teilte Brendan Greene im Rahmen des heutigen PAX-East Livestream Events mit "deadmau5" mit. Sie hat eine Größe von 8×8 km und basiert auf Landschaftsabschnitten von Peru und Mexiko. Dort erwarten euch unter anderem Sandstürme und weitere neue Features. Des Weiteren wird die Karte eine Menge Häuserkämpfe und kleinere Gefechte am Fluss, welcher sich im unteren Bereich der Karte befindet, zu bieten haben. Außerdem solltet ihr euch auf Sniper einstellen, die sich in einigen der größeren Häuer verstecken könnten.

The @PLAYERUNKNOWN himself just shared that the @PUBG Miramar map is coming to @Xbox in May!

— Aaron Greenberg (@aarongreenberg) April 7, 2018
Mirarmar wird voraussichtlich zuerst auf den Testservern verfügbar sein. Weitere Informationen werden in den kommenden Wochen geteilt.
Stadtbezirke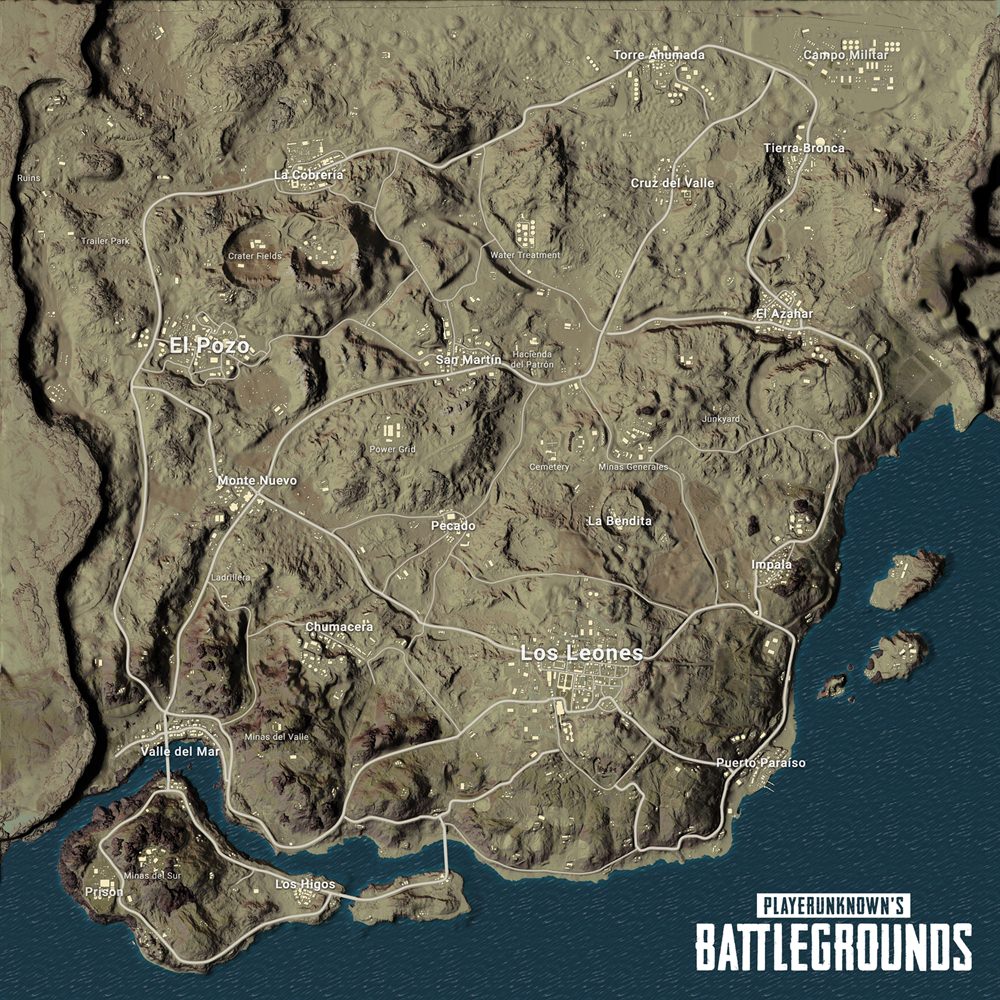 Los Leones
Die größte Stadt der Region, Los Leones, bietet zahlreiche Einkaufsmöglichkeiten, eine Skyline mit vielen neuen Gebäuden und ein ruhiges, goldenes Stadtzentrum. Die Spieler sollten hohe Aussichtspunkte sichern, indem sie die zahlreichen Baustellen erkunden und in den riesigen, verlassenen kommerziellen Gebäuden nach Ausrüstungsgegenständen suchen.
El Pozo
El Pozo ist eine Stadt, die für ihre großen Industrie- und Unterhaltungsviertel bekannt ist. Die Spieler können sich in der Luchador Arena mit allen anderen messen, ihre Motorradkünste auf die Probe stellen oder in den Ruinen der längst verstorbenen Textilfabriken auf die jagt gehen.
Monte Nuevo
Monte Nuevo ist das Abbild einer belagerten Stadt. Ramshackle-Mauern, die gebaut wurden, um die Bewohner zu schützen, erlauben es nun den Spielern, die gut bestückte Anlage zu erkunden.
Valle del Mar
Valle del Mar ist eine farbenfrohe Stadt am Meer, die von der Brücke De Toro in zwei Berreiche geteilt wird. Im Westen der Brücke ist eine malerische Schule und im Osten eine schöne Kirche. Der Schlüssel zum Halten dieser Stadt ist die Brückenkontrolle, da es die einzige direkte Verbindung zwischen dem Festland und der Insel ist.
La Cobreria
La Cobrería ist die Schifffahrts- und Transporthauptstadt von Miramar und der ihre wichtigste Sehenswürdigkeit ist das riesige Rail Yard. Hier werden die Spieler unter der halb vergrabenen Fracht einer längst vergangenen Industrie jagen und gejagt werden. Vorsichtige Spieler sollten die Schulen und den Campus der Stadt plündern, bevor sie versuchen, den Hof zu einzunehmen.
San Martin
San Martín liegt südlich von Hacienda Del Patrón. Checkpoints und Barrieren haben diese einst ruhige Kleinstadt in eine Kriegszone verwandelt. Beide Seiten der Stadt haben Aussichtspunkte. Daher solltet ihr zuerst eure Gegner vorsichtig aufspüren, bevor ihr die Stadt stürmt.
Pecado
Pecado war einst ein Touristenziel mit dem größten Kasino der Region. Nun begeistert Pecado die Spieler mit einer Mischung aus hochwertiger Beute und gefährlichen Sichtlinien. Aggressive Spieler werden sofort die Arena und das Casino plündern, aber clevere Spieler sollten sich die 4-stöckigen Hotels dazwischen ansehen.
Chumacera
Chumacera ist das überbleibsel der einst florierenden Textilindustrie in Miramar. Längst verlassene Fabriken von denen ihr die Hauptstraße, die mit Wohn- und Handelsgebäuden besiedelt ist, überblicken könnt. Vertikalität sowohl in den Gebäuden als auch im Gelände macht diese Stadt zu einem aufregenden Ort für Beute – hohes Risiko.