Shadow of the Tomb Raider: Erweitertes RPG & Survival System; Stärkere Lara Croft
In einem neuen Interview in der Juni 2018 Ausgabe (#164) des "Official Xbox Magazine" gab es weitere Infos zu "Shadow of the Tomb Raider". Die Entwickler gehen darin auf weitere Neuerungen und Verbesserungen des Titels ein. Hierzu zählen eine muskulösere Lara Croft, erweiterte RPG & Survival Elemente und ein neuer Multiplayer Modus.
Stärkere Hauptfiguer
"Wir haben ihr eine stärkere Muskulatur verpasst, um sicherzustellen, dass sie Dinge machen kann, die ihr mit der Statur in "Rise of the Tomb Raider" nicht möglich waren. Bei diesen Bewegungen geht es sowohl um Nostalgie als auch verbesserte Fähigkeiten." so Daniel Bisson (Creative director)
Das nachfolgende Bild zeigt euch die neue Lara Croft.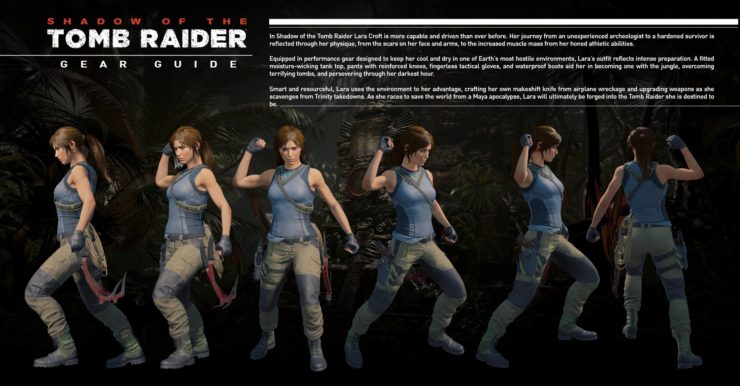 RPG & Survival Elemente
"Das, was wir das sekundäre System nennen – das Überlebenssystem – also alles, was ihr in "Rise of the Tomb Raider" machen könnt, wie das craften, das Finden von Ressourcen … haben wir erweitert. Die RPG-Elemente sind viel stärker ausgeprägt, weil wir möchten, dass ihr genau den Typ von Lara kreieren könnt, den ihr gerne haben möchtet. Sie ist nun außerdem viel selbstsicherer und kontrollierter." sagte Daniel Bisson (Creative director)

Neuer Multiplayer Modus angedeutet
Zudem deuteten die Entwickler einen Nicht-Wettbewerbsfähigen Multiplayer Modus an.
"Es wird keinen kompetitiven Mehrspielermodus geben, aber wir werden ein erweitertes Gameplay bieten, über das wir später noch sprechen möchten." so Mario Chabtini (Senior Producer)


"Wir denken, dass die Fans zufrieden sein werden. Wir haben auf die Fans gehört und fügen eine neue Wendung hinzu, über die wir später sprechen werden. [..] Es wird nicht vergleichbar sein mit dem Competitive Multiplayer Modus von "Rise of the Tomb Raider"."erklärte Daniel Bisson (Creative director)

Über das Spiel
Erlebe den entscheidenden Moment in Lara Crofts Leben, der sie zum Tomb Raider macht. In Shadow of the Tomb Raider muss Lara einen tödlichen Dschungel meistern, grauenhafte Grüfte überstehen und darf in ihrer dunkelsten Stunde nicht aufgeben. Sie hat nur wenig Zeit, um die Welt vor einer Maya-Apokalypse zu retten, und dabei erfüllt sich letztlich ihr Schicksal, und sie wird zum Tomb Raider.
Shadow of the Tomb Raider erscheint am 14. September diesen Jahres für Xbox One, Playstation 4 und PC. Wenn ihr auf der Suche nach Mitspielern seid oder euch mit anderen über Lösungewege austauschen möchtet, dann könnt ihr gerne der Facebook Gruppe "Tomb Raider German Fans" beitreten.