State of Decay 2: Ab sofort für Xbox One und Windows 10 PC verfügbar
Testet eure Fähigkeiten in der Zombie-Apokalypse ab sofort mit State of Decay 2 für Xbox One und Windows 10 PC. Im neuen Survival-Spiel baut ihr eine Gemeinschaft auf und schlagt euch alleine oder mit bis zu vier Freunden durch die Zombie-Horden. Das alles ab sofort mit dem Xbox Game Pass für 9,99 Euro, mit der State of Decay 2 Standard Version für 29,99 Euro oder mit der State of Decay 2: Ultimate Edition für 49,99 Euro.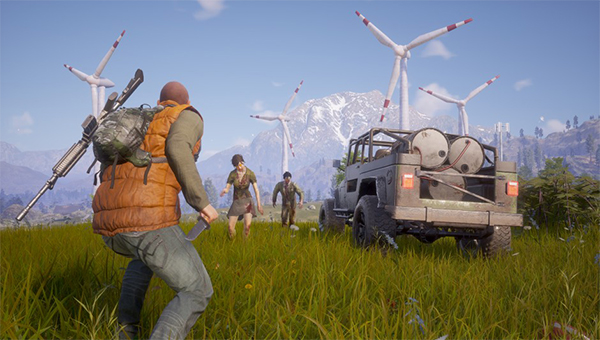 Kein Herz für Zombies
State of Decay 2 ist das ultimative Zombie-Survival-Spiel von Undead Labs, in dem Du selbst entscheidest, wie Du in der offenen, post-apokalyptischen Welt überlebst. Dich erwarten feindlich gesinnte Zombies und wertvolle Ausrüstungsgegenstände, die für das Überleben der Gruppe notwendig sind. Unterschlupf findest Du in Deiner Basis, die Dir Schutz vor den hungrigen Toten bietet. Dort tüftelst Du an Deiner Überlebensstrategie und versuchst, zumindest einen kleinen Teil der noch lebenden Zivilisation zu retten.
State of Decay 2 spielst Du im Solo-, oder mit bis zu drei weiteren Freunden im Koop-Modus – dank Cross-Play auch zwischen Xbox One und Windows 10 PC. Freunde, die Dich in Deinem Spiel unterstützen, kehren mit Extra-Vorräten in ihr eigenes Spiel zurück.
Als ein Play Anywhere-Titel erwirbst Du State of Decay 2 als digitalen Download für beide Plattformen: Xbox One und Windows 10 PC. Dein Fortschritt und Dein Gamerscore werden auf beiden Versionen gleichermaßen über Xbox Live gespeichert.