Battlefield V: Erste Infos zum Spiel, Trailer & mehr
Mit Battlefield V geht DICE, wie schon durch einige Leaks zuvor erwähnt, zurück zu den Wurzeln und verfrachtet euch an die Fronten des Zweiten Weltkriegs. In diesem Jahr wird es wieder Kriegsgeschichten für die Singleplayerkampgane geben. Sie sollen Geschichten erzählen, die zuvor noch nicht erzählt wurden, euch an Orte schicken, an denen noch kein WW2 Shooter gespielt hat. Unter anderem dürft ihr euch auf Locations in Rotterdam und Skandinavien freuen. Auch wird DICE erstmals  auf den Premium Pass verzichten. Es gibt kein Pay To Win, keine kostenpflichtigen DLCs, alles wird gratis erscheinen. Euch erwarten unter "Tides of War" neue Rewards, Dogtags, Locations und mehr. Battlefield V erscheint am 19. Oktober auf Xbox One, PS4 und PC. Spieler auf Xbox werden dank EA Access auch wieder etwas frühr in die Schlacht ziehn dürfen.
Battlefield 5 Official Reveal Trailer
Neue Features des Multiplayer Mods
Auch im Multiplayer wird es einige Neuerungen geben. Unter anderem erwartet euch dort ein von "Battlefield 1" inspirierter Modus namens "Grand Operations". Dieser wird allerdings um einiges größer sein als die Operationen von Battlefield 1. Ihr startet dort mit einem Sprung aus dem Flugzeug und geht direkt in die Schlacht, verfolgt eure Missionsziele, die Etappen dieses Modus werden sich über mehrere Tage erstrecken, bis hin zum Final Stand, an dem eure Soldaten ausgelaugt sind, die Ressourcen knapp sind und sie versuchen müssen, die Schlacht für sich zu entscheiden.
Der Coop aus BF3 feiert ebenfalls seine Rückkehr
Der Coop Mode trägt den Namen Combined Arms und wird für euch erlauben, mit bis zu drei weiteren Spielern in Missionen zu ziehen
Waffenarsenal und neues Feature Toolbox
Euch erwartet ein riesiges Waffenarsenal mit allem, was im Zweiten Weltkrieg aufgefahren wurde, inklusive geheimer WW2 Waffen. Darüber hinaus gibt es mit der Toolbox ein neues Feature, das euch erlaubt, zerstörte Dinge im Kampf wieder aufzubauen.
Personalsierung
DICE wird in diesem Jahr auch eine erweiterte Personalisierung ermöglichen. Über "The Company" könnt ihr alles Anpassen, von Soldaten über Fahrzeuge hin zu Waffen. Ihr bestimmt, wie ihr ausseht, wie ihr spielt. Ihr verdient euch im Laufe des Spiels "Rewards, mit denen ihr bestimmte Anpassungen freischalten könnt. Neue Perks, neue Ausrüstung, neue Outfits, Gesichtsbemalungen und mehr. Es wird natürlich immer noch Klassen geben. Es wird auch einen Paintshop geben.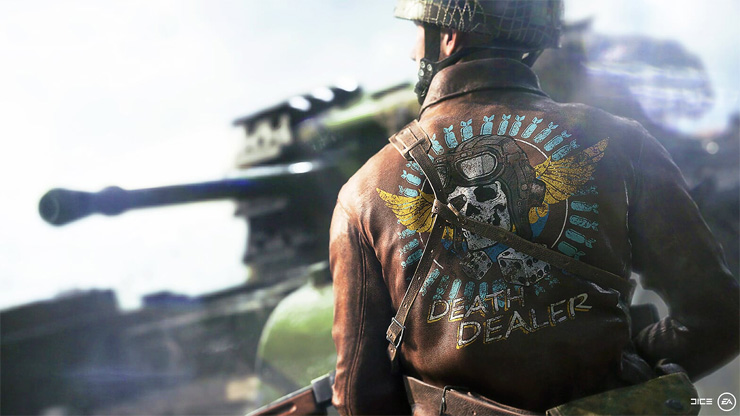 Weitere Infos findet ihr schon bald >>hier<< in unserer Themenübersicht. Folgt uns gerne auf Facebook um keine News mehr zu verpassen.
P.S Battlefield Bad Company 3 kommt 2019
Da sich der Leak von Youtuber "AlmightyDaq" hiermint bestätigt hat, ist anzunehmen, dass er auch im Bezug auf BFBC3 korrekte Infos im letzten Jahr geteilt hat. Daher dürfte im kommenden Jahr "Battlefield: Bad Company 3" erscheinen. Laut den Informationen des Insiders dreht sich die Handlung von "Battlefield Bad Company 3" um verschiedene Konflikte, die nach dem Vietnam-Krieg ausgetragen wurden. Die Waffen, die sich auf umfangreiche Art und Weise anpassen lassen, stammen ebenfalls aus dieser Ära. Battlefield Typisch werdet ihr auch diverse Vehicle zur Auswhal haben. Darunter Hubschrauber, Panzer und co. Im Multiplayer könnt ihr aus den Klassen Assault, Recon, Engineer und Support wählen und euch auf Modi wie "Capture The Flag", "Rush", "Domination", "Team Death Match" oder "Conquest" freuen.