Battlefield V: Weitere Details zu Tides of War & Kompanie Anpassungen
Mit "Tides of War" wird DICE das Konzept des Premium Pass ablösen. Und statt einer gespaltenen Community und kostenpflichtigen Erweiterungen erwarten euch mit "Tides of War" regelmäßige gratis Updates mit neuen Inhalten. Tides of War wird eine sich ständig weiterentwickelnde Reise, die alle paar Monate eine neue Geschichte bietet. Jedes Kapitel von Tides of War wird sich auf einen bestimmten Aspekt der Epoche konzentrieren und die Spieler mit einzigartigen Gameplay-Erlebnissen voranbringen.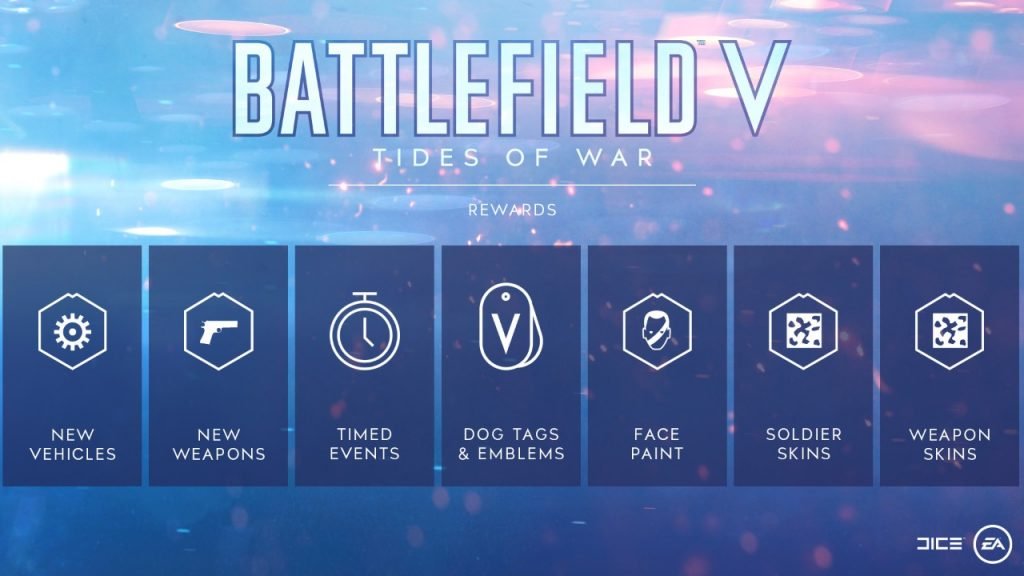 "Wir werden Inhalte, Soldaten, die Grafik und erzählerische Aspekte nutzen, um unsere Spieler tiefer in das Gameplay einzubinden. Tides of War gewährt dir und deiner personalisierten Kompanie thematische Kriegserlebnisse, beginnend mit dem Fall von Europa, dermehrereMonate laufen und befristete Events umfassen wird. Diese Events können mehrwöchige Große Operationen, Spezialaufträge und neue Missionen sein. Die befristeten Events werden dich im Laufe von Battlefield V tiefer in die unerwarteten und richtungsweisenden Schlachten des Zweiten Weltkriegs eintauchen lassen." so DICE weiter
Für jede Fraktion eine eigene Kompanie
In Battlefield V könnt ihr für jede Kriegspartei eine personalisierte Kompanie erstellen, die eine festgelegte Zahl von Soldaten, Fahrzeugen und Flugzeugen enthält. Zum Start im Oktober könnt ihr im Multiplayer die britische oder deutsche Armee spielen.
Anpassungsmöglichkeiten:
Die Soldatenklassen – Sanitäter, Späher, Versorgungs- und Sturmsoldaten – können bearbeitet und an euren Spielstil angepasst werden. Ihr könnt das Aussehen ändern, indem ihr Aspekte wie Kleidung, Geschlecht, Helme, die Hautfarbe und die Kriegsbemalung anpasst.
Natürlich könnt ihr auch eure Loadouts ändern, um optimal auf die nächste Schlacht vorbereitet zu sein. Je häufiger ihr eure Waffe im Kampf einsetzt, desto mehr zusätzliche Anpassungsoptionen wie Skins, Verschlussgehäuse, Schäfte, Läufe, Mündungen und mehr schaltet ihr frei. Dies gilt auch für Fahrzeuge. Individualisiert eure Panzer mit Lackierungen, Sandsäcken, Tarnmustern und mehr, um euch von anderen Spielern abzuheben.
Freischalten von Fähigkeiten und Personalisierungen
Durch spielen im Multiplayer oder im kooperativen Combined Arms verdient ihr euch XP, mit denen ihre eure Kompanie verbessern könnt. Zudem werden durch das sammeln von XP auch neue Archetypen für eure. Soldatenklassen freigeschaltet. Als Versorgungssoldat könnt ihr beispielsweise den Pionier, den MG-Schützen oder andere Archetypen auswählen. Diese Spezialisierungen schaffen klare Teamrollen und geben dem Gameplay eine größere Tiefe. Die verfügbaren Waffen, Gadgets und Attribute sind von Archetyp zu Archetyp verschieden. Ihr könnt während eines Spiels auch den Archetyp wechseln, um immer die richtigen Werkzeuge und Fähigkeiten parat zu haben.
Mit "Tides of War" werden weitere Archetypen für weitere Spielstile eingeführt. Ihr könnt sogar exotische Archetypen wie den Fallschirmjäger-Aufklärer auswählen, der seine Tarnung und seine schallgedämpften Waffen nutzt, um Gegner auszuschalten.