The Division 2: Raids enthalten Puzzlemechaniken, erfordern Taktisches vorgehen
Mit der Redaktion von PCGamesN sprach Ubisoft über das Endgame und die Raids in "The Division 2". Diese werden euch so einiges abverlangen, da sie viel größer sind, als die Missionen des Spiels. Creative Director Julian Gerighty erklärte, dass man hier mehr gemacht hat, als nur intensivere Übergriffmissionen zu gestalten. In den Raids von "The Division 2" wird es Puzzle geben, die ihr gemeinsam lösen müsst. Sie erfordern zudem Taktisches vorgehen durch gut aufeinander eingespielte Teams, bei denen jeder der acht Spieler das perfekte Set nutzt. Weiter heißt es, wurde der erste Raid vom gleichen Team entwickelt, das bereits für die Übergriff Mission "Lost Signal" verantwortlich war. Diese zählt bislang zu den beliebtesten Übergriff Missionen in Teil 1.
.
---
---
Beta Codes werden verschickt
Am Wochenende können Vorbesteller und ein paar der glücklichen auserwählten in der Private Beta einen Teil der Inhalte von "The Division 2" antesten. Ubisoft hat heute damit begonnen, die Codes in Wellen zu verschicken. Solltet ihr vorbstellte haben, oder ausgewählt worden sein, dann dürftet ihr in Kürze einen Code in eurem Postfach finden.
In der Private Beta können die Spieler einen Vorgeschmack darauf bekommen, was sie in Tom Clancy's The Division 2 erwartet. Nachdem sie ihre Operationsbasis im Weißen Haus eingerichtet haben, können sich die Agenten in ein verändertes Washington D.C. wagen und neue Fähigkeiten und Fertigkeiten freisetzen. Dabei können sie auf einen Levelcap von sieben aufsteigen und den östlichen Teil der offenen Welt mit den folgenden Inhalten entdecken:
Zwei Hauptmissionen, zugänglich im Story-, Normal- und Hard-Modus
Fünf Nebenmissionen und zusätzliche Aktivitäten in der offenen Welt
Einzigartiges PvPvE-Gameplay in einer der drei neuen Dark Zones
Organisiertes PvP-Gameplay in einem Konflikt-Modus, Gefecht.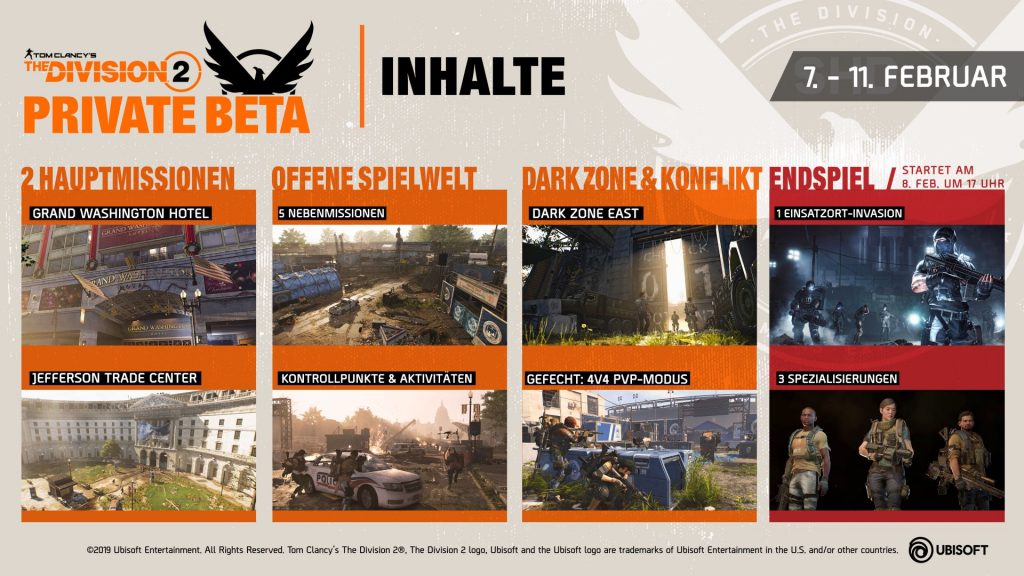 Zusätzlich zu diesen Inhalten haben die Fans Tom Clancy's The Division 2 ab Freitag, den 8. Februar um 17 Uhr MEZ die Möglichkeit, mit einer Invaded-Mission einen ersten praktischen Einblick in Endgame-Inhalte zu erhalten. Die Spieler werden das Gameplay auf der Stufe 30 erleben und brandneue Spezialisierungen für den Überlebensspezialisten, Scharfschützen oder Zerstörungsexperten freischalten.
The Division 2 erscheint am 15. März 2019 für Xbox One, Playstation 4 und PC.
Weitere Infos zum Spiel, wie dem verbesserten Fortschrittssystem, Raids und mehr, findet ihr in unserer Themenübersicht (hier klicken). Folgt uns gerne auf Facebook und Twitter, um künftig keine News mehr zu verpassen.