The Division 2: Vorbesteller der PC Version erhalten zusätzliches Spiel gratis dazu
Ubisoft kündigte heute an, dass Spieler, die vor dem 14. März 2019* eine digitale PC-Version von Tom Clancy's The Division® 2 vorbestellen, eine kostenloses digitale PC-Version ihrer Wahl aus einer Auswahl beliebter Titel aus dem Portfolio von Ubisoft erhalten. Zur Auswahl stehen: Watch Dogs 2, Tom Clancy's Ghost Recon Wildlands und Far Cry Primal. Spieler können die PC-Version von Tom Clancy's The Division 2 auf www.epicgames.com/store oder im
Ubisoft Store unter https://store.ubi.com vorbestellen.
.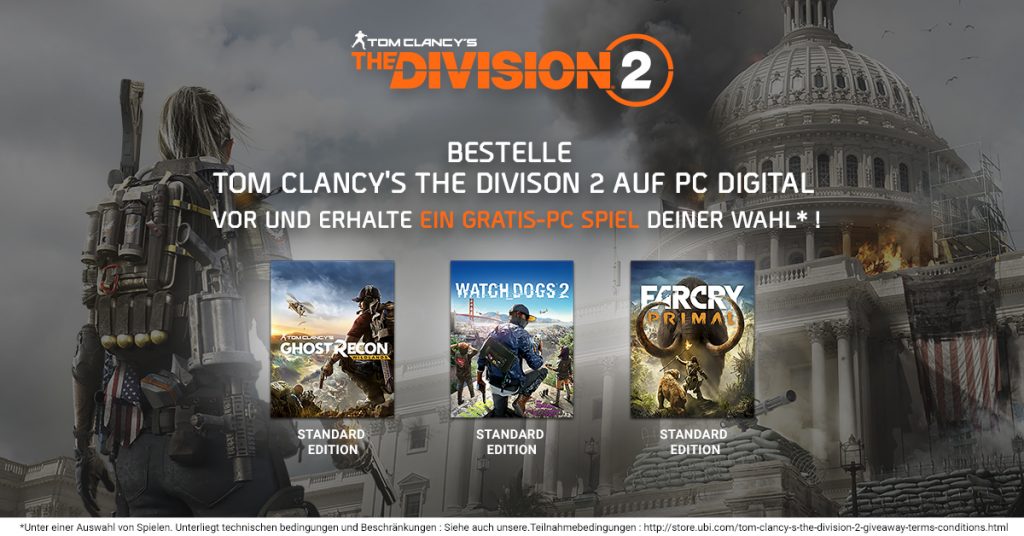 Sobald die Spieler Tom Clancy's The Division 2 vorbestellt haben und es in ihrer Uplay-Spielbibliothek** erscheint, haben sie bis zum 31. März 2019 Zeit, ihr kostenloses Spiel auszuwählen, indem sie den Anweisungen unter www.thedivisiongame.com/freegame folgen. Spieler können ab dem 15. März 2019 auf das von ihnen gewählte kostenlose Digitalspiel zugreifen.
Dieses Angebot gilt für Spieler, die eine PC-Digitalversion von Tom Clancy's The Division 2 (Standard, Gold oder Ultimate Edition)****, im Ubisoft Store oder bei einem anderen Ubisoft-Vertriebspartner*** vorbestellen. Spieler, die ihre digitale PC-Version bereits vorbestellt haben, haben ebenfalls Anspruch auf dieses Angebot.
---
*Zusätzliche Info
---
* Ausgenommen sind Partner-Bundles wie AMD, MSI, Samsung, Trust, Tobii, Corsair, etc. Eine vollständige Liste ist verfügbar unter https://support.ubi.com/fr-FR/Faqs/000023753
** In bestimmten Fällen muss der Benutzer in Uplay den vom Händler zugesandten Aktivierungsschlüssel des Spiels einlösen.
*** Wenn Sie eine Vorbestellung im Epic Games Store aufgegeben haben, besuchen Sie bitte www.epicgames.com/store
**** Dieses Angebot gilt nur für digitale PC-Skus, aber weder für physische Spiele noch für OEM-Bundles. Verbraucher, die ihre digitalen PC-Spiele bereits vorbestellt haben, haben Anspruch auf dieses Angebot.
*****Beteiligte Studios sind Ubisoft Reflections, Red Storm Entertainment, Ubisoft Annecy, Ubisoft Leamington, Ubisoft Shanghai, Ubisoft Bukarest und Ubisoft Sofia
---
Für diejenigen, die sich zuvor mit Tom Clancy's The Division 2 vertraut machen möchten, wird die Open Beta vom 1. März bis 4. März verfügbar sein. Für die neuesten Nachrichten über die Open Beta besuchen Sie bitte: www.thedivisiongame.com/beta
Tom Clancy's The Division 2 erscheint am 15. März 2019 weltweit auf Xbox One, PlayStation4 und PC. Weitere Infos zum Spiel, wie dem verbesserten Fortschrittssystem, Raids und mehr, findet ihr in unserer Themenübersicht (hier klicken). Folgt uns gerne auf Facebook und Twitter, um künftig keine News mehr zu verpassen.
---
---