Battlefield V: Weitere Details zum Battle Royale Modus "Firestorm" in Spieldaten gefunden
Heute wurden via Reddit ein paar neue Details zum kommenden Battle Royale Modus "Firestorm" geteilt. Dieser wird im Laufe dieses Monats seinen Weg in "Battlefield V" finden. Die Informationen wurden aus dem PC Client ausgelesen. Einige davon sind sehr interessant. Wie beispielsweise Einzelheiten über die verfügbaren Spielmodi, die Erwähnung einer Third Person Ansicht, dem Rankingsystem und mehr.  Da die nachfolgenden Details aus den Spieldaten ausgelesen wurden und es sich dabei um Codesegmente interner Testphasen handelt, könnten bis zum Release noch Änderungen folgen. Ein Tutorial Video und einen Blick auf die Karte von Firestorm gibt es ebenfalls für euch.
.
---
---
Zusammenfassung der wichtigsten Infos
Laut den Spieldaten bietet Firestorm drei Spielmodi. Diese sind Solo, Duo(2-Spieler) und Squad (Max 4-Spieler). Insgesamt können 64 Spieler in die Schlacht ziehen. Es werden zudem die typischen Battlefield Klassen verfügbar, auswählbar sein. Weiter heißt es, bietet Firestorm ein separates Rankingsystem. Der gewählte Schauplatz von Firestorm ist Norwegen und ihr werdet, wie in anderen Battle Royale Titeln mit einem Fallschirm in die Zone abspringen.
In Firestorm soll es vier verschiedene Typen von Loot geben, je nach ihrer Seltenheit werden die Items in eine dieser Kategorien eingeteilt. Wie in anderen Spielen dieses Genres könnt ihr auch in Firestorm Rucksäcke von unterschiedlicher Qualität und Fassungsvermögen finden. Außerdem soll es verschiedene, dynamische Objectives auf der Karte geben, die ihr einnehmen könnt. Damit könnt ihr euch Belohnungen wie besseres Loot oder Fahrzeuge verdienen. Auch die Waffen werden in unterschiedliche Stufen eingeteilt. Alle Waffen der Stufe 1-4 können gefunden werden, 0 ist eure Startbewaffnung. Rüstung und Rüstungsplatten sind ebenfalls in Kategorien eingeteilt.
Fahrzeuge, Verstärkungen.
Im Laufe  des Spiels können Verstärkungen freigespielt werden und es wird folgende Fahrzeuge geben: Helicopter. StaffCar, SportsCar, Schimmwagon, PickUpTruck und Traktor.  Nachfolgend findet ihr einen Auszug aus dem originalen Beitrag.
Bild der Karte mit einigen Spots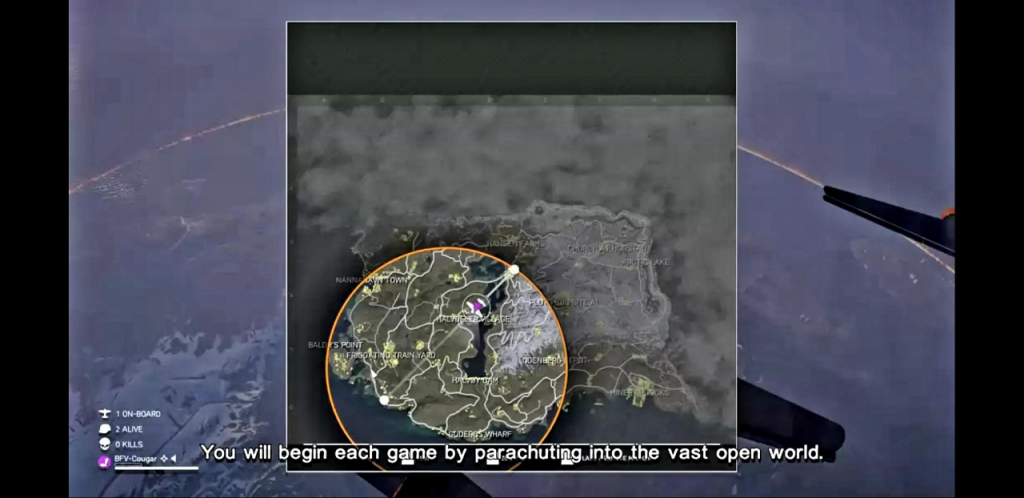 Tutorial Video
Breaking: A tutorial video showcasing how the new Battle Royale mode in Battlefield V, called Firestorm, has leaked. First look the map + gameplay. Via r/BattlefieldV pic.twitter.com/UhevCSg4I5

— Battlefield + Anthem + Star Wars News (@bravoINTEL) March 7, 2019
Battlefield Firestorm

"Do whatever it takes to survive. Compete solo or in a team to be the last one standing in a vast and dangerous world. Scavenge for supplies, outrun the Firestorm, and fight your way to victory."

(snippet: ID_SPARTA_CASABLANCA_ROYALE_DESCRIPTION)

General info and game mode start

three variants: solo, duo (2 player teams), squad (4 player teams) with a player maximum of 64 per match
typical Battlefield classes will be present / choosable (snippet: ui/shared/widgets/classinforenderwidget)
code shows signs of an LFG system and "backfilling" entries
will have a separate ranking system
will (probably) occur in Tides of War – at least the code for a connection is already there
takes place in Norway (snippet: "/sparta/casablanca/royale/dk_norway-bd00e4f9.png" – also the level name itself contains the word "norway")
you parachute from a plane into the war zone (snippet: Paradrop_Exit)
your hud will show an altimeter during the free fall / flight (snippet: ui/ingame/hud/widgets/parachutealtimeter)

Gameplay

if you get shot by an enemy you enter a "downed" state where you can crawl (but probably not fight) (snippet: DownedState_Crawl_LEFT_3)
there are various hints to a 3rd person camera angle but they are always tacked to the parachute start or when you get downed / killed
you have an inventory where you can store loot you find (snippet: UI/Ingame/Hud/Minimap/Inventroy – btw the typo is directly taken from the code)
loot has four types of "rarity" (snippet: ui/rarityselection; UI/s/HUD/Loot/RarityOne, UI/s/HUD/Loot/RarityTwo, …)
you can find better backpacks (three tiers) to extend your inventory
the map features safes that can be opened (this will be tracked in your stats) (snippet: safesOpened: w(t.royale.safesOpened, 0))
there are dynamic objectives on the map which you can capture (e.g. "resupply points" as mentioned later)
dynamic objectives may also be connected to "lockups" / "vehicle breakouts" mentioned in the code (snippet: w(t.royale.vehicleBreakoutsOpened, 0))

Weapons

weapons will categorized in tiers (1-4 can be found, 0 may be some kind of start equipment)
the HUD can feature six types of ammo: LMG, Pistol, Rifle, Shotgun, SMG and Sniper (snippet: ui/images/hud/ammo/ammo_lmg)

Weapon Specializations (probably not complete, just the snippets):

Meta/SpecTree/Primary__Bayonet
Meta/SpecTree/Primary__Bipod
Meta/SpecTree/Primary__DetachableMag
Meta/SpecTree/Primary__ExtendedMag
Meta/SpecTree/Primary__FastBullets
Meta/SpecTree/Primary__HeavyLoad
Meta/SpecTree/Primary__IncendiBullets
Meta/SpecTree/Primary__QuickADS
Meta/SpecTree/Primary__Slug

Healing and Armor

you can find / use bandages and medic bags (small and large) (snippet: s/Meta/Gadget/Medical_Supplies_smallmedpack)
healing probably takes some time (snippet: MedicBag_Apply_Sequence)
there are three named tiers of armor vests (snippet: UI/Textures/Icons/HudArmourVestTier1, …)
there is a kind of special "armor plate" without any tiers (sounds like very strong armor loot?) (snippet: UI/Textures/Icons/HudArmourPlate)

Vehicles

various HUD elements give away that vehicles use fuel as a resource and therefore can't be used without limits (probably for balancing) (snippet: ingame/hud/widgets/fuel; gameplay/schematicchannels/sc_vehiclefuel)
you can get vehicles by opening "vehicle breakouts" (probably the stronger ones…tanks?)
the tiger and the valentine are (until now) the only tanks I could find with a direct connection to Firestorm
other vehicles: "Halftracknomag", "Kubelwagen", "Kettenkra", "MH101ctor" (snippet: LaVEH_Halftracknomag)
one interesting air vehicle snippet: "/Core/Vehicles/Air/VEH_plantuka_AI" – could be an AI controlled Stuka (plane + stuka = plantuka?) as a reinforcement

There is a number of "blue prints" for other vehicles (could be found by opening safes? I don't know…):

Helicopter (yep!)
StaffCar
SportsCar
Schimmwagon
PickUpTruck
Tractor (probably the famous "MH101ctor" mentioned above and seen in the mini teaser)

Reinforcements

you can unlock and call in reinforcements (snippet: /gameplay/reinforcements/reinforcement_unlocks)
the following are present:
Artillery Strike (snippet: Meta/Reinforcements/ArtilleryStrike)
Vehicle (snippet: Meta/Reinforcements/r_vehicle)
Danger Zone (any ideas?) (snippet: Meta/Reinforcements/r_dangerzone)
Supply Drop (snippet: Meta/Reinforcements/r_supplydrop)
Strafing Run (maybe done by the AI controlled Stuka mentioned above) (snippet: Meta/Reinforcements/r_strafingrun)
V1 Rocket (snippet: Meta/Reinforcements/r_v1rocket)

Statistics

Personal profile:

"soloWins"
"duoWins"
"squadWins"

"totalDowns"
"totalKills"
"meleeKills"
"totalTimePlayed"
"totalRevives"
"totalHeadshots"

"optionalObjectivesCompleted"
"safesOpened"
"supplyDropsOpened"
"vehicleBreakoutsOpened"
"sulisObjectivesTaken"

"vehiclesDestroyed"
"totalTanksDestroyed"
"totalVehicleKills"
"roadkills"
"vehicleWeaponKills"

"averageKillsPerGame"
"healingDone" (snippet: ID_SPARTA_CASABLANCA_ROYALE_CAREER_HEALING_DONE)

End of round:

damage
downs
gadgetKills
headshots
healingDone
kills
meleeKills
optionalObjectivesCompleted
resupplyPointsCaptured
revives
roadkills
safesOpened
supplyDropsOpened
tanksDestroyed
timePlayed
vehicleBreakoutsOpened
vehicleKills
vehicleWeaponKills
vehiclesDestroyed

Comparion screen:

"score"
"kills"
"playersDowned"
"longestHeadshot"
"teamKills"
"squadRevives"
"timesRevived"
Mehr zu den Neuerungen im Spiel und die "Tides of War" Roadmap findet ihr in unserer BFV-Themenübersicht (hier klicken). Folgt uns gerne auf Facebook und Twitter, um keine News mehr zu verpassen. Tretet gerne auch unserer Partnergruppe "Battlefield V Xbox One Community (Germany)" bei, um Mitspieler zu finden oder euch auszutauschen.