The Division 2: Tidal Basin erscheint am 5. April, Neues Update erscheint morgen
Ubisoft teilte heute mit, dass die erste Inhaltserweiterung "Tidal Basin" am 5. April ihren Weg am in "Tom Clancy's The Division 2" finden wird. Mit Tidal Basin wird Weltrang 5. freigeschaltet und ein neuer Stützpunkt, die Hauptbasis der Fraktion "Black Tusk", drei neue Gearsets und mehr hinzugefügt. Der erste 8 Spieler Raid "Dunkle Stunden" wird zudem im Sommer erscheinen.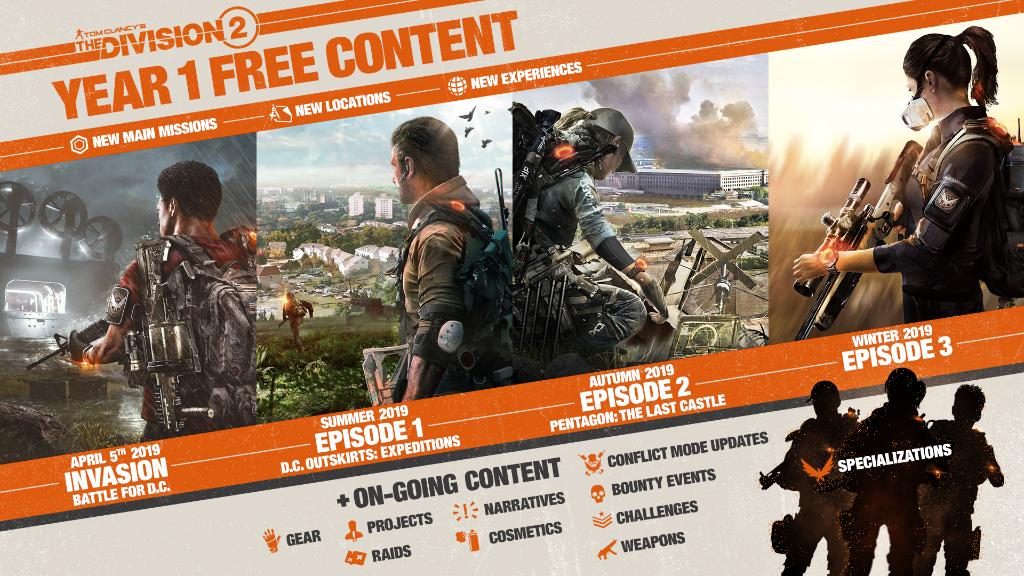 Operation "Dunkle Stunden" wird ebenfalls kurz nach der Veröffentlichung starten und beinhaltet den ersten 8-Spieler-Raid in der Geschichte von The Division;
Episode 1, Washingtons Vorstädte: Expeditionen wird im Sommer 2019 veröffentlicht und führt die Spieler in die Umgebung von Washington, um in zwei weiteren Hauptmissionen für die Befreiung der Stadt zu kämpfen. Zusätzlich erscheint ein neuer Spielmodus, in dem die Spieler das Schicksal eines verlorenen Konvois untersuchen und dabei auf unerwartete Bedrohungen stoßen;
Episode 2: Pentagon: Das letzte Bollwerk erscheint im Herbst 2019 und wird zusätzliche Hauptmissionen beinhalten, bei denen Spieler das Pentagon stürmen, um die Geheimnisse zu enthüllen, die sich unter einem der berühmtesten Orte Amerikas verstecken;
Episode 3 erscheint im Winter 2019 und wird das erste Kapitel der Geschichte von The Division 2 abschließen und dabei den Weg für weitere Inhalte ebnen.
Update 28. März
Ebenfalls steht ein neuer Patch für morgen auf dem Plan. Bei diesem handelt es sich um ein Update für euren Game-Client.  Die Altualisierung bringt euch einige Performance Verbesserungen, insbesondere im Hinblick auf aktuelle Framerate Drops. Darüber hinaus werden die verbleibenden Skill-Probleme behoben, die einen frühzeitigen Cooldown einleiten und einiges mehr.
Fehlerbehebung für restliche Probleme, die zu einem Reset der Fertigkeiten führen. Mit dem letzten Server Patch wurden bereits die Hauptprobleme behoben, die dazu führten, dass die Fertigkeit nach 15 Sekunden in den Cooldown überging.
Gruppenskalierung, das zuvor erwähnte Problem mit der Skalierung der Items. Fehler beim Item Scaling, wodurch grüne Items, welche auf Level 30 verstärkt werden nicht die gleichen Stats wie ein High-End Item auf Level 30 erhalten.

Ein Fehler wird behoben, der dazu führt, dass euer Charakter plötzlich anders aussieht

Verloren gegangene Skins sollen zurückerstattet werden

Audio-Probleme, die in Verbindung mit bestimmten Headsets auftraten
Anzeigefehler bei Items aus Kisten, wo immer nur graue Rucksäcke als Platzhalter angezeigt wurden.

Problem mit Navigationcontrolls und "Als Schrott markieren" wird für Controller gefixed.

weitere Performance Verbesserungen
Vorschau auf Tidal Basin Update am 5. April
Inhalt
Das Update bringt eine zusätzliche Mission, durch die der letzte Stützpunkt freigeschaltet wird

Wenn ihr diesen Stronghold abgeschlossen habt, wird Weltrang 5 freigeschaltet.

Der Gearscore wird hier auf 500 erhöht. Bewegt sich zwischen 450-500 auf WR5

Gear Sets werden ebenfalls dem Loot Pool hinzugefügt

Es werden drei neue Gear Sets hinzugefügt. (True Patriot / Ongoing Directive / Hardwired)

Gear Sets droppen bei Black Tusk Gegnern oder bei Einsatzort-Invasionen.

Mit Weltrang 5 erwarten euch wöchentliche Invasionen, bei denen Stützpunkte und weitere Missionen übernommen werden können, welche ihr bereits früher abgeschlossen habt, die aber bislang noch nicht zurückerobert wurden von den Black Tusk. (Also nicht nur die, die ihr zum Freischalten der Weltrangstufen abschließen müsst).

Auf Weltrang 5 könnt ihr zudem den Schwierigkeitsgrad für Invaded Missions wählen.

Heldenhafter Schwierigkeitsgrad wird mit Weltrang 5 verfügbar sein.

Für Missionen auf heldenhafter Schwierigkeit werden die Belohnungen sehr großzügig ausfallen, aber sie bieten  keine exklusive Beute.

Ihr werdet mehr und bessere Loot drops auf heldenhaft erhalten – Gear Set drops mit – im allgemeinen – besseren Werten im höhren Gearscore Bereich.

Die Regelen auf Heldenhaft werden ebenfalls angepasst (Keine Checkpoints z.B.). Weitere Infos folgen
Wöchentliche Invasionen
Die Invasions werden wöchentlich zurückgesetzt.

Wenn ihr eine Invaded Mission zum ersten Mal in der Woche abschließt, dann erhaltet ihr eine Bonus Belohnung.

Wenn eine Mission übernommen wurde, dann könnt ihr sie immer wieder als Invaded neu spielen und das auf verschiedenen Schwierigkeitsgraden.
Tidal Basin
Ist eine Militärbasis

Im Gegensatz zu anderen "realen Orten" wurde Tidal Basin mit dem Ziel entworfen "Wie würde eine High-Tech-Fraktion eine Basis aufbauen, um sie verteidigen zu können". / "Welche einzigartigen Verteidigungsmöglichkeiten könnten die Black Tusk haben?" / "Was ist realistisch?" High-Tech, mit dem sie ihre Basis verteidigen könnten? "

Dadurch unterscheidet sich diese sehr von anderen Missionen / Strongholds

Sie hat etwa die gleiche Größe wie Roosevelt Island.
Andere Updates / Fixes die im Tidal Basin Update enthalten sind
Problem mit den seltsamen Flächen auf Treppen wird behoben, die verhindern, dass man dort weiter nach oben gehen kann.


Es wird auch ein Balancing Update geben. (Waffen Mods und Skill Mods werden dort ebenfalls einbezogen sein)

Eine größere und kleinere Bugfixes zu Problemen, welche von der Community gemeldet wurden.

PVP steht nicht im Fokus dieses Updates – aber es wird ebenfalls mit einem kommenden Update angegangen. Das Team sammelt weiter Feedback von euch.

Mit dem Balancing sollen auch die Gear Sets genau unter die Lupe genommen werden. So hat man alles im Bild und kann Schritt für Schritt die erforderlichen Anpassungen vornehmen.
Weitere Infos zum Spiel, wie dem verbesserten Fortschrittssystem, Raids, Clans und mehr, findet ihr in unserer Themenübersicht (hier klicken). Folgt uns gerne auf Facebook und Twitter, um keine News mehr zu verpassen.
---
---