PUBG XB1 /PS4:  Neue Fahrzeuge & mehr mit Update #6 (XB1); Update #3 (PS4); [Patch Notes]
Für die Konsolenversion von PUBG wird heute ein neues Update (XB1 #6 / PS4 #3) bereitgestellt. Dieses bringt euch zwei neue Fahrzeuge, die Leuchtpistole für öffentliche Matches und einiges mehr. Im Rahmen der Aktualisierung werden auch Serverwartungsarbeiten vorgenommen. Die Voraussichtliche Downtime beträgt 4 Stunden (von 9:00 Uhr bis 13:00 Uhr). Nachfolgend haben wir für euch die Patch Notes.
Außerdem wartet anlässlich des 2. Jahrestags von PUBG auch ein Login-Bonus auf euch.
Überlebendenden-Titelsystem
Um mehr Spielern die Chance zu geben, die Meilensteine zu erreichen und die Belohnungen zu erhalten, wurde das Überlebenden-Titelsystem verlängert. Ihr habt nun bis zum 7. Mai 2019 dafür Zeit.
Survivor Pass: Vikendi
Der Survivor Pass: Vikendi ist bis zum 16. April um 11:00 Uhr verfügbar. Solange habt ihr Zeit alle Missionen zu erfüllen.
Patch Notes
Neues Fahrzeug: Zima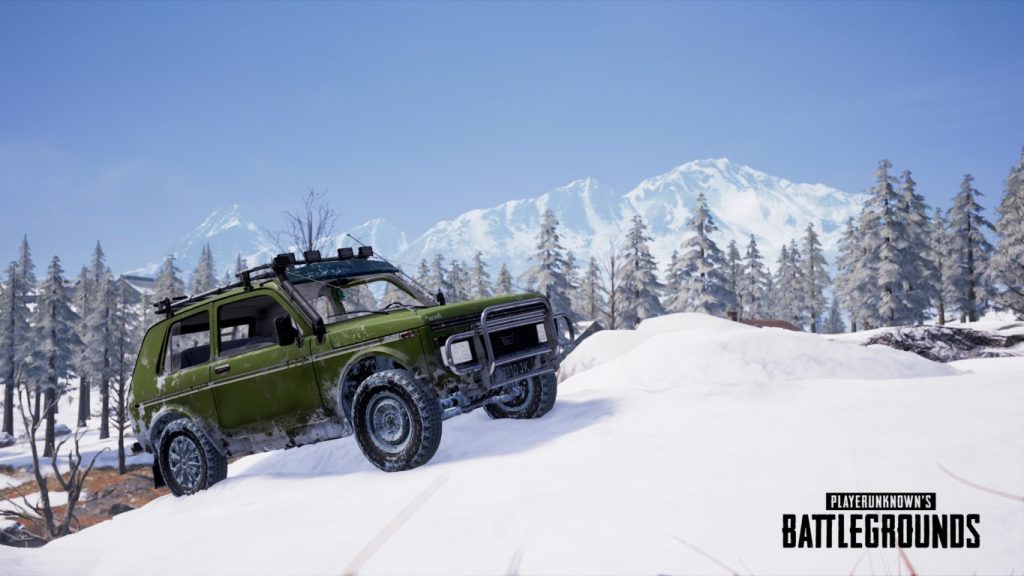 Exklusiv für Vikendi wurde ein neues Fahrzeug hinzugefügt, der Zima.

Alle vorhandenen UAZ werden in Vikendi durch den Zima ersetzt.
Mit ihm hat man zwar keine perfekte Kontrolle auf den Schneefeldern von Vikendi, trotzdem ist der Zima mit Allradantrieb leichter zu steuern als andere Fahrzeuge.
Der Zima ist vergleichsweise langsamer als andere Fahrzeuge, hat aber eine bessere Haltbarkeit und eignet sich für diverse tatktische Züge.
Neues Fahrzeug: Snowbike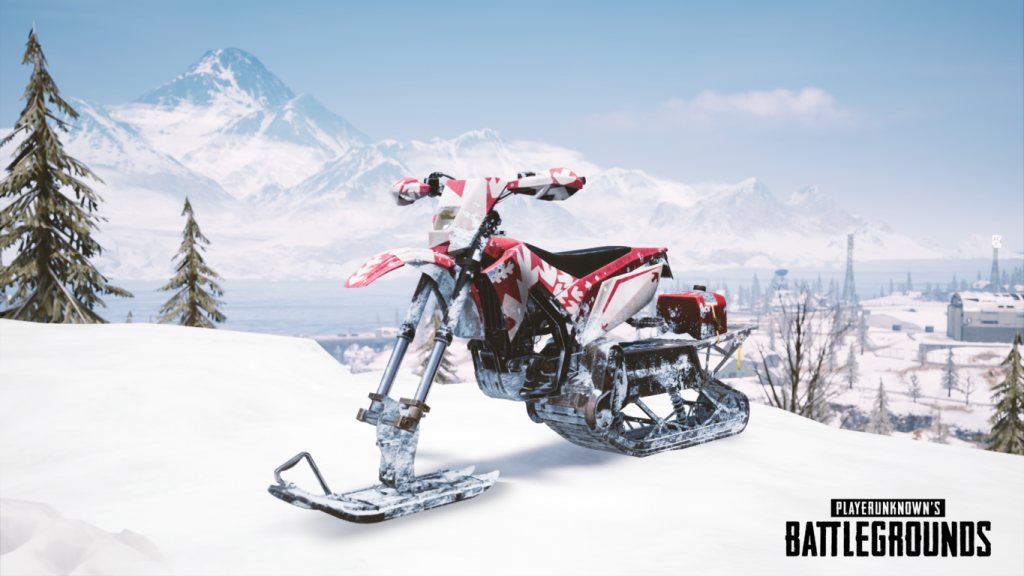 In Vikendi gibt es nun ein neues Fahrzeug: das Schneemotorrad.

Alle vorhandenen Motorräder werden in Vikendi durch Schneemotorräder ersetzt.
Das Schneemotorrad ist schneller und wendiger als das Schneemobil, besitzt aber eine geringe Haltbarkeit und ist leicht zerstörbar.
Neues Item: Leuchtpistole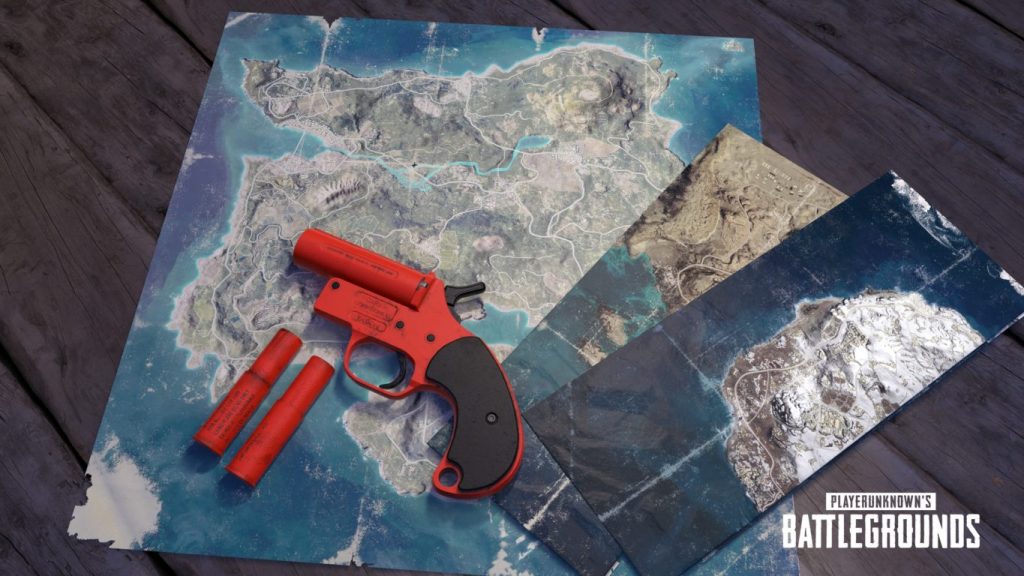 Die Signalpistolen aus benutzerdefinierten Matches sind jetzt auch in öffentlichen Matches verfügbar.
Die Spawn-Rate der Signalpistole wurde an jede einzelne Karte entsprechend angepasst.
Die Signalpistole und das damit verbundene System wurde so angepasst, dass damit diverse Gameplay-Situationen in der mittleren Kampfphase optimiert werden können.

Signalpistolen, die in den frühen Spielphasen genutzt wurden, boten bislang im Verhältnis zum Risiko der Nutzung eine sehr hohe Belohnung. Daher haben wir das Aktivierungslimit der Signalpistole von der anfänglichen Phase der blauen Zone zur zweiten Phase der blauen Zone verschoben.
Eine neue Systemmeldung wird angezeigt, wenn ein verbündeter/feindlicher Spieler in der Nähe eine Signalpistole abfeuert.
Sobald die Signalpistole aktiviert ist, ist sowohl auf der Karte als auch auf der Minikarte ein gelbes Symbol zu sehen, welches die Ankunft eines Versorgungspakets anzeigt.
Wird eine Signalpistole außerhalb der sicheren Zone aktiviert, um ein gepanzertes UAZ anzufordern, wird keine spezielle Meldung oder UI auf der Karte/Minikarte angezeigt.
Gameplay
Die Reflexionseffekte der Linsen des Zielfernrohrs wurden verbessert.

Den Zielfernrohren wurde eine Linse hinzugefügt, sodass der Blick ins Zielfernrohr in gewissen Situationen ins Leere führt, was realistischer ist.

Wenn ein Fahrzeug explodiert, werden nun auch die Reifen des Fahrzeugs dabei zerstört.
Die Anforderungen für das Liegen eines Charakters wurden verändert, sodass auf manchen zerklüfteten Untergründen kein Liegen mehr möglich ist.

Sobald man sich auf Gelände begibt, in dem ein Liegen nicht möglich ist, wechselt die Haltung des Charakters von "liegend" zu "geduckt".
Performance
Die Charakter-Animation wurde verbessert und optimiert.
Die Ladegeschwindigkeit wurde durch Optimierung des Charakter-Ladevorgangs verbessert.
Die FPS wurden durch Optimierung des Rendering-Vorgangs für Laub im Spiel verbessert.
Die Performance wurde durch die Optimierung der Game-Server verbessert.
Das Trefferkriterium von Molotowcocktails bei der Berechnung des Charakter-Schadens wurde optimiert.
Bestimmte Widgets in HUD/UI wurden optimiert, da sie eine schlechtere Performance bewirkten.
Benutzerdefiniertes Match
Systemverbesserung: Der Ergebnisbildschirm eines Matches wurde von der Sitzung getrennt.

Wenn benutzerdefinierte Matches zu Ende gehen, können die Spieler den Ergebnisbildschirm nun für 10 Minuten einsehen. Das nächste benutzerdefinierte Match kann frühestens 1 Minute nach Ende des Matches gestartet werden.

Fehlerkorrekturen bei diversen Texten im Menü
Bugfixes
Fixed the issue where the S686 could sometimes be fired 3 times in a row due when a player had poor network connectivity.
Fixed the issue of the loading screen image occasionally remaining in the lobby.
Fixed the issue with character travelling certain distance with falling motion after landing.
Fixed the issue of an abnormal character animation being shown when grabbing a Flare Gun in a specific position.
Fixed the issue where swimming animation incorrectly displaying under certain circumstances.
Fixed the issue of interaction highlight and button being shown for destroyed motorbikes and scooters.
Fixed the issue of throwables becoming invisible after being thrown and switching to a different weapon.
Fixed the issue of reticle brightness getting reset when switching scopes or picking up dropped weapons.
Fixed the issue with moving to the mode selection screen instead of session list when entering or leaving a custom match session.
Fixed the issue of raining effects being shown indoors.
Fixed the issue of dead bodies making footstep sounds.
Fixed the issue which could cause the remaining number of rounds in a magazine to be displayed incorrectly when reloading.
Fixed the issue where you'd sometimes see a flickering afterimage when coming out of ADS mode with a scope attached in FPP
Fixed the issue of an animation being displayed backwards when the character is armed with melee weapons and walking backwards.
Fixed the issue of a character and its shadow not displaying some swimming animations in FPP mode.
Fixed the issue which prevented switching helmets, vests and weapons when the inventory is full.
Fixed the issue where a smoke grenade's fuse starts to go off when touching the ground instead of when the pin is pulled out.
Fixed the issue of being unable to switch weapons when pulling out the safety pin of a grenade.
Fixed the issue with the name of two skins being identical.
Fixed the issue where Molotov's flame sound could be heard over a 1km radius.
Fixed the issue of care package being stuck in an abnormal motion when obstructed from landing.
Fixed the issue with characters attacking with fists instead of throwing throwables when a player had poor network connectivity.
Fixed the issue where shadow intermittently appears to the door in Vikendi
Fixed the issue which could cause grenades to deal damage through walls of certain buildings.
BattleMentor APP für Android & IOS
Die App BattleMentor zeigt euch vielewichtige Statistiken und eignet sich sowohl für PC- als auch Konsolenspieler. Sie verwendet die offizielle PUBG-API und unterstützt die Betriebssysteme Android und iOS. In kürze werden weitere Updates für die Anwendung bereitgestellt. Dann erhaltet ihr darüber auch Lebenszeitstatistiken, Waffenstatistiken und viele weitere Diagramme. Hier geht's zum Dowload für IOS und Android.
---
---
Weitere News zu PUBG findet ihr in unserer Themenübersicht (hier klicken). Folgt uns gerne auf Facebook und Twitter, um künftig keine News mehr zu verpassen. Wer auf der Suche nach Hilfestellungen oder neuen Mitspielern ist, kann gerne in unserer Facebook Partnergruppe "PUBG Xbox One Community (deutsch)" & "PUBG Playstation 4 Community (deutsch)" vorbeischauenvorbeischauen.