Star Wars Battlefront II: Roadmap für kommende Inhalte; neue Modi,Karte & mehr
Im Rahmen der diesjährigen Gamescom hat EA die neue Roadmap für Star Wars Battlefront II enthüllt. Diese stellt die atemberaubenden Inhalte vor, die in diesem Herbst erscheinen werden. DICE arbeitet derzeit an umfassenden Updates für September und Dezember.  Nachfolgend erfahrt ihr mehr zu den geplanten Inhalten, Events, Modi und mehr.
Roadmap 2019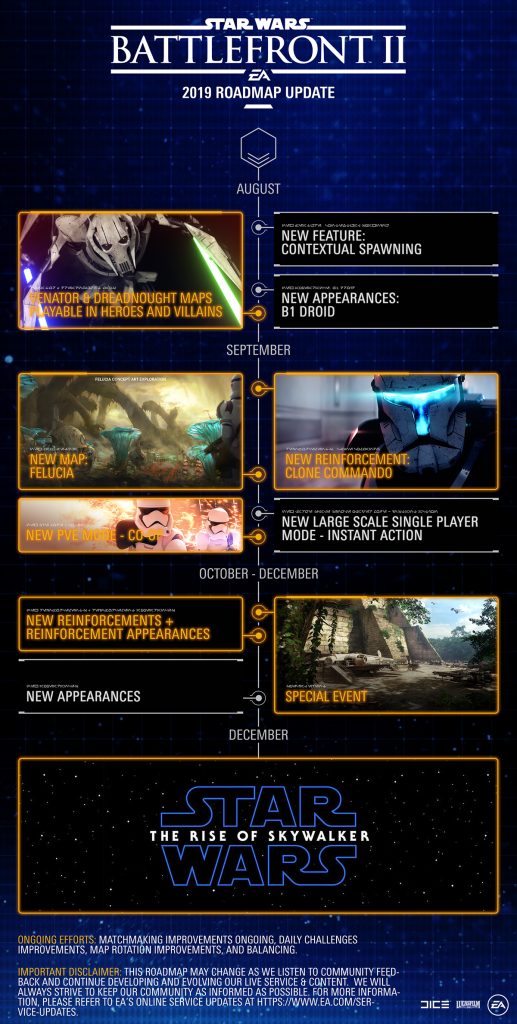 September – Neue Karte, neue Modi, neue Möglichkeiten, epische Schlachten zu spielen.
Im September wird viel passieren. Es geht los mit der Enthüllung einer großen Felucia-Karte. Diese Karte spielt gegen Ende der Invasion der Separatisten auf Felucia. Da den Klonen nur noch ein mächtiges Fahrzeug zur Verfügung steht, um die bäuerliche Bevölkerung Felucias zu evakuieren, versuchen sie, ihre letzte Verteidigungslinie lange genug zu halten, bis einige Transporter der Republik große Bestände wertvoller Arzneipflanzen aus dem Dorf abholen können. Als die Droiden allerdings zur Position der Klone vorrücken, entschließt sich der Trupp, in die Offensive zu gehen und den für den Angriff verantwortlichen Dreadnought zu zerstören. Aber auch die Droiden verfolgen einen Plan: Sie setzen alles daran, den Venator der Republik abzuschießen, um den Abtransport der Pflanzen zu verhindern.
2 Neue Modi
Außerdem gibt es zwei neue Modi! Der erste ist ein PvE Koop-Erlebnis für Trupps mit bis zu vier Spielern, die über Einsatzziele Fortschritte erzielen. Du kannst für die Galaktische Republik oder die Separatisten-Allianz in die Schlacht ziehen, um auf allen fünf Planeten unserer Klonkriege-Epoche an gewaltigen Schlachten teilzunehmen: Kashyyyk, Kamino, Naboo, Geonosis und Felucia.
Der zweite, im September erscheinende, Spielmodus heißt "Sofort-Action". Dabei handelt es sich um einen (vielfach geforderten) groß angelegten Spielmodus in einer Einzelspieler-Umgebung. Er basiert auf dem Vorherrschaftselement von Totale Vorherrschaft (in der Planetenphase) und ermöglicht dir, diese im Alleingang zu bestreiten. Zum Zeitpunkt der Veröffentlichung erhaltet ihr Zugang zu allen Karten, die derzeit für Totale Vorherrschaft verfügbar sind: Naboo, Kamino, Kashyyyk, Geonosis und Felucia.
Republic Commandos
Die Elite-Soldaten aus Republic Commando werden ihren Weg ins Spiel finden. Sie sind Primär mit einem DC-17m Repeating Blaster ausgestattet. Zudem können sie dieses Gewehr auch mittels einer Fähigkeit in einen Granatwerfer umwandeln. Mit einer Schockwelle können sie darüber hinaus Gegner zurückstoßen und sich selbst und auch ihre Verbündeten vor eingehendem Schaden schützen.
Community Herausforderung
Ihr dürft euch ebenfalls auf eine neue Herausforderung freuen. Wenn ihr diese abschließt, schaltet ihr einen neuen Skin für "Luke Skywalker" frei.  Damit sieht der Charakter aus wie "Luke Skywalker" aus "Eine neue Hoffnung".
Dezember – Von Star Wars: The Rise of Skywalker inspirierte Inhalte erscheinen
Wir sind total begeistert, auf Star Wars: The Rise of Skywalker basierende Inhalte in das Spiel einbauen zu können! Wir können derzeit noch nicht mehr dazu sagen, werden aber weitere Details veröffentlichen, sobald uns dies möglich ist.
Neben diesem Inhalt hät der Dezember auch ein neues Menu System bereit. Dieses Lässt euch in einer Ära eurer Wahl spielen Und ihr dürft euch auf neue Verstärkungseinheiten freuen.
Folgt uns gerne auf Facebook, Instagram und Twitter, um künftig keine News mehr zu verpassen.
---
GEWINNSPIEL – VINCORP USB DESIGN KÜHLER
---
Bis zum 25. August könnt ihr an unserem Gewinnspiel auf Facebook (hier klicken) teilnehmen, um einen USB Multicolor Designkühler für euch und einen Freund oder eine Freundin zu gewinnen. Weitere Infos zu den Teilnahmebedingungen findet ihr in der Beschreibung auf Facebook.
---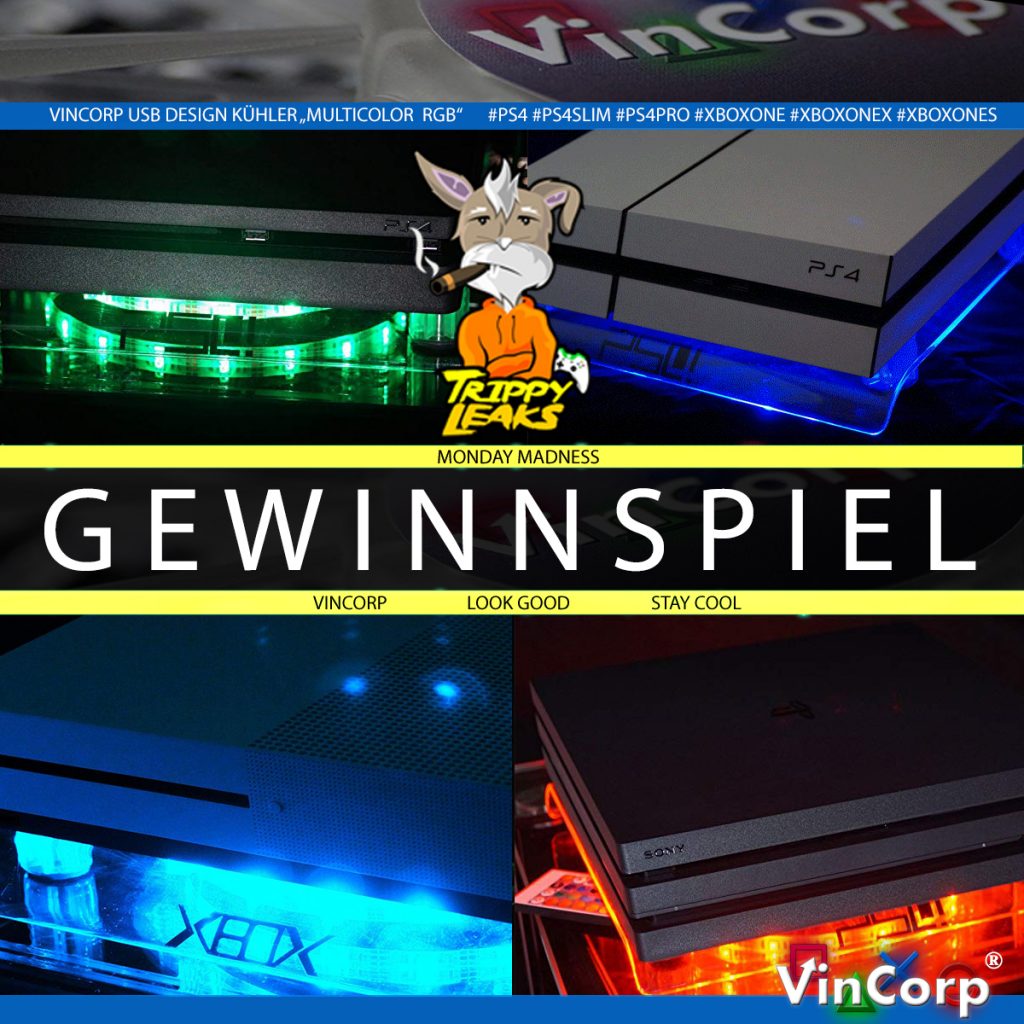 ---