Battlefield V: Trailer & Infos zu Kapitel 6 – "Into the Jungle"
DICE veröffentlichte heute den erten Trailer zum 6. Kapitel für "Battlefield V". In "Into the Jungle" erwarten euch neue Waffen, Gadgets und eine neue Karte. Darüber hinaus werden auch einige Anpassungen am Spiel vorgenommen. Einen ersten Vorgeschmack auf das, was in Kapitel 6 auf euch wartet, gibt es im nachfolgenden Trailer. Diesen Freitag wird überigens auch die "Bombastic Fantastic" Playlist zurückkehren. Kapitel 6. ist ab dem 6. Februar verfügbar.
Trailer
Battlefield V – Into the Jungle Overview Trailer
Mehr zu Update 6
Mit dem ersten Update erwarten euch wie Eingangs erwähnt eine neue Karte, drei neue Waffen und zwei Gadgets.  Ebenfalls dürft ihr euch auf weitere Balancing Anpassungen für Waffen und Fahrzeuge freuen. Als Basis für die Balancing-Änderungen dienen die Werte von "Update 5.0". Ihr solltet aber keine vollständige Umkehrung erwarten. Sie beabsichtigen, den Waffenschaden auf Distanz zu verbessern und diese Kurven auszugleichen. Final sollte eine Waffen-Performance spürbar sein, die 5.0 sehr viel näher kommt.
Die Karte Wake Island soll ebenfalls erste Änderungen erhalten, um der Fahrzeugüberlegenheit und den Problemen im Modus "Breakthrough" entgegenzuwirken.
Automatische Zielerfassung auf Konsolen
Im Bezug auf die automatische Zielerfassung bei der Konsolenversion heißt es, dass diese nicht entfernt werden soll. DICE möchte stattdessen einige Optionen hinzufügen, mit denen man die Intensität verwalten kann.
Mit Update 6.2 sollen dann Fehlerkorrekturen und weitere Anpassungen folgen. Das Studio benötigt noch mehr Zeit, um die Probleme zu beheben.
Neue Nahkampf-Karte: Salomonen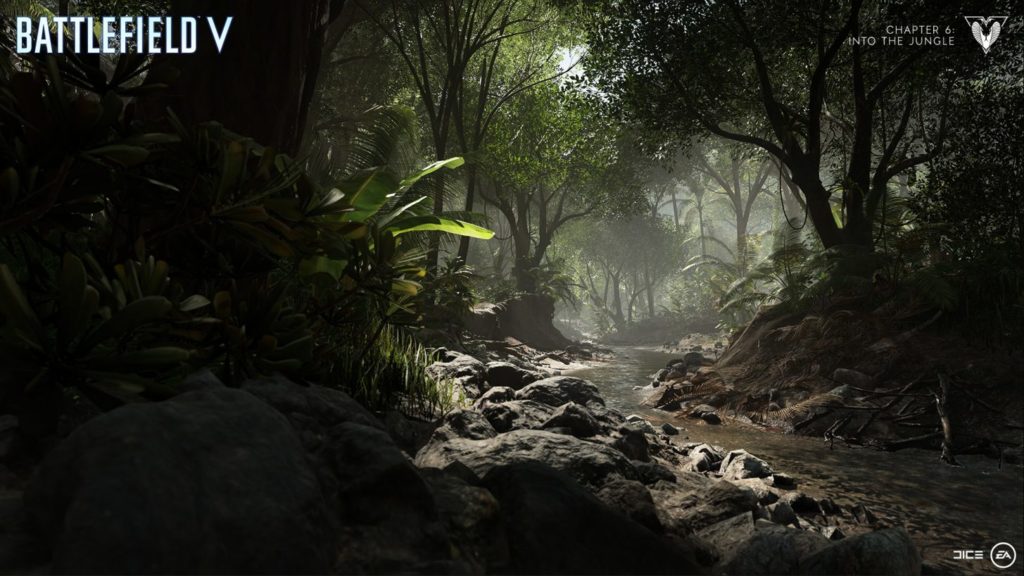 Überall lauern Gefahren und Möglichkeiten. Kämpft euch auf der Salomonen-Karte durch einen Dschungel, in dem ihr nie wisst, was euch hinter der nächsten Flussbiegung, zwischen den dunklen Mangroven oder in den versteckten Bunkern erwartet. Egal, ob ihr einen amerikanischen Angriff startet oder die japanischen Linien verteidigt … das Gelände kann euer bester Freund sein – oder dein schlimmster Feind. Flüsse und Sümpfe blockieren Infanteristen und Panzern den Weg, aber mutige Soldaten können die Engstellen zu ihrem Vorteil nutzen. Rückt auf schmalen Pfaden durch dichte Urwälder vor und kämpfe um gut gesicherte Festungen.
Wir haben die Salomonen-Karte für eine Kombination aus beängstigenden Infanteriegefechten im Dschungel und den Einsatz von Land- und Wasserfahrzeugen konzipiert. Du wirst sehen, ein Modus wie "Durchbruch" kommt auf dieser Karte perfekt zur Geltung. Während Verteidiger in Deckung bleiben und das Gelände nutzen können, um ihre Stellung zu halten, haben Angreifer verschiedene Optionen: Flankenmanöver, Infanterievorstöße oder Landungsschiffe für einen Frontalangriff.
Neue Waffen und Gadgets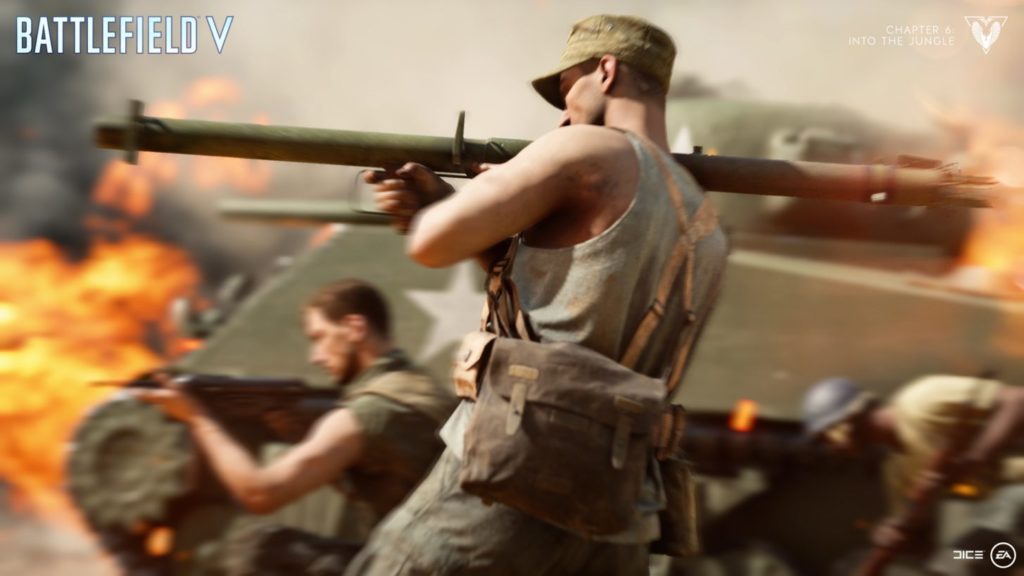 Im Laufe der Kämpfe von Kapitel 6 könnt ihr drei neue Waffen und zwei Gadgets freischalten, um euer Arsenal zu verstärken. Diese mächtigen Werkzeuge sind allesamt Kapitel-Belohnungen. ihr bekommt sie also, indem ihr Kapitel-EP sammelst und die erforderlichen Kapitelränge erreicht. Ingesamt gibt es 40 Ränge.
Zu den Waffen:
Für die Versorgungsoldat-Klasse wird das Typ 11 LMG und die Schrotflinte Model 37 hinzugefügt, um euren Bedarf für kurze und mittlere Distanzen zu decken. Sturmsoldaten können mit dem M2 Karabiner ein vollautomatisches Gewehr freischalten, das für Gefechte im Dschungel wie geschaffen ist.
Gadgets
Hinsichtlich der Gadgets wird die M1A1 Bazooka als Fahrzeugabwehrwaffe für Sturmsoldaten integriert. Die Bazooka ist auf große Entfernungen eine überragende Panzerabwehrwaffe, zwingt euch im Nahkampf aber, auf eine andere Taktik zurückzugreifen.
Auch die verheerende Stoßmine feiert in Kapitel 6 ihr Debüt. Sturm- und Versorgungssoldaten können dieses einzigartige Gadget nutzen, um feindliche Panzer abzuwehren.
Neue Elitesoldaten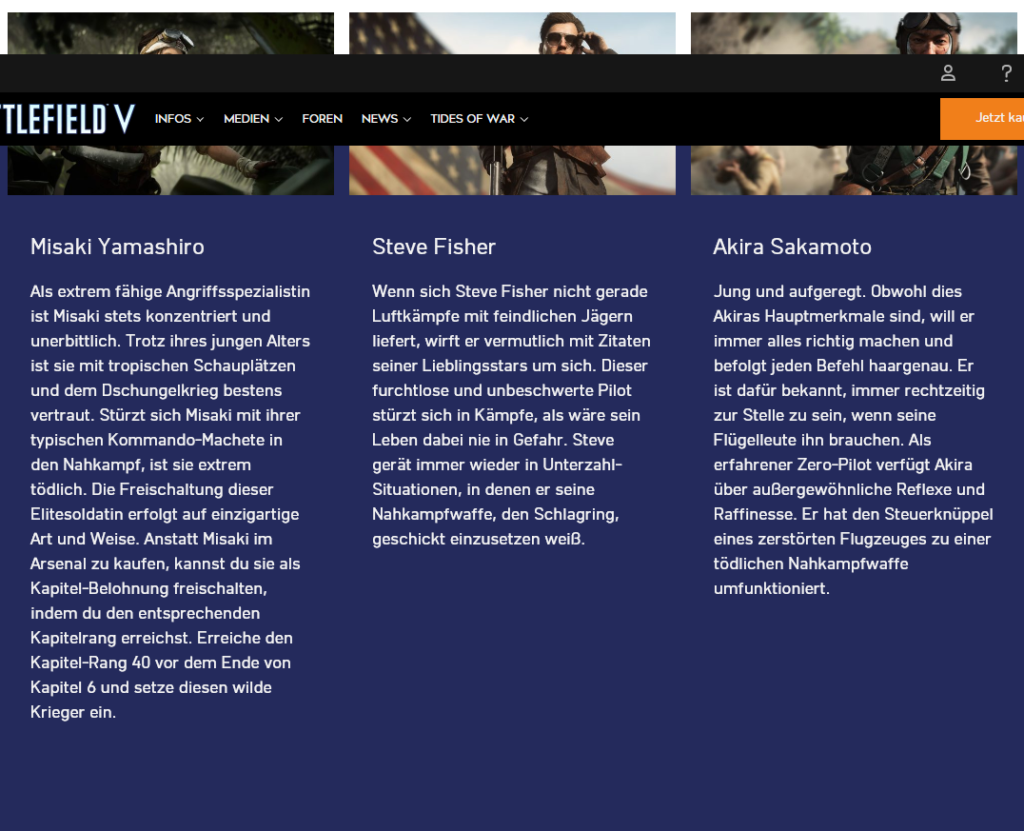 ---
---
Mehr zu den Neuerungen im Spiel und die "Tides of War" Roadmap findet ihr in unserer BFV-Themenübersicht (hier klicken). Folgt uns gerne auf Facebook und Twitter, um keine News mehr zu verpassen. Tretet gerne auch unserer Partnergruppe "Battlefield V Xbox One Community (Germany)" bei, um Mitspieler zu finden oder euch auszutauschen.