Xbox: Die neue Xbox Experience – neues Dashboard für Xbox Series X, Xbox One & mehr vorgestellt
Microsoft hat die neue Xbox Experiance enthüllt. Dabei könnt ihr einen Blick auf das neue Dashboard für die kommende Konsolengeneration Xbox Series X und Xbox Series S werfen. Zudem wird die neue Oberfläche auch für die aktuelle Konsolengeneration bereitgestellt. Auch xCloud, Windows 10 und mobile Apps erhalten eine Überarbeitung der Benutzeroberfläche. Ziel dabei ist es, dass die Verwaltung von Hard- und Software so einfach wie möglich, und das unabhängig von eurem Gerät. Dem Team ist wichtig, dass ihr eure Lieblingsspiele leicht finden könnt und die Kommunikation mit euren Freunden zuverlässig funktioniert.
Die neue Xbox Experience
The New Xbox Experience: Connecting You to Fun, Wherever You Want to Play
Neues Design
Das neue Dashboard wurde übersichtlicher gestaltet. Es gibt einen überarbeiteten Illustrationstil, gut lesbare Texte und eine übersichtlichere Kachelanordnung. Außerdem bietet es unter anderem animierte Hintergründe, ähnlich, wie man es auch bei der PS4 kennt. Darüber hinaus wurden die Kanten der Kacheln abgerundet. Eine der wichtigsten Neuerungen ist aber die Steigerung der Performance. Das neue Erscheinungsbild von XBox wurde so gestaltet, dass es schneller zu bedienen, leichter zugänglich, und optisch ansprechender ist. Im offiziellen Blog heißt es, dass das neue Design ab sofort für alle Xbox Mobile Apps, den Xbox Game Pass für PC und die Xbox-Konsolen freigeschaltet ist. Allerdings scheint es noch nicht bei allen Nutzern angekommen zu sein. Es wird wohlmöglich in Wellen ausgerollt.
Auf der Xbox Series X und XBox Series S wird das neue Dashboard zum Release ebenfalls verfügbar sein. Hier bietet es aber noch zusätzliche Funktionen, die dank der leistungsfähigkeit der neuen Konsole möglich sind. Darunter unter anderem die Quick Resume Funktion. Ihr könnt jetzt sogar erfahren, ob eure Konsole gerade eingeschaltet ist, da alle Systeme zusammen arbeiten – Smartphone, PC und Konsole.
Performance
Der Startbildschirm lädt von nun an um 50 Prozent schneller, wenn die Xbox gestartet wird und um fast 30 Prozent, wenn ihr gerade ein Spiel beendet habt. Die Verbesserungen sorgen sogar dafür, dass 40 Prozent weniger Speicher benötigt wird.
Neuer Store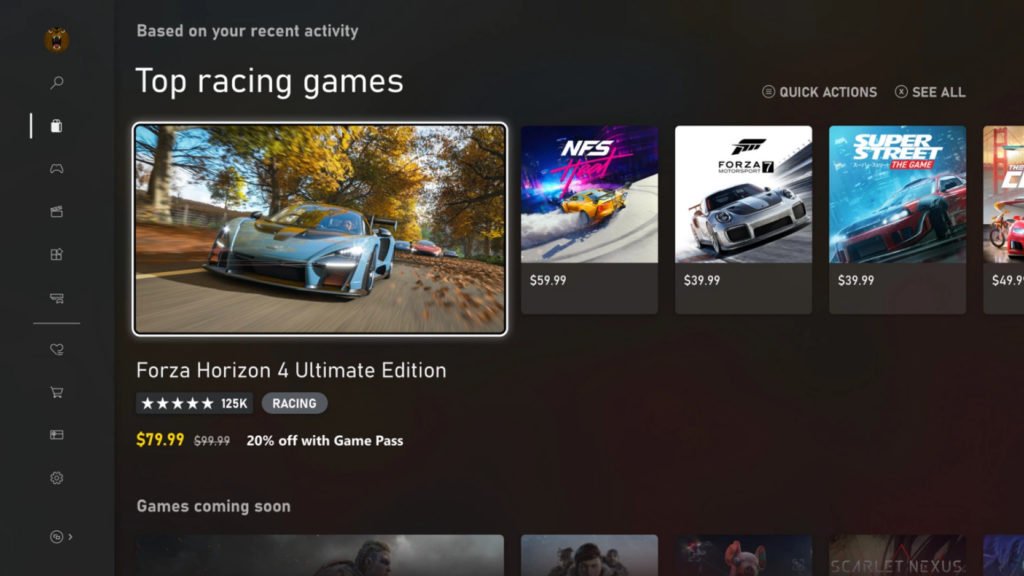 Der neue Store ist auch Teil des Gesamtpakets. Er wurde neu aufgebaut, in seiner Funktionsweise beschleunigt und vereinfacht. Zudem wurde die Startzeit der App auf rund zwei Sekunden verkürzt und mit der optimierten Navigation findet ihr alles noch schneller. So seht ihr unter anderem welche Inhalte über den Xbox Game Pass verfügbar sind und welche Inhalte gerade im Angebot sind.
Neue mobile App
Des Weiteren befindet sich eine neue mobile Xbox-App in Arbeit. Damit soll euer Smartphone noch besser in die Xbox-Aktivitäten auf der Konsole oder dem PC integriert werden. Unter anderem könnt ihr nun leichter euerNetzwerk mit anderen Gamern teilen und mit diesen in Verbindung treten. Wenn ihr z.B. eine Aktualisierung oder einen aufgezeichneten Spielclip von der Konsole aus teilen wollt, werden die Informationen automatisch auch an die mobile App geschickt und ihr könnt so die Inhalte in sozialen Medien teilen.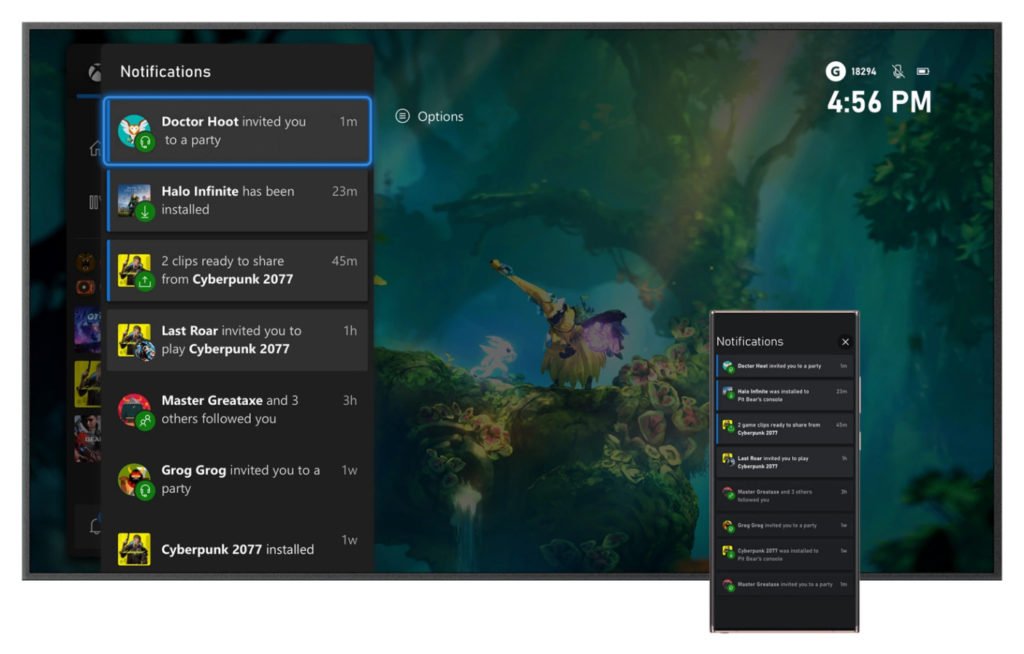 Über die neue Mobile-App könnt ihr euren Xbox-Freunden noch schneller Nachrichten schicken, eine Party starten oder euch mit Ihnen unterwegs unterhalten. Spezielle Benachrichtigungen informieren euch zudem über aktuelle Aktivitäten, die auf dem Smartphone, dem PC und der Konsole getätigt werden. Ähnliche Aktivitäten wie Partys und Chats werden in einem Reiter zusammengefasst.
---
Guthaben, Gamecards & mehr [Anzeige]
---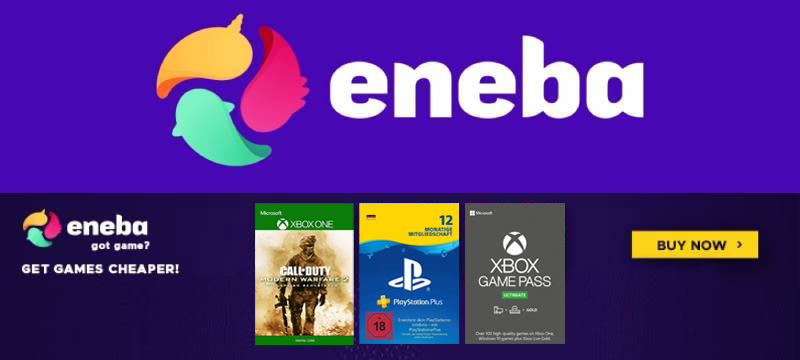 ---
Weitere News zur Xbox Series X findet ihr in unserer Themenübersicht (hier klicken). Folgt uns gerne auf Facebook, Instagram und Twitter, um künftig keine News mehr zu verpassen.
Alle Xbox Konsolen von der Classic bis zu Xbox Series X in der Übersicht
Wenn ihr euch für die technische Entwicklung der Xbox interessiert, dann findet ihr in unseren vorherigen News den entsprechenden Beitrag dazu.
---
---