The Division 2: Patch Notes für Titel-Update 12.1 mit Kostenanpassungen für Optimierungsstation, Resident Evil Event, Next-Gen-Optimierungen & Bugfixes
Am Dienstag, den 2. Februar 2021 erscheint Titel-Update 12.1 für "Tom Clancy's The Division 2". Mit dem Patch kommt es auch zur wöchentlichen Serverwartung. Diese beginnt wie gewohnt um 9:30 Uhr. Die voraussichtliche Dauer der Wartungsarbeiten war ursprünglich für 3 Stunden angesetzt. Allerdings hat Massive zwischenzeitlich angekündigt, dass die Wartungsarbeiten bis 17:30 Uhr andauern werden. Mit TU 12.1 erwarten euch Fehlerkorrekturen, eine Optimierung für die Next Gen Konsolen Xbox Series X|S und Playstation 5 sowie der Start des Resident Evil Bekleidungsevents.
Patchgröße:
XBOX ~5.2GB
Playstation ~4.3GB
PC ~5.1GB
Patch Notes- TU 12.1 – 2. Februar 2021
Resident Evil Event
Das Event startet am 2. Februar 2021 und läuft bis einschließlich 15. Februar 2021. Während des Events könnt ihr insgesamt bis zu 21 neuartige Bekleidungsgegenstände erspielen und erwerben, die ikonische Outfits verschiedener Resident Evil-Charaktere darstellen.
Folgende Gegenstände können erworben werden:
Resident Evil-Outfit-Gegenstände

Waffenskins

Arm-Aufnäher

Rucksack-Trophäen
Login Bonus
Wenn ihr euch im Eventzeitraum einloggt, erhaltet ihr zudem das Leon S. Kennedy RPD Outfit als Login-Bonus.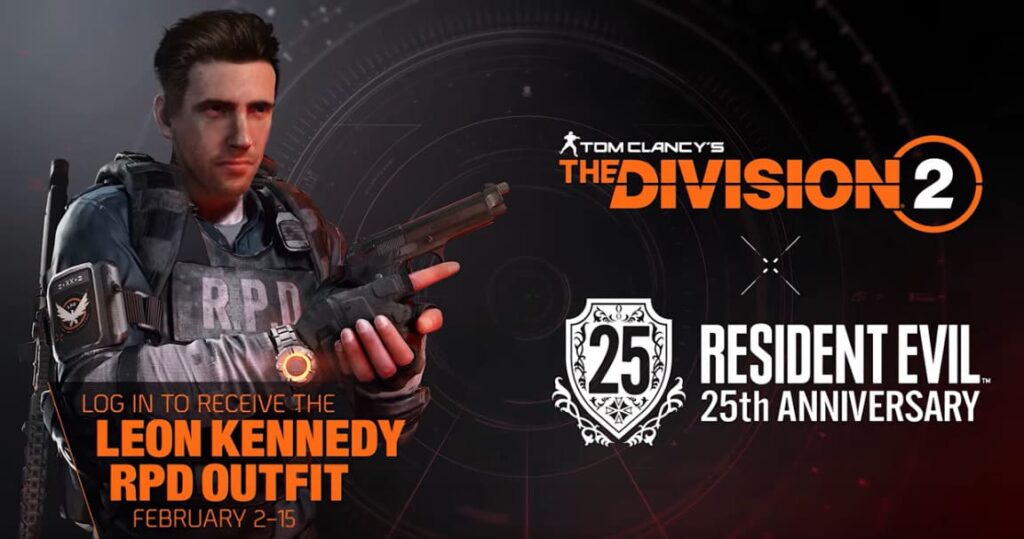 4K 60 FPS Support für Xbox Series X/S uPlayStation 5
Die Optimierungen für Playstation 5 und Xbox Series X|S ermöglichen, dass das Spiel auf den neuen Konsolen mit 4K und 60FPS laufen wird. Hinweis:  TU12.1 ist allerdings kein vollständiges Upgrade mit Optimierungen. Es hebt lediglich die Framerate Limitierung auf. Weitere Optimierungen scheinen erst noch zu folgen.
Optimization Station Changes
Reduced all optimization costs by 75%.
Reduced all optimization material crafting recipes by 50%.
With this update agents should be able to afford to optimize their weapons and gear about once an hour. Though it may take up to two hours to gather all the resources necessary to optimize the final tier of many items.
Reanimated Global Event Changes
The green cloud produced by killing enemies with a headshot no longer harms agents. This cloud now heals agents and provides a significant boost to their firepower while standing within it. The green cloud continues to significantly harm enemies.
Bug Fixes
Fixed issue where gear sets would not correctly display which talents were required to be active for their chest and backpack talents to activate.
Fixed issue where Rigger would sometime refresh Tend and Befriend incorrectly.
Fixed issue where Memento Kill Confirmed drops could come from friendly skills.
Fixed an issue where Memento buffs could last beyond death. Which was both grim and ironic.
Fixed issue where directives in the LZ could multiply experience earned in the DZ.
Fixed and issue where Legendary Black Tusk would not count as "Black Tusk" for objectives in Leagues and Summit Challenges.
Removed objectives for the Skill Demotions Summit Challenge which referred to the Firestarter Chem Launcher and the Shrapnel Trap. The objectives were misbehaving and have been put in timeout.
Fixed issue where Vanguard and Perfect Vanguard granted their invulnerability to allies.
Fixed issue where Summit Combat Merit Commendation would display unusually in the Commendations menu.
Fixed issue where Merciless and Ruthless exotics would trigger a cosmetic explosion on the seventh stack in addition to really exploding on the first shot after.
Fixed issue where Decoy Skill would not refresh correctly if it was deployed when getting a headshot kill with the Mantis exotic.
Fixed issue where other players on the League leaderboards would show your own SHD level and point distribution.
Fixed misaligned elbow pads when using specific apparel items.
Fixed issue where The Summit matchmaking tab is not grayed out for groups containing level 30 agents.
Fixed issue where the audio queue doesn't trigger when killing the last enemy on floor 100 in The Summit.
Fixed the Symptom Aggravator" talent description.
---
Ubisoft Deals [Ad]
---

---
Mehr Infos zum Spiel, wie Patch Notes zu verfügbaren Updates, geplante Änderungen, Raids, Clans und mehr, findet ihr in unserer Themenübersicht (hier klicken).  Folgt uns gerne auf Facebook, Instagram und Twitter, um künftig keine News mehr zu verpassen.