Call of Duty: Warzone | Iron Trials '84 kommt am Donnerstag ins Spiel | Was ihr über die bislang härteste Battle Royale Variante wissen müsst
Am Donnerstag, den 16. September 2021 wird der neue Modus "Iron Trials '84" in "Call of Duty: Warzone hinzugefügt. Dieser zeitlich begrenzte Modus bietet euch die bislang härteste Battle Royale Erfahrung. Dazu hat Raven Software die bekannten Gameplay-Elemente von "Verdansk BR" stark modifiziert. Damit möchte man eine noch intensivere Battle Royale Erfahrung schaffen. Hier erfahrt ihr alles, was ihr zum neuen "Call of Duty: Warzone"-Modus "Iron Trials '84 wissen müsst.
So funktioniert Iron Trials '84 in Warzone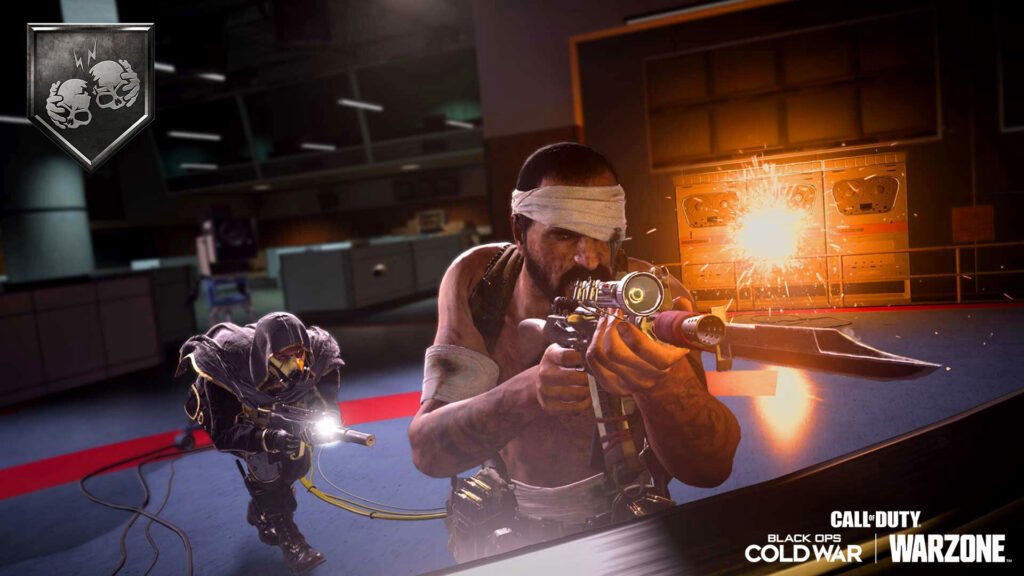 Im Kern ist Iron Trials '84 ein Battle Royale-Spielmodus – das letzte noch lebende Team gewinnt, der Kreiskollaps verkleinert den spielbaren Bereich, wodurch es zu immer intensiveren Feuergefechten kommt. Wenn ihr in der Anfangsphase des Spiels ausscheiden solltet, habt ihr die Chance auf einen Wiedereinstieg, sofern ihr das 1v1 Duell im Gulag gewinnt. Aber abseits von den Kernelementen wurden für diesen Spielmodus zahlreiche grundlegende Änderungen an der traditionellen Formel vorgenommen. Dadurch könnt ihr noch einmal mehr euer können unter Beweis stellen.
Die neuen Modifikationen:
Allgemein:
Spieldauer & Kreiskollaps: Der Runden-Timer wurde um 12% reduziert und die Geschwindigkeit des Kreiskollapses wurde um 12% erhöht. Dadurch verkürzt sich die typische Spielzeit um etwa zwei Minuten im Vergleich zu einem normalen Battle Royale Match.
Loadouts & Buystation: Es gibt keine kostenlosen Loadout-Drops – diejenigen, die ihre speziell angefertigten Waffen einsetzen und Zugang zu Perks erhalten möchten, müssen sie an der Buystation erwerben. Die Preise wurden ebenfalls angepasst.
Rüstungs Bundle: von $1,500 auf $2,000 erhöht
Gas Maske: von $3,000 auf $4,000 erhöht
Cluster Schlag: von $3,000 auf $4,000 erhöht
Prezisionsluftschalg: von $3,500 auf $4,500 erhöht
Self Revive: von $4,000 auf  $5,000 erhöht
Drohne: von $4,000 auf $6,000 erhöht
Loadout Drop: von $10,000 auf $15,000 erhöht
Fahrzeuge: Es stehen nur ATVs und Dirt Bikes zur Verfügung.
Nahkampf: Nahkampf-Finisher-Schaden wurde entfernt. Begleicht eure offene Rechnung mit Blei.
Operator: Grundgesundheit, Gesundheitsregeneration & Startausrüstung:
Im Vergleich zu einem normalen Spiel wird die Grundgesundheit aller Spieler von 100 auf 250 erhöht. Der Regenerationsverzögerungstimer wurde von 5 auf 7 Sekunden erhöht und die Regeneration pro Sekunde wurde von 120 auf 40 verringert. Es kann ratsam sein, bevorzugte Perks und Ausrüstung zu überdenken. Ihr startet mit einer .44 Magnum und einem Vorschlaghammer ins Spiel.
Loot:
Der Loot-Pool wurde ebenfalls angepasst. Dazu zählen Anpassungen an Vorratskisten und Items, die man auf dem Boden finden kann. In diesem Modus wird dem Plündern mehr Bedeutung verliehen. Um zu überleben, muss man wissen, wo man Kisten findet, und in der Lage sein, mehrere Aufträge abzuschließen. Zudem verfügen gewöhnliche Waffen nur noch über einen Aufsatz. In den meisten Fällen ist das eine Magazinerweiterung. Epische und seltene Waffen sind noch schwerer zu finden. Außerdem gibt in diesem Modus mit "klassifiziert" eine neue Seltenheitsstufe für Waffen. Black Ops Cold War Waffen verfügen über mehr als 5 Aufsätze. Die Droprate für Streaks wurde ebenfalls reduziert, größere Cash-Spawns bleiben aus und die Perks Totenstille und Stopping Power wurden entfernt.
Ausrüstung:
Durch die erhöhte TTK sind Kopftreffer mit Scharfschützengewehren nur noch bis zu einer Distanz von 30 Metern tödlich. Alles darüber hinaus erfordert mehrere Treffer. Die Dauer des Betäubungseffekts von Stun-Granaten wurde um 50 % reduziert und auch beim Stim Shot wurde Regenerationsrateum 50 % verringert.
Gulag:
Für den Gulag gibt es ebenfalls einige Modifikationen. Raven Software hat die Auswahl an taktischer Ausrüstung begrenzt. Gleiches gilt auch für die Waffenauswahl. In Iron Trials '84 gibt es keine Akimbo Waffen und keine semi- und vollautomatischen Shotguns. Wenn ihr als Sieger aus dem Gulag-Zweikampf hervorgeht, kehrt ihr mit der aktuellen Gulag Ausrüstung in die Runde zurück.
Playlist
Gespielt wird der Modus in 2ER Teams.
---
---

---
Stay in touch
---
Weitere Leaks, Patch Notes,  Infos sowie Tipps und Tricks zum Spiel findet ihr in unserer Themenübersicht (hier klicken). Folgt uns gerne auf Facebook, Instagram und Twitter, um künftig keine News mehr zu verpassen. Wer auf der Suche nach einer Community ist, kann gerne in unserer Facebook Partnergruppe "Call of Duty Germany" vorbeischauen. Hier findet ihr Hilfestellungen, neue Mitspieler und vieles mehr. Wir suchen außerdem Content Creator (M/W) und Sprecher*inen für künftige Projekte. Wer Teil des Trippy Leaks Network werden möchte, kann sich gerne bei uns melden (hier klicken).