Modern Warfare 2 x Warzone 2.0 | DMZ | Chimera Silver Tox Waffenbauplan freischalten
Mit Season 1 Reloaded in "Call of Duty: Modern Warfare 2 und Warzone 2.0" wurde Gebäude 21 als neuer Kartenbereich über eine separate Playlist hinzugefügt. Ähnlich wie in der Al-Mazrah Playlist, könnt ihr auch in der Gebäude 21 Playlist mehrere kosmetische Belohnungen freischalten. Zu diesen zählt auch der Chimera "Sliver Tox" Waffenbauplan. In diesem Guide möchten wir euch zeigen, wie ihr den Chimera "Silver Tox" Waffenbauplan im DMZ Modus freischalten könnt. Die Playlist könnt ihr nur mit einer speziellen Zugangskarte starten – während Gebäude 21 Lockdownphasen ist die Playlist nicht verfügbar. Mehr dazu in unserem Gebäude 21 Guide (hier klicken).
Chimera "Silver Tox" Waffenbauplan freischalten – so geht's
Um den Chimera "Silver Tox" Waffenbauplan zu erhalten müsst ihr insgesamt 6 Waffenkoffer aus Gebäude 21 extrahieren.  Das bedeutet ihr müsst 6 Runden spielen, da ihr pro Runde immer einen Koffer extrahieren könnt. Dazu benötigt ihr also im Idealfall sechs Gebäude 21 Zugangskarten, im Worst Case mehrere, solltet ihr bei einem, oder mehreren Versuchen scheitern. Ihr findet diesen Waffenkoffer in der obersten Etage des Gebäudes (Ebene A3 | B3) –  im Tresor der Waffenkammer. Für eure Runs solltet ihr euch immer gut ausstatten, da ihr nicht nur auf K.I. Gegner und einen Wheelson trefft, sondern auch gegnerische Operator. Die Playlist kann nämlich von insgesamt 4 Teams gespielt werden, das bedeutet ihr könnt bei euren Durchgängen auf  bis zu 12 Gegner treffen.
Als Setup empfehlen wir euch:
Mittlerer oder Großer Rucksack
Sturmgewehr, SMG oder Shotgun (Auf Geschwindigkeit und Schaden ausgelegt)
3ER Panzerplatten Weste
Wiederbelebungskits (viele könnt ihr auch in Gebäude 21 finden)
Kampfwut
Granaten
Zum Freischalten des Chimera "Silver Tox" Waffenbauplans müsst ihr wie folgt vorgehen:
Startet die Gebäude 21 Playlist mit eurer DRC Gebäude 21 Zugangskarte und begebt euch von eurem Spawnpunkt aus in die unterste Etage (B1 | A1) von Gebäude 21 in das Datenzentrum / den Serverraum.  Der Raum befindet sich auf der westlichen Seite des Gebäudes hinter einer Doppeltür. Solltet ihr mal die Orientierung verlieren, könnt ihr die Schilder im Flur an den Zugängen zu den Treppen als Plan verwenden.
Datenzentrum hacken
Im Datenzentrum müsst ihr zuerst die 3 K.I. Gegner ausschalten, die sich darin befinden und dann den markierten Server hacken – sollte der Server noch nicht markiert sein, wartet bis der Rundentimer bei "11 Minuten bis zur Exfil" steht. Während des Hack-Vorgangs muss ein Mitglied eures Teams dauerhaft mit dem Server interagieren, während die anderen beiden ihn vor Angreifern beschützen. Dazu zählen weitere K.I. Wachen und in vielen Fällen auch menschliche Gegner, deren INFIL Punkt unmittelbar in der Nähe des Raums war. Zudem erhalten die gegnerischen Teams die Meldung, dass das Datenzentrum gehackt wird.  Stellt euch also bestmöglich auf die Besucher ein.
Tresor in Waffenkammer öffnen
Sobald der Vorgang abgeschlossen ist erhaltet ihr die entsprechende Meldung "Datenzentrum gehackt – Waffenkammer zugänglich". Dann könnt ihr euch auf den Weg in die oberste Etage (A3 | B3) machen, um dort den Tresor in der Waffenkammer zu öffnen. Die Treppen nach oben befinden in Richtung der beiden Außenseiten des Gebäudes hinter einer Doppeltür. Vor den Treppen sind auch entsprechende Hinweisschilder angebracht. Welche Treppe ihr wählt, ist euch überlassen. Die Waffenkammer befindet sich in der nord-östlichen Seite der obersten Etage, wir empfehlen euch daher die Seite der Treppe zu nehmen, bei der ihr auf B3 herauskommt.
---
MERCH | NEUHEITEN
---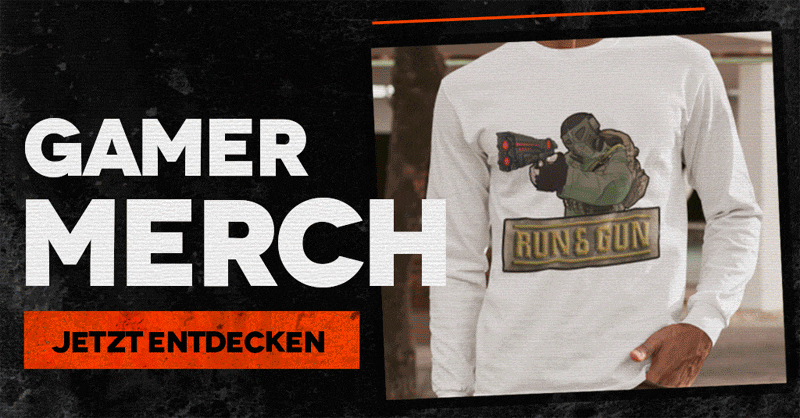 ---
Wenn ihr auf Ebene A3 | B3 über die Treppe B3 angekommen seid, rennt den Flur komplett nach rechts durch. Am Ende des Flurs geht ihr Links rein. Dort ist dann direkt die Tür zur Waffenkammer. Sie sollte geöffnet sein. Stellt euch auf großen Widerstand durch einen Haufen K.I. Gegner und gegebenenfalls auch menschliche Gegner ein. Zudem fährt dort ein Wheelson patrouille, den ihr ausschalten müsst.
Nachdem der Tresor geöffnet ist, könnt ihr euch den Waffenkoffer schnappen und euch zum Aufzug begeben und damit zu exfiltrieren.
Das sind alle Belohnungen für die EXFIL der 6. Waffenkoffer
Folgende Belohnungen könnt ihr durch das erfolgreiche exfiltrieren von 6 Waffenkoffern aus Gebäude 21 freischalten.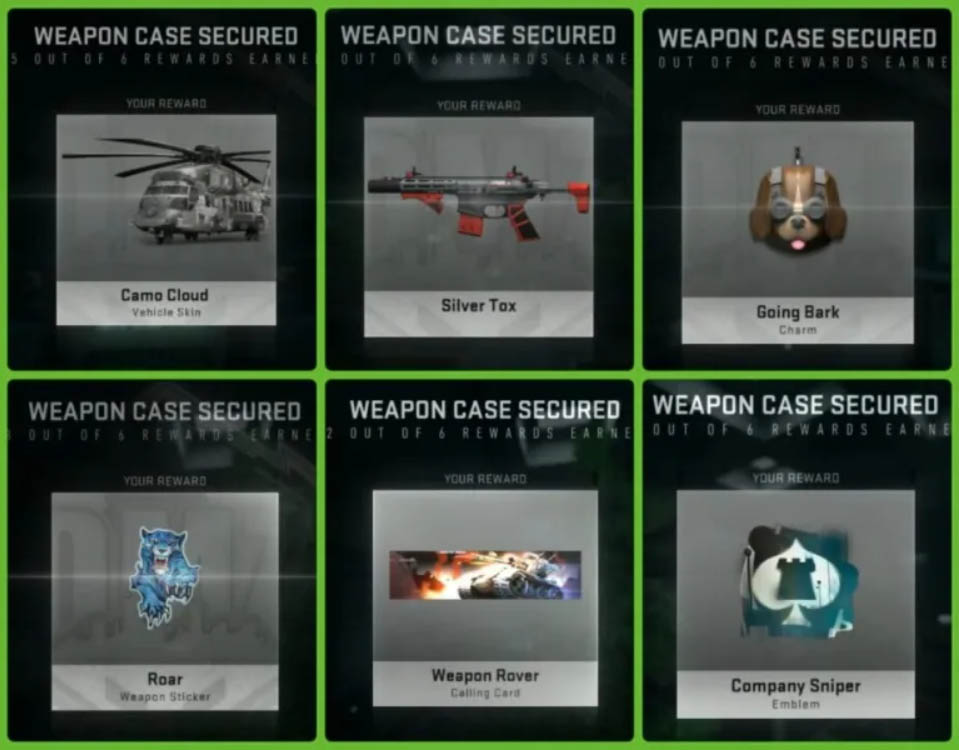 Going Bark Talisman
Weapon River Visitenkarte
Roar Sticker
Company Sniper Emblem
Camo Cloud  Fahrzeug-Skin (Helikopter)
Silver Tox Waffenbauplan
---
---

---
Stay in touch
---
Weitere Leaks, Patch Notes,  Infos sowie Tipps und Tricks zum Spiel findet ihr in unserer Themenübersicht (hier klicken). Folgt uns gerne auf Facebook, Instagram und Twitter, um künftig keine News mehr zu verpassen. Wer auf der Suche nach einer Community ist, kann gerne in unserer Facebook Partnergruppe "Call of Duty Germany" vorbeischauen. Hier findet ihr Hilfestellungen, neue Mitspieler und vieles mehr. Wir suchen außerdem Content Creator (M/W) und Sprecher*inen für künftige Projekte. Wer Teil des Trippy Leaks Network werden möchte, kann sich gerne bei uns melden (hier klicken).