Call of Duty: Black Ops 2 –  Bald Abwärtskompatibel ?
Ein Gespräch mit dem Xbox Live Support gibt Aussicht darauf, dass Call of Duty: Black Ops 2 schon bald in die Liste der Abwärtskompatibelen Spiele für Xbox One aufgenommen werden soll.
Neuesten Informationen zufolge arbeiten Activision und Microsoft bereits an der Abwärtskompatibilität des wohl mit Abstand beliebtesten Shooters der Call of Duty Reihe. Die Rede ist selbstverständlich von Call of Duty: Black Ops 2. Der Titel wurde im offiziellen Xbox Uservoice Forum mit über 182.000 Stimmen an die Spitze der meist gewünschten Xbox 360 Spiele für das Programm der Abwärtskompatibilität gewählt. Offenbar scheint Microsoft weiter auf das Feedback der User einzugehen, sodass schon bald Black Ops 2 auf Xbox One spielbar sein könnte.
Ein Support Mitarbeiter des englischsprachigen Xbox Live Kundendiensts gab die Hinweise auf die Arbeiten an einer kompatibelen Version von Call of Duty Black Ops 2 in einem Gespräch mit einem User. Ein genaues Datum ist bislang jeoch noch nicht bekannt.
Hier könnt ihr das Gespräch nachlesen: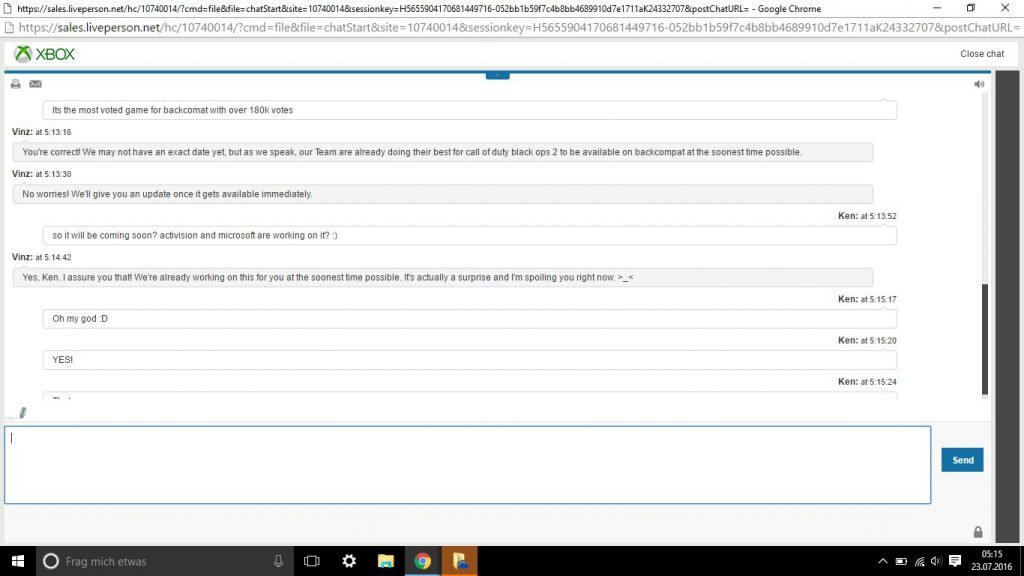 Weitere Call of Duty Teile ebenfalls in Arbeit?
Mit in den Top 10 der meist gewünschten Titel für die Abwärtskompatibilität sind ebenfalls die Mordern Warfare Reihe und World at War.  Zu Call of Duty Modern Warfare 2 gab es in den verganegen Monaten ebenfalls Gerüchte über  eine kommende Abwärtskompatibilität. Der Titel wurde ebenfalls von einem Support Mitarbeiter des Xbox Live Kundendienst bestätigt.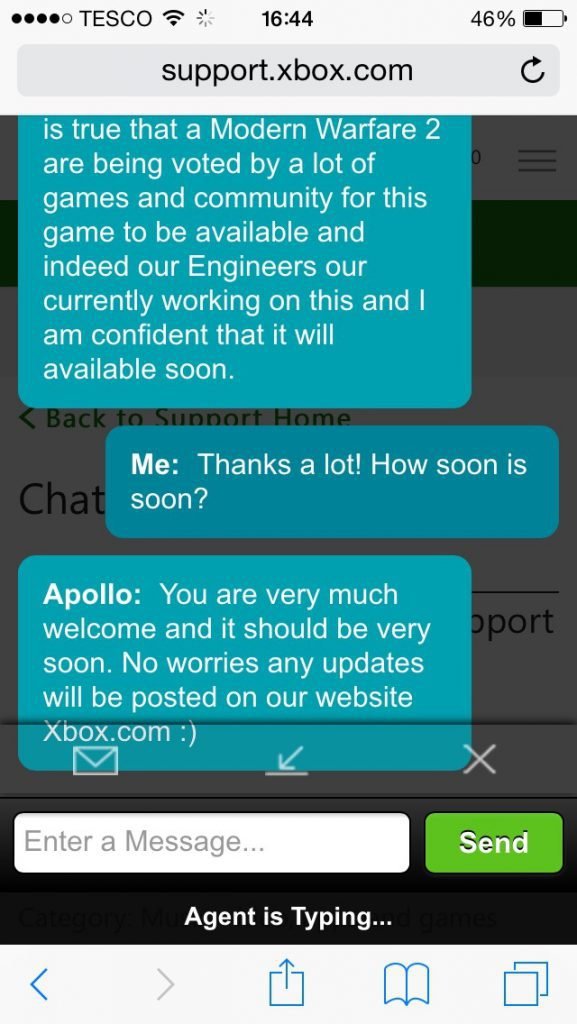 Weiterer Pre-Orderbonus?
Ob einer der Titel eine weitere Pre-Order Beigabe zum kommenden Ableger , Call of Duty Infinite Warfare sein wird, an dem das Entwickler Studio Infinity Ward derzeit arbeitet ist noch unklar. Jedoch wäre diese Art von Bonus nicht ungewöhnlich. Viele Publisher setzen in der Vergangenheit auf dieses Konzept.