CoD: Infinite Warfare Beta ohne Pre-Order & Code auf Xbox One laden
Hier erfahrt ihr Schritt für Schritt wie ihr die Call of Duty: Infnite Warfare Beta ohne Vorbestellung und Beta Code auf Xbox One herunterladen könnt.
Über den japanischen Xbox-Store könnt ihr seit heute die Beta herunter laden. Und das ganze ohne einen Pre-Order Code. Folgt einfach dem unten eingefügten Link und klickt auf die blauen Felder. Danach findet ihr die Call of Duty: Infinite Warfare Beta unter Meine Spiele & Apps – Bereit zur Installation. Die Beta benötigt ca. 19GB Speicherplatz auf eurer Xbox One.
Call of Duty: Infnite Warfare – Beta – Xbox One Japan-Store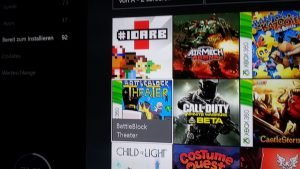 Ab morgen, Freizag dem 21. Oktober 2016  könnt ihr loslegen. Die Beta endet sowohl auf Xbox One als auch auf Playstation 4 am 24. Oktober.
Inhalte der Call of Duty: Infnite Warfare Beta
Infinity Ward teilte nun mit, das die Beta über drei Maps sowie vier Spielmodi verfügen wird. Nachfolgend findet ihr alle Inhalte in der Übersicht.
Call of Duty: Infinite Warfare Beta Maps
Frost
Frontier
Throwback
Call of Duty: Infinite Warfare Spielmodi
Team Deathmatch,
Domination,
Kill Confirmed
Defender
Call of Duty: Infnite Warfare erscheint am 4 November auf Xbox One, Playstation 4 und PC
Call of Duty: Infinite Warfare – Legacy Edition – [Xbox One]
Call of Duty: Infinite Warfare – Legacy Edition – [PlayStation 4]