GTA V Online: Halloween Event / Massnahmen gegen Glitcher / Liberty City DLC
Am Wochenende startet in GTA V Online das diesjährige Halloween Event. Darüber Hinaus werden neue Maßnahmen gegen Cheater ergriffen und es gibt neue Gerüchte zu Online DLC's.
Mit dem diesjährigen Halloween Event in Grand Theft Auto V feiert das Spiel auch seinen dritten Geburtstag. Passend dazu erwarten euch neue In Game Prämien, Spiel Modie und vieles mehr. Außerdem wird im NeoGaf Forum auf Basis neuer Gerüchte erneut über mögliche Erweiterungen diskutiert. Darüber Hinaus teilte der Publisher mit, dass unrechtmäßig erlangtes Geld von den Spielerkonten entfernt wurde.
""Um das Spielgeschehen weiterhin für alle fair zu gestalten, haben wir unrechtmäßig erlangtes Ingame-Geld von Spieler-Konten entfernt" so das offizielle Statement.
Gerücht um Líberty City DLC erneut im Gespräch
Im NeoGAF Froum wird das Gerücht über Mögliche Erweiterungen für GTA V erneut diskutiert. Dem GTA Forums-User Soft Secrets zufolge wird der heiß ersehnte Story-DLC durch zwei kostenpflichtige Online-Map-Erweiterungen ersetzt. Sollten die Behauptungen stimmen, könnte GTA Online noch bis zum Frühling 2017 mit kostenlosen Inhalten versorgt werden. Im Anschluss daran würden dann zwei kostenpflichtige DLCs folgen. Diese sollen euch dann etwa im September 2017 zurück nach Liberty City und North Yankton bringen. Im Oktober 2018 sollen dann San Fierro und Las Venturas folgen. Nachfolgend haben wir einen Plan über die lt. Gerüchten kommenden Erweiterungen.
Biker DLC: Bikes, clothes, free roam missions
Law and order DLC: Police free roam and vehicles
The Luxury Living DLC: Mansions & Pets
The Blaine County and Paleto DLC: Animals in free roam
North Yankton and Liberty City: Online Map expansion – Paid DLC 1 2017 sept
San Fierro and Las ventures: Online Map expansion – Paid DLC 2 2018 oct
Vice City: Not until GTA VI, some time around 2020. At the VERY earliest
$250.000 für alle die sich am Wochenende einloggen
Im Rahmen des Halloween Events erhaltet ihr für's einloggen in GTA V Online $250.000. Darüber Hinaus erwartet euch das zuvor erwähnze Halloween Event. Was dieses genau mit sich bringt haben wir euch Nachfolgend aufgelistet.
AB FREITAG, DEN 28.10.: DIE NEUE SANCTUS, DER MODUS LOST VS DAMNED & MEHR
Mit ihrem schaurigen Totenkopf-Design ist die Sanctus eine furchterregende Maschine, die sämtliche Passanten auf eurer nächsten mitternächtlichen Tour mit Sicherheit in Angst und Schrecken versetzen wird. Der neue Modus Lost vs Damned ist ein klassischer Kampf zwischen den Mächten des Guten und des Bösen, in dem Horden von Teufeln und Heerscharen von Engeln um die Vorherrschaft streiten. Der Konflikt wird durch einen Tag-Nacht-Wechsel erschwert, der alle 60 Sekunden einsetzt. Dabei begünstigt die Nacht die Teufel und der Tag belohnt die Engel – mit verstärkter Panzerung, höherer Gesundheit und einer überlegeneren Waffenausstattung während der bevorzugten Zeit jedes Teams. Klassische Halloween-Fahrzeuge und -Gegenstände aus GTA Online werden ebenfalls noch mal aufgelegt. Außerdem gibt es spezielle Event-Wochen-Boni. Weitere Infos dazu gibt es am Freitag.
JETZT VERFÜGBAR: DAS MOTORRAD PEGASSI VORTEX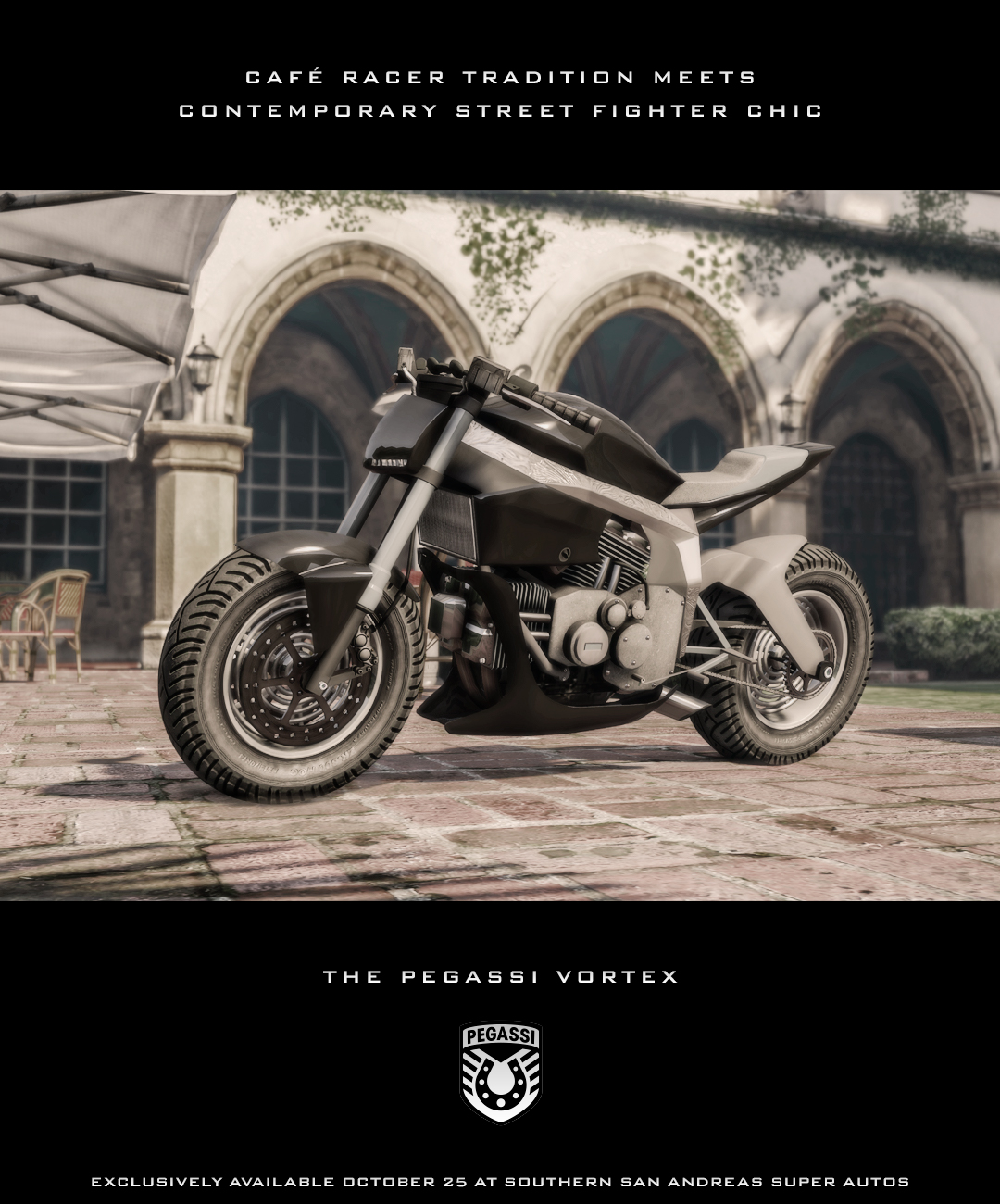 Die Sammlung von Motorrädern in GTA Online: Bikers erhält einen weiteren Neuzugang: Rast den Highway to Hell auf einer Pegassi Vortex hinunter, einem ausgefeilten zweirädrigen Monster, das ab heute bei Southern San Andreas Super Autos erworben werden kann. Die Vortex ist ein schlankes, leichtgewichtiges und wendiges Untier, das auf alle nur erdenklichen Situationen ausgelegt ist.
WIR FEIERN DREI JAHRE GTA ONLINE: SICHERT EUCH EINEN BONUS IN HÖHE VON 250.000 GTA$ + 30 % AUF AUSGEWÄHLTE ARTIKEL AUS CUNNING STUNTS, ILL-GOTTEN GAINS, LOWRIDERS UND MEHR
Anlässlich des dreijährigen Bestehens von GTA Online belohnen wir jeden, der sich von heute bis einschließlich Montag, den 31. Oktober, auf PlayStation 4, Xbox One oder PC einloggt mit einem besonderen Geschenk in Höhe von 250.000 GTA$. Dieser Bonus wird bis 4. November auf euer Konto bei der Maze Bank überwiesen.
Darüber hinaus gibt es 30 % Rabatt auf eine große Auswahl an Fahrzeugen, Waffen und mehr. Dabei repräsentieren die bei Fans beliebten Artikel zahlreiche Content-Updates für GTA Online, die seit dem Strandliebhaber-Update im November 2013 veröffentlicht wurden – vom sternenübersäten Liberator über die ungemein durchschlagskräftige schwere Schrotflinte bis hin zum Zentorno, dem T20 und mehr. Alle Zugangsvoraussetzungen bezüglich Rang oder Abschluss bestimmter Missionen wurden vorübergehend ausgesetzt. Ihr könnt also alle diese zeitlich begrenzten Rabatte von heute und bis Montag, den 7. November, komplett und uneingeschränkt ausnutzen.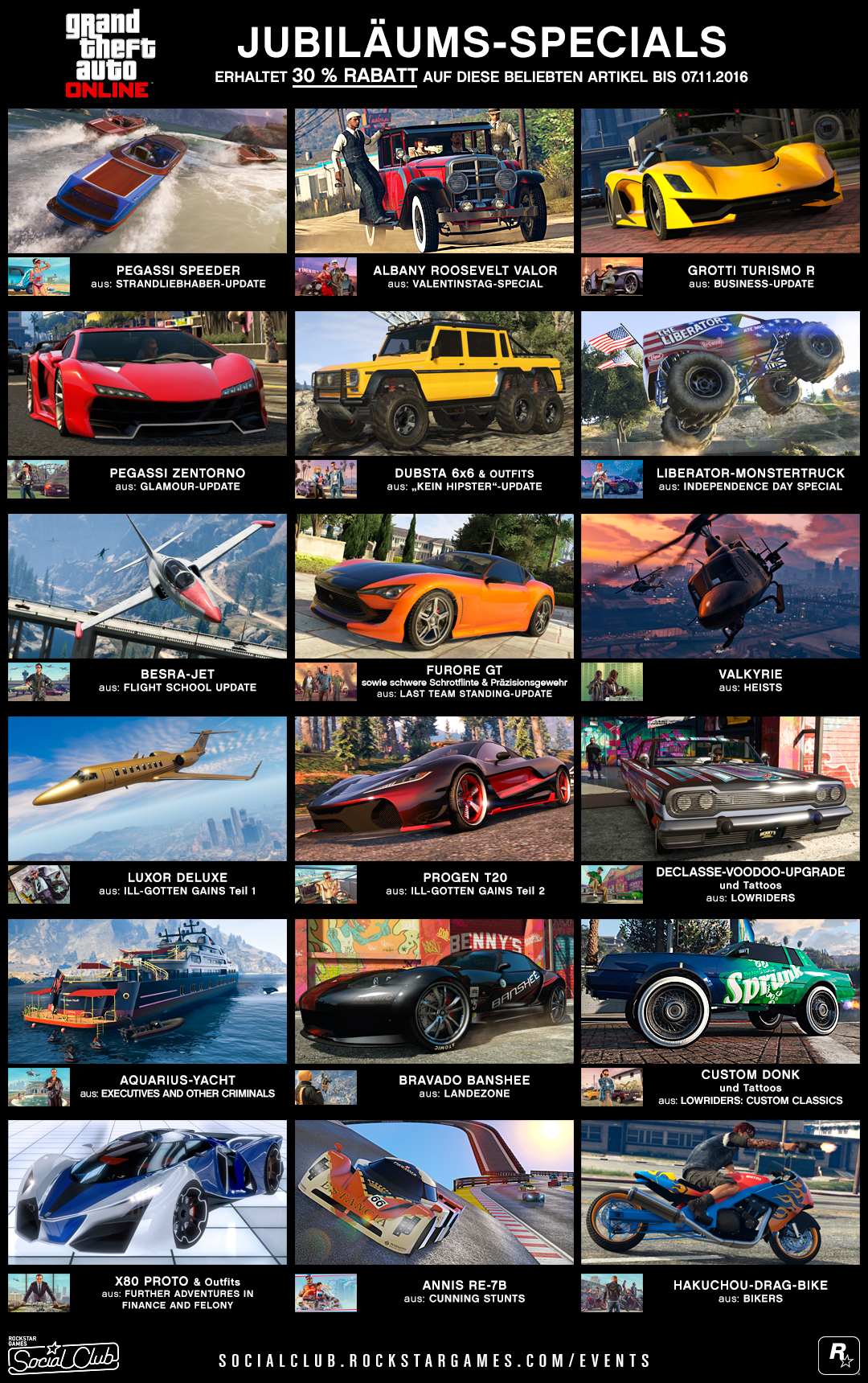 ZU LANDE
IN DER LUFT
ZU WASSER
WAFFEN
BEKLEIDUNG & TATTOOS
PREMIUMRENNEN: NACHTLEBEN (25. – 31.10.)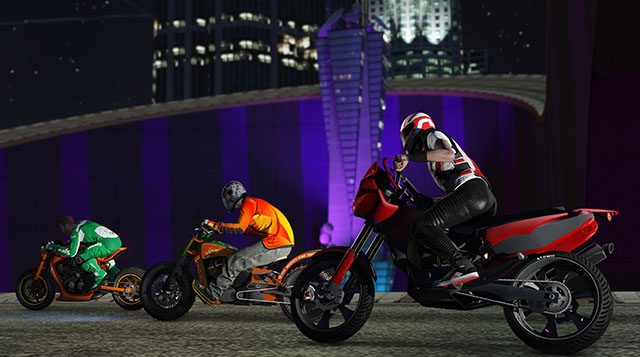 Ab sofort und bis Montag, den 31. Oktober, bekommt ihr hoch oben über Downtown Los Santos die Chance auf satte Gewinne im Premiumrennen "Nachtleben" für Motorräder (ohne Kontakt). Wie immer erhalten alle Teilnehmer dreifache RP. Die Top 3 erwarten außerdem lukrative Auszahlungen.