PS4 Pro: Hardware Specs, Spiele zum Launch & Wissenswertes vorm kauf
Am 10. November wird Sony die PS4 Pro in den Handel bringen. Hier erfahrt ihr was in der Konsole steckt, welche Spiele zum Launch verfügbar sind und was ihr sonst noch vor dem kauf wissen sollt.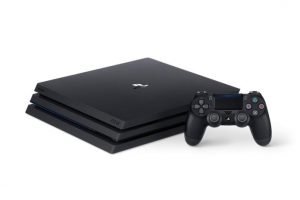 PlayStation 4 Pro – Konsole (1TB) jetzt Vorbestellen
Sony's neueste Erungenschaft mit dem Namen Playstation 4 Pro erscheint am 10. November 2016 zum Preis von 399 Euro und richtet sich an Premium Kunden. Neben einer Optimierung für Virtual Reality Spiele sowie der 4K Weidergabe und Upscaling von Spielen wird die neue Revision HDR (High Dynamic Range) unterstützen. Dadurch erwarten euch authentischere Farben, eine realistische Darstellung von Licht und Schatten sowie höher aufgelöste Texturen. Natives 4K Gaming wird jedoch nicht möglich sein.

Welche Hardware steckt in der neuen Playststation 4 Pro?
Die technisch aufgebohrte PS4 kommt auf eine Leistung von 4,2 Teraflops. Die CPU ist mit 2,1Ghz um 500MHz höher getaktet als die Standard Version. Ihre Speichergröße bleibt mit 8 GByte RAM unverändert. Zudem erhält die PS4 pro eine 1 Terabyte Festplatte. Ein Ultra HD Blu Ray Laufwerk, bzw eine Unterstützung des Formats bleibt jedoch bei der PS4 Pro aus. Die stärkere Leistung hat jedoch auch einen höheren Stromverbrauch. Die PS4 Pro wurde dafür mit einem Größeren Netzteil versehen das bis zu 310 Watt verbraucht. Das Gewicht ist der Konsole ist mit 3,1 Kilogramm angegeben.
Nachfolgend seht ihr die Hardware Änderungen im Überblick
| | PS4 Neo | PS4 Standard | Verbesserungen |
| --- | --- | --- | --- |
| CPU: Jaguar (8 Kerne) | 2,1 GHz | 1,6 GHz | 31,25% |
| GPU | Verbesserte GCN (Polaris?) | AMD GCN | |
| GPU-Shadercluster | 36 Compute Units | 18 Compute Units | 100% |
| Shader-ALUs | 2.304 | 1.152 | 100% |
| GPU-Takt | 911 MHz | 800 MHz | 13,87% |
| Rechenleistung | 4,2 TFLOPs | 1,8 TFLOPs | 130% |
| Speicherbandbreite | 218 GB/s | 176 GB/s | 23,80% |
| Speicherbudget | 5,5 GiB | 5 GiB | 10% |
Unboxing PS4 Pro
8.4 Teraflops durch Halbierung der Bitrate möglich
Durch einen Trick könnte die PS4 Pro eine theoretisch Rechenleistung von bis zu 8.4 Teraflops erreichen. Dies erklärte Sony´s Tech-Guru Marc Cerny gegenüber Digital Foundry. Dabei kommen in der PS4 Pro GPU zwei Features der AMD Technologie zum Einsatz, welche erst später in anderen Chips bereitgestellt werden. Was zunächst nach massig Power klingt ist jedoch mit Vorsicht zu genießen. Die Mehrleistung von bs zu 8.4 Teraflops ergibt sich durch eine Halbierung der Bitrate. So wird mit 16-bit Variablen gearbeitet. Dadurch kann man dann zwei 16-Bit Operationen statt einer 32-Bit Operation ausführen lassen. Hiervon werden werden voraussichtlich nur grafisch einfach gestrickte Spiele und keine aufwendigen Triple-A Produktionen profitieren..
Base Mode macht PS4 Spiele kompatibel
Alle Spiele, die seit Oktober 2016 veröffentlicht wurden, sind sowohl auf der PS4 als auch der PS4 Pro spielbar, jedoch wird die PS4 Pro Version verbesserte Grafikeigenschaften aufweisen. Titel, die davor veröffentlicht wurden, können durch spätere Updates sowohl optimiert als auch kompatibel gemacht werden. Dies ist allerdings den Entwicklern überlassen. Für alle Spiele, die nicht mit einem solchen Patch bedacht werden, bietet die neue Konsole einen Kompatibilitätsmodus. Durch den sog. Base Mode werden dann alle PS4 Spiele, die kein Update von Entwicklern erhalten, lauffähig gemacht.
Unterstützte Spiele zum Pro-Launch
Battlefield 1
Bound
Call Of Duty: Black Ops 3
Call of Duty: Infinite Warfare
Call of Duty: Modern Warfare Remastered
Deus Ex: Mankind Divided
Driveclub VR
EA Sports FIFA 17
Firewatch
Helldivers
Hitman
Hustle Kings
inFAMOUS First Light
inFAMOUS Second Son
Knack
Mafia III
Mittelerde: Mordors Schatten
NBA 2K17
Paragon
PlayStation VR Worlds
Ratchet & Clank
Rez Infinite
RIGS Mechanized Combat League
Rise Of The Tomb Raider
Robinson: The Journey
Smite
Super Stardust Ultra
The Elders Scrolls Online: Tamriel Unlimited
The Elders Scrolls Online: Skyrim Special Edition
The Last Of Us Remastered
The Last Of Us: Left Behind
The Playroom VR
Titanfall 2
Tumble
Uncharted 4: A Thief's End
Until Dawn: Rush of Blood
Viking Squad
World Of Tanks
XCOM 2
Bis zum Ende des Jahres werden zudem mehr als 45 weitere Spiele für die PlayStation 4 Pro optimiert. Darunter auch große Titel wie The Last Guardian und Final Fantasy XV. Desweiteren erscheinen Anfang des kommenden Jahres Resident Evil 7, For Honor und Nioh. Ab 2017 werdeen zudem sämtliche First-Party-Spiele eine Pro-Unterstützung bieten.
Optimierte Ladezeiten und geringere Lautstärke bei Betrieb
Ersten Informationen zufolge wirkt sich die Mehrleistung der PS4 Pro auch auf die Ladezeiten von einigen Spielen aus. Natürlich gilt zu beachten das auch die verbaute Festplatte ihren Teil dazu beträgt, wie schnell ihr Spiele laden könnt. Als Beispiel lässt sich Kapitel 6 aus Uncharted 4 auf der neuen Konsole in 35 Sekunden laden. Auf der alten PlayStation 4 hingegen beträgt die Ladezeit fünf Sekunden länger. Somit ist davon auszugehn, das die 1TB platte der PS4 Pro höhere U/min erreicht.
HDR Unterstüztung auch für Ps4 und PS4 Slim
Neben einer höheren Grafikauflösung werden PS4 Pro Spiele künftig dank HDR Unterstüztung eine höhere Farbtiefe erhalten. Aber auch die PS4 Slim und Standard Variante erhalten mit einem Firmware Update HDR Unterstützung . So kommen nicht nur Spieler auf der PS4 Pro, sondern auch auf der alten PS4 und dem neuen Slim-Modell in den genuß von Authentischeren Farben sowie einer realistischern Darstellung von Licht und Schatten.
4K Optimierung und Sharing von HD Videos und 4k Screenshots
Wie schon durch Sony im Vorfeld enthült wurde, bietet die Konsole 4K Unterstützung für Filme und Streams. Ebenfalls wird das Bild durch Anschluss an ein 4K TV Gerät bei spielen hochskaliert. Die PS4 Pro erkennt das Ausgabe-Gerät eigenständig und nutzt so die idealen Einstellungen für das jeweilige Gerät. Auch Spieler ohne 4K TV Geräte können von der Mehrleistung der neuen Konsole in Form besserer Framerates und Grafik profitieren. Je nach angeschlossenem Display wird die entsprechende Auflösung herauf- oder herunterskaliert. Außerdem habt ihr die Möglichkeit 4K Screenshots und HD Videos zu sharen.
Die Playstsation Pro erscheint am 10. November 2016 zu einem Preis von 399 Euro und kann absofort unter anderem bei Amazon und Gamestop vorbestellt werden.