Modern Warfare Remasterd – zum Einzelkauf bei CDKeys aufgetaucht
Call of Duty: Modern Warfare Remasterd tauchte nun im Online Store von CDKeys als Standalone Version auf.
Als Bonus zum neuesten Ableger Call of Duty: Infinite Warfare erhalten die Käufer der Legacy Edition und der Legacy Deluxe Version eine Remaster Version vom Kultshooter Call of Duty 4: Modern Warfare. Wie Activision ankündigte, soll die Version nur im Bundle mit den zuvor genannten Editionen erhältlich sein.  Darüber Hinaus wurde die Retail Version mit einem Diskzwang versehen. Dadurch kann Modern Warfare Remasterd nur mit der Call of Duty: Infinite Warfare Disc gestartet werden. Umso überraschter sind wir nun über der Listung einer Standalone Version im Online Store von CDKeys.
Call of Duty: Infinite Warfare – Legacy Edition PS4 Download Code – 63,83€ *
Kommt die Remasterd Version doch einzeln?
Schon im Zuge der Promotion des aktuellen Call of Duty Ablegers für 2016 gaben die verantwortlichen von Raven Software durch ein Interview mit dem Magazin Gamereactor Grund zur Annahme, dass der Titel schon bald auch einzelen angeboten werden könnte.
"Wie wir bereits zuvor ankündigten, wird der Titel zum Launch mit zehn Maps ausgeliefert. Und daran ändert sich auch nichts. Wir werden aber die verbleiben sechs Karten nachliefern. Diese erhalten alle die Call of Duty 4: Modern Warfare kaufen,  alle die es bereits besitzen, oder aber eine Version von Call of Duty: Infinite Warfare, mit der es ebenfalls ausgeliefert wird und das ohne zusätzliche kosten." so David Pellas von Ravensoftware.
Nun wird diese Aussage durch die Listung einer Standalone Fassung im Online Store des englischen Händers CDKeys untermauert. Dort tauchte ein Modern Warfare Remasterd Download Code auf. Dieser soll laut Händlerangaben nur auf einem englischen PSN Account einlösbar sein. Der Store ist bekannt für Top Angebote Digitaler Titel auf allen Plattformen. Auch wir haben dort schon das ein oder andere Spiel als Download Code eingekauft und können daher seine Seriösität garantieren. Für die Plattformen Xbox One und PC sowie für andere Regionen auf Playstation 4 gibt es derzeit keine Angebote. Ob und wann diese kommen, können wir zum jetzigen Zeitpunkt nicht sagen. Daher solltet ihr eure Euphorie vorerst noch in Grenzen halten.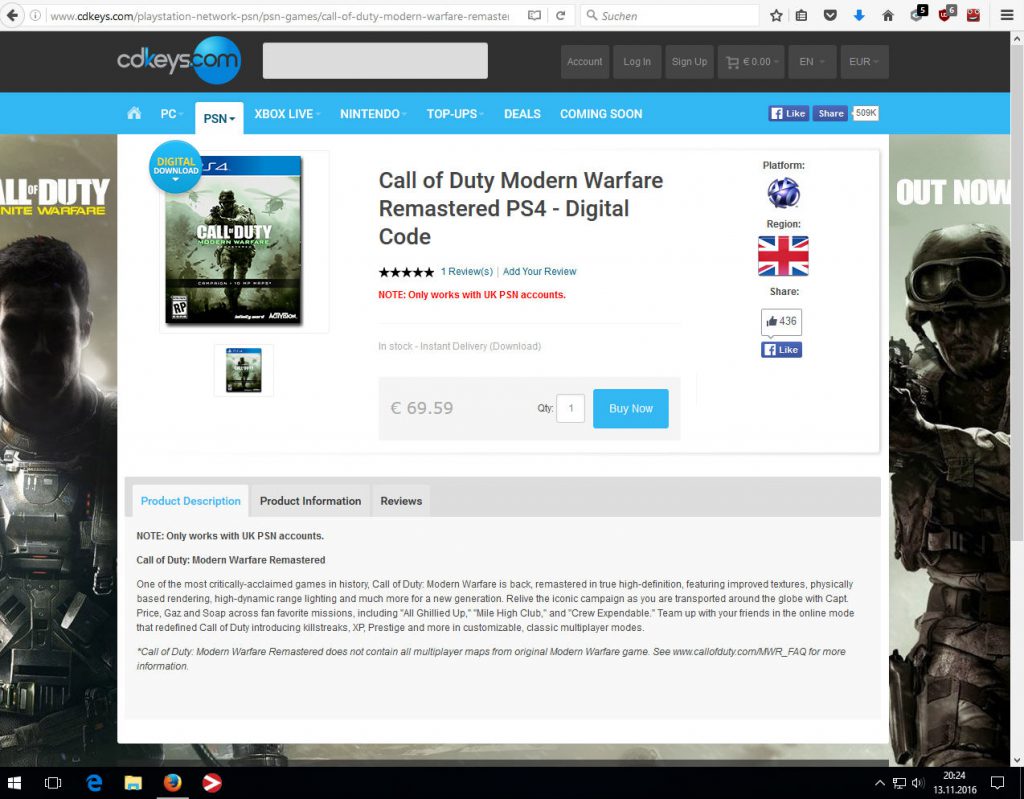 Eine offizielle Ankündigung Seitens Activision ist ebenfalls noch nicht erfolgt. Sollte der Publisher nägel mit Köpfen machen ist es nur noch eine Frage der Zeit, bis auch Spieler auf anderen Plattformen und Regionen in den Genuss des Kult Shooters Modern Warfare Remasterd kommen könnnen. Wir halten euch auf dem laufenden.