State of Decay 2: Weitere Einblicke in die Entwicklung der Charaktere
In einem neuen Blog-Post gibt das Team von Undead Labs weitere Einblicke in die Entwicklung der Charaktere, denen ihr in State of Decay 2 begegnen werdet.
Derzeit arbeitet das Entwickler Team von Undead Labs an der Fertigstellung des Nachfolgers von State of Decay. Im neuen Ableger erwartet euch eine noch größere Spielewelt und dazu ein Co-Op Modus für bis zu vier Spieler. Nun gibt es weitere Einblicke in die Entwicklung der Charaktere, denen ihr im Verlauf der Geschichte begegnen werdet. Josh Stein geht dabei im Ersten von vier Teilen, genauer auf das Charakter Design der Überlebenden ein.

GameCards, PS PLus, Xbox Live Gutahben
Die menschlichen Überlebenden in State of Decay
Teil 1 von 4 – Charakter Design
In der vierteiligen Serie "Die menschlichen Überlebenden in State of Decay" gehen die Entwickler genauer auf deren Merkmale und deren Einflüsse ein. Der erste Teil beschäftigt sich hierbei mit dem Charakter Design.
Wie schon im ersten Teil der Reihe spielt ihr auch in State of Decay 2 nicht als Einzelpersonen. Stattdessen seid ihr Teil einer Gemeinschaft von Überlebenden, die alle ihre eigene Kombination aus Aussehen, Merkmalen und Bedürfnissen haben. Es liegt an euch, diese Bedürfnisse zu verwalten und die Menschen zu frieden zu stellen, während ihr versucht, neue Wege zu finden, wie ihr überlebt und "morgen" zu einem besseren Tag macht.

Ein großer Teil der State of Decay Spielerfahrung wird es sein, weitere Menschen zu finden und diese zu rekrutieren. Wie bereits im ersten Teil werden die Personen eine festgelegtes Erscheinungsbild haben. Sie tragen das Outfit, welches sie zum Zeitpunkt der Rekrutierung anhatten. Das können entweder Kleidungsstücke sein, die sie bereits trugen, als die Apokalypse ausbrach, oder einfach das Beste, was sie Plündern konnten.
Wie der Look der Outfits zusammengestellt wurde
Der Beginn der optischen Gestaltung war eine Menge herumexperimentieren in Photoshop. Alles entstand aus Abwandlungen "fiktiven Designs", so Doug Williams, Art Director von Undead Labs weiter. Nachfolgend seht ihr einen solchen Entwurf.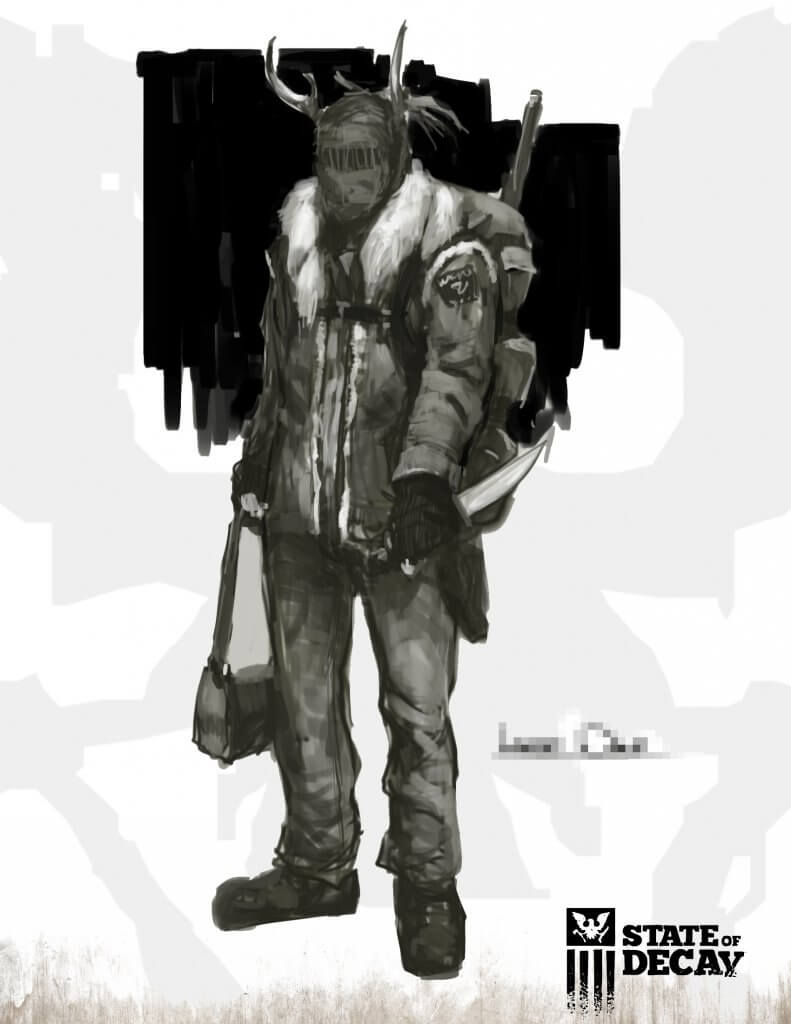 In State of Decay 2 werdet ihr in eine sehr bunte und vielfältige Welt verfrachtet, in der die unterschiedlichsten Charaktere vertreten sind. So wurden die Überlebenden sehr dynamisch angelegt aus einer Liste von diversen Gesichtern, Persönlichkeiten und Kleidungsstücken.
"Wir wollten auch unserer Vision für State of Decay, nämlich der Realitätsnähe, treu bleiben und euch in eine Welt verfrachten, in der ihr das Gefühl habt, das eine solche Apokalypse jederzeit hier und jetzt passiert sein könnte. Es macht Spaß zu fantasieren, aber für unsere Zwecke musste die Kleidung dem entsprechen, was die Leute wirklich tragen würden. Also, mehr Kapuzen und Lederjacken, weniger Hörner. Sie könnten mehr Flanell und Stiefel plündern als handgeschmiedete Körperpanzerung." so Williams weiter.
Im Zuge dessen wurden die Gesichter hunderter Freunde und Familienmitglieder sowie von Entwickler und Mitglieder der Community über eine Facescan Software erfasst, angepasst und für zukünftige Abwandlungen gespeichert. Die Grafiker verwendeten zusätzlich Komponenten von Referenzfotos und bearbeiteten so die Gesichter weiter über die Fotogrammetrie.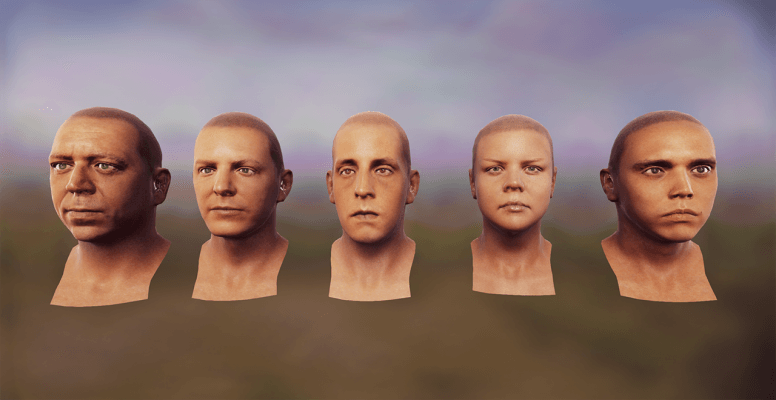 Manchmal nutzten sie auch die Gesichter berühmter Schauspielerinnen und Schauspieler als Platzhalter. Diese sind nachfolgend verpixelt dargestellt. Von dort aus wählten sie dann Kleider und Outfits, die den Vorgaben der Entwickler entsprachen (Lederjacken: stilvoll und zombieresistent). Dabei wurde sichergestellt, dass es eine vielfältige Auswahl an Designs und Farben geben wird. Das Ganze musste zudem auch den Hardware-Standards von heute entsprechen und somit einen gestochen scharfen Look bieten, damit ihr als Spieler in den bestmöglichen Genuss kommen könnt.