Call of Duty: WWII – Leak zu Headquaters & Scorestreaks
Dataminer haben weitere Informationen aus den Spieldaten der "Call of Duty: WWII" PC Beta ausgelesen und via Reddit veröffentlicht. Dazu zählen Details zu den Headquaters, Scorestreaks, Waffencamos und Emotes.
Das Hauptquartier verfügt demnach über einen Quartiermeister (wo ihr Waffen kaufen könnt), einen Gunsmith (wo Waffen hergestellt/angepasst werden können) und eine Waffenkammer (wo Rüstungen verkauft werden). Darüber hinaus ist auch von Beute die Rede, welche in fünf Raritätsstufen eingeteilt ist: episch, heroisch, legendär, selten und gewöhnlich. Die Supply Drops können in der Waffenkammer mit "Armory Credits (Ingame-Währung)" oder "CoD Points" erworben werden. Es gibt außerdem eine Poststation, tägliche und wöchentliche Aufträge sowie Herausforderungen. Als Belohnung für erfolgreich ausgeführte Aufträge und Herausforderungen warten auf euch die zuvor erwähnten Amory Credits. Sie sind unterteilt in 30, 50 oder 70 Credits.
Einige Auswahlmöglichkeiten im HQ:
Meet the Requisitions Officer
Pick up credits from Payroll
Acquire supply drop from Quartermaster
Open your supply drop
Shoot 5 Targets at Firing Range
Press &&1 to inspect your weapon
Return to the Requisitions Officer
Scorestreaks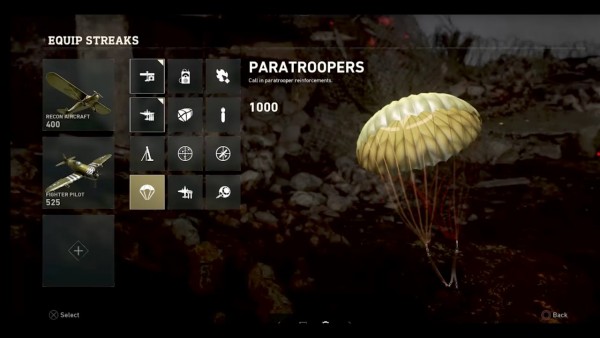 Advanced Recon Aircraft (ADVANCED_UAV)
Carpet Bombing (AIRSTRIKE)
Care Package (CAREPACKAGE)
Counter Recon Aircraft (COUNTER_UAV)
Attack Dogs (DOGS)
Emergency Airdrop (EMERGENCY_CAREPACKAGE)
Fighter Pilot (FIGHTER_STRIKE)
Fire Bombing Run (FIREBOMB)
Flak Guns (FLAK_GUN)
Flamethrower (FLAMETHROWER)
Glide Bomb (FRITZX)
Artillery Barrage (MISSILE_STRIKE)
Molotov Cocktails (MOLOTOVS)
Mortar Strike (MORTAR_STRIKE)
Paratroopers (PARATROOPERS)
Ball Turret Gunner (PLANE_GUNNER)
Recon Aircraft (UAV)
V2 Rocket (V2_ROCKET)
Die Waffencamos und Emotes haben wir uns an dieser Stelle gespart, da hierzu nur Namen ohne Bilder getielt wurden. Wer dennoch gerne mehr erfahren möchte, findet hier eine Übersicht der Camos und Emotes.
HINWEIS: Da es sich um Informationen handelt, die mit Hilfe des Beta Clients ausgelesen wurden, können bis zur finalen Version noch Änderungen erfolgen. Weitere Leaks und News findet ihr in unserem CoD-Themenbereich.