Stadia: Alle Infos über Google's Cloud Gaming Plattform
Im Rahmen der Game Developers Conference hat Google seine Cloud Gaming Plattform enthüllt. Diese trägt den Namen "Stadia" und ermöglicht euch nahtloses Streaming von Videospielen, und das ohne Wartezeiten. Die Spiele starten innerhalb von 5 Sekunden. Der Service soll mit nahezu jedem Endgerät funktionieren und anfangs Spiele in 4K, HDR und 60 FPS wiedergeben. In Zukunft sind sogar 8K und 120 FPS geplant. Die cloudbasierte Infrastruktur von Stadia wird ständig weiterentwickelt, um den Anforderungen von Playern, Entwicklern und YouTubern gerecht zu werden.
Keine Updates, keine Downloads
Mit Stadia müsst ihr nie wieder Spiele installieren oder riesige Updates herunterladen. Alles funktioniert über die Cloud und wird auf euren unterstützten Endgeräten wiedergegeben. Stadia kann auf jeder Hardware genutzt werden, die den Chrome-Browser installiert hat. Also jeder PC oder jedes Notebook, Smartphone und Tablet oder sogar am TV mithilfe eines Chromecast-Moduls. Ebenfalls sollen alle gängigen USB Controller, einschließlich Maus und Keyboard unterstützt werden. Google wird aber auch einen eigenen Controller für Stadia auf den Markt bringen.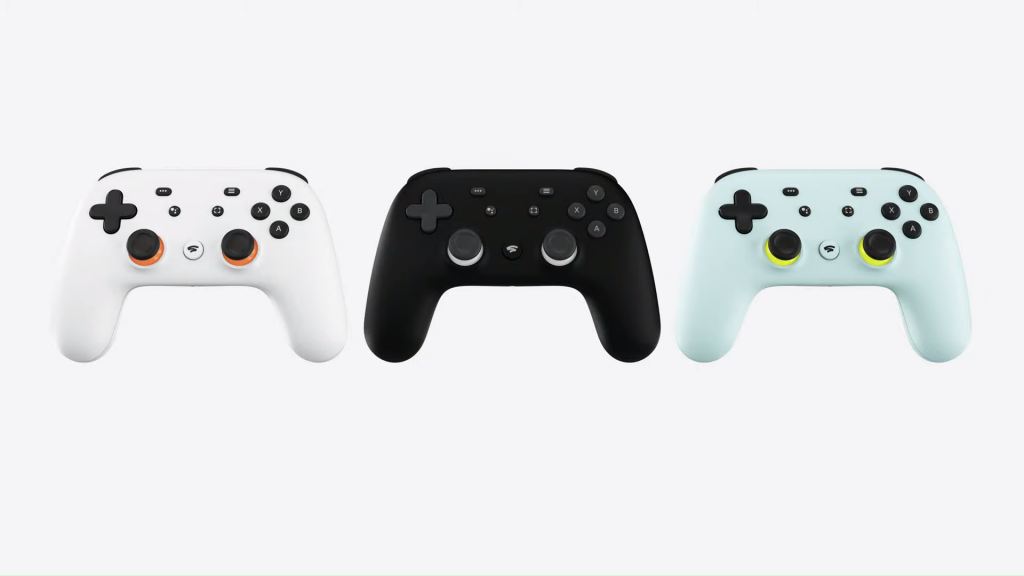 Cross-Plattform Play, Cheats und Hacks
Stadia wird zudem Cross-Plattform Play unterstützen und laut Google sollen auch Vorkehrungen gegen Cheats und Hacks getroffen worden sein.
Zusammenarbeit mit AMD
Um genug Leistung für die Endnutzer zu gewährleisten, arbeitet Google mit AMD zusammen. Der Chiphersteller hat eine GPU für Google's Streaming-Netzwerk entwickelt. Jede Stadia-Instanz ist mit AMD-Hardware ausgestattet und soll eine Leistungsfähigkeit von 10,7 Teraflops bieten. Nachfolgend könnt ihr einen Blick auf die gesamten Hardware Specs werfen.
CPU
Custom 2.7ghz hyperthreaded x86 CPUs with AVX2 SIMD
GPU
Custom AMD GPUs
56 Compute units
10.7 Teraflops
Integrated HBM2 Memory
Graphics API
Vulkan high-performance, real-time 3D graphics API.
Memory
A total of 16 GB combined VRAM and system RAM with performance up to 484 GB/s
Operating System
Google Data Center Specs
7500+ edge node locations globally
Google Edge Network
Middleware Partners
Havok Physics
AudioKinetic Wwise
RAD Bink/Oodle/Tool Telemetry
Incredibuild
FMOD
Criware
Simplygon
Umbra 3
SpeedTree
Ikinema
FaceFX / OC3
IMS – Intelligent Music Systems
Crowd Play, teilen des Spielstands, Vorausgesetzte Internetverbindung
Mit Stadia könnt ihr euer Spiel zuhause beginnen, und unterwegs an der Stelle wieder einsteigen, wo ihr aufgehört habt. Darüber hinaus können Streamer diesen Spielstand teilen und es ihren Zuschauern so ermöglichen, genau an der Stelle weiter zuspielen, die sie eben noch im Stream gesehen haben. Und mit Crowd Play können Zuschauer sogar direkt einsteigen und mitspielen.
Noch unbekannt ist der Abo-Preis und auch die Latenz bei den Anwendungen in der Praxis. Laut erster Tests unter dem Codenamen "Project Stream" konnte mit einer 25Mbit Anbindung bereits eine Ausgabe von 1080p und 60FPS erreicht werden. Es wird erwartet, dass 4K und 60 FPS mit etwa gleicher Geschwindigkeit erzielt werden können. Ende des Jahres werden wir Gewissheit haben, denn dann startet der Service in den USA, Kanada und ausgewählten Ländern in Europa.
Studio für First Party Spiele, 100 AAA Entwickler wie id Software, Ubisoft & co
Google hat mit "Stadia Games and Entertainment" ebenfalls ein eigenes Entwicklerstudio gegründet. Die Leitung hat Jade Raymond übernommen. Damit ist also auch für exklusiven First Party Content gesorgt. Darüber hinaus teilte das Unternehmen mit, dass bereits über 100 große AAA-Studios an der Portierung von Spielen für Stadia arbeiten. Eines davon ist id Software. Doom Ethernal wird ebenfalls auf Stadia veröffentlicht. Aber auch Ubisoft arbeitet mit Google zusammen und wird künftig Spiele für die Plattform veröffentlichen.
Folgt uns gerne auf Facebook und Twitter, um keine News mehr zu verpassen.
---
---