Modern Warfare: Update 6. Dezember mit Bugfixes & Shoothouse 24/7; (6v6) Multiplayer Map "Broadcast" kehrt zurück
Spieler von "Call of Duty 4: Modern Warfare & MWR" dürften sich noch an die Karte "Broadcast" aus dem "Variety Map Pack" erinnern. Die Karte wird vermutlich noch in dieser Saison zurückkehren, wie uns unsere Quelle "TGR" auf unsere Nachfrage bestätigte. In den vergangenen Monaten stellten sich die Infos seiner Quellen alle als zutreffend heraus.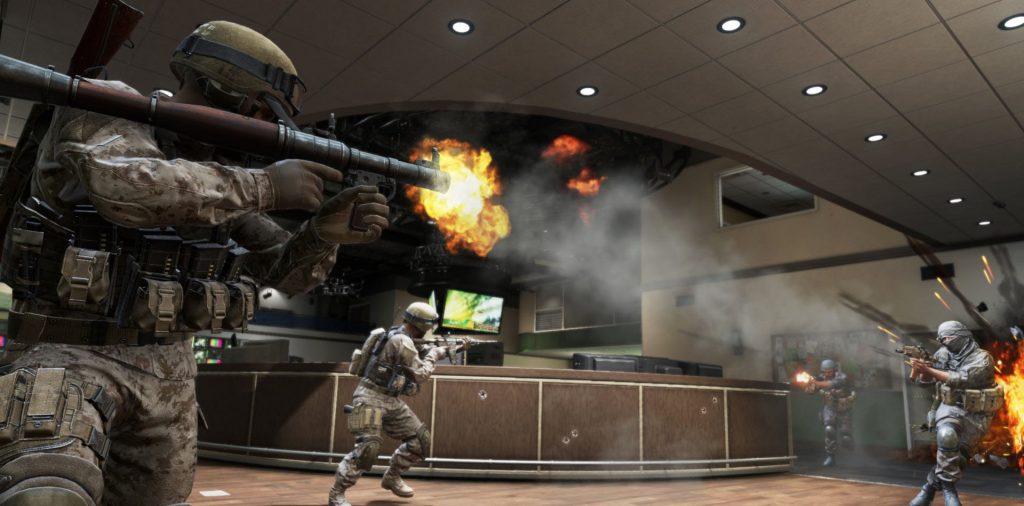 Einen ersten Teaser zur Karte gab es bereits im Season 1 Intro Trailer, der Mara und die neue Karte Crash, sowie die Hintergründe ihrer Mission näher vorstellt. Dort könnt ihr am Ende (Zeitmarker 1:00 min) einen General im Übertragungsraum sehen, welcher Teil der Karte ist.
Modern Warfare - Season 1 Cinematic Intro
Shoothouse 24/7 Playlist
Wie für die "Call of Duty" Reihe üblich, erscheinen neue Karten meist in Kombination mit einer 24/7 Moshpit Playlist. Dies geschah bei "Shoothouse" und nun löste "Crash" die "24/7 Shoothouse Moshpit" ab. Viele Spieler stören sich allerdings aktuell an dieser Änderung, und so kam es, wie man es gewohnt ist, auf Reddit zu Feedback Beiträgen, in denen gefordert wird, die "Shoothouse Playlist" zurückzubringen. Joe Cecot versprach darauf hin, dass dies in einem der kommenden Updates geschehen wird.
Wann kommt Shoothouse wieder?
Mit dem heutigen Update wurde die Karte wieder integriert. Nachfolgend haben wir für euch die vollständigen Patch Notes.
PATCH NOTES:
Shoot House 24/7 ist zurück (ersetzt Crash 24/7).
Nachkarten von Hardcore Modus entfernt.
Docks wieder zurück in Feuergefecht Map-Rotation gebracht.
Grazna Raid und Arklov Peak zu Hardcore TDM hinzugefügt.
Arklov Peak zu Hardcore Hauptquartier hinzugefügt.
Allgemeine Korrekturen:
Fehler behoben, der dazu führte, dass Spieler ins Hauptmenü verfrachtet wurden, beim Versuch, Details einer Waffe auf der Registerkarte "Missionen" anzuzeigen.
Clipping-Fehler auf Docks behoben. Dieser führte dazu, dass ein Frachtschiff im Spielbereich angezeigt wurde.
Fehler behoben, der dazu führte, dass es nicht möglich war, gegnerische Konterdrohne zu sehen oder abzuschießen.
VTOL Audio Bug wurde behoben.
Absturtzfehler behoben, der auftrat, wenn Spieler geduckt/liegend mit der AK-47 geschossen haben und gleichzeitig einen Werfer und das Vollgeladen Perk ausgerüstet haben.
Fix für "Jack Frosty" und "Old Wounds" Weltmodel, welches anders als Armory/Gunsmith angezeigt wurden.
Special Operations: "Just Reward" – Fehler behoben, der zu einem Crash des HVT Truck führte.
Special Operations: Survival – Fix für Respawn Signal.
---
---
Stay in touch
Weitere Leaks und Infos zum Spiel findet ihr in unserer Themenübersicht (hier klicken). Folgt uns gerne auf Facebook, Instagram und Twitter, um künftig keine News mehr zu verpassen. Wer auf der Suche nach einer Community ist, kann gerne in unserer Facebook Partnergruppe "Call of Duty Germany" vorbeischauen. Hier findet ihr Hilfestellungen, neue Mitspieler und vieles mehr.