Modern Warfare/Warzone: Weitere Details zum kommenden Update; Neue Waffe "MK9 Bruen", Blick auf Gunsmith Customes & mehr
Infinity Ward wird in dieser Woche ein neues Titel Update für "Call of Duty: Modern Warfare & Warzone" veröffentlichen. Teil dieses Updates werden unter anderem die neue "Gunsmith Customs" Funktion, eine neue Spezialwaffentarnung und auch eine neue Waffe sein. Bei der neuen Waffe handelt es sich um das MK9 Bruen LMG. In Warzone wartet zudem ein neuer Auftrag auf euch. Nachfolgend haben wir ein paar weitere Details für euch.
Gunsmith Customs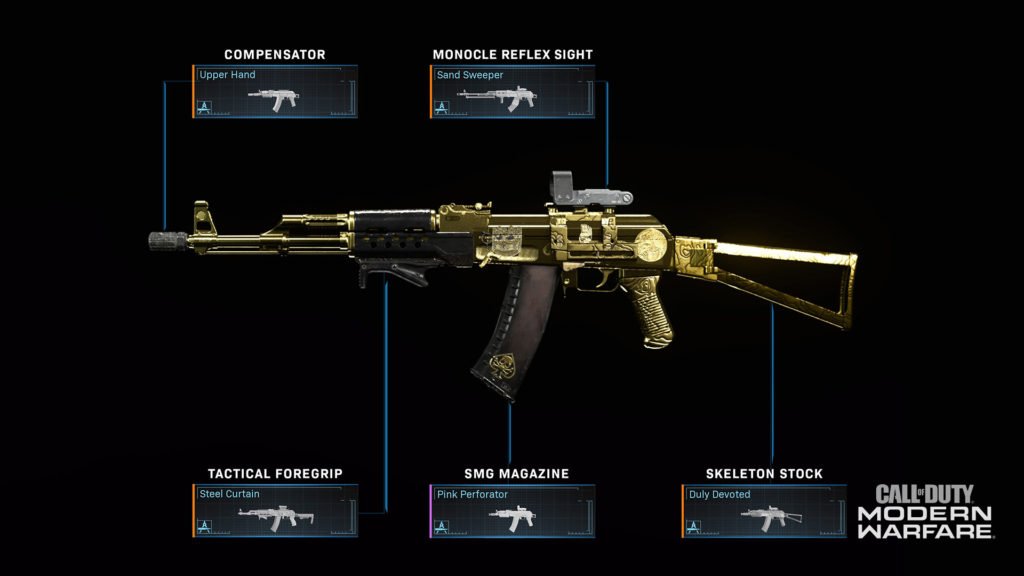 Mit dem neuen Feature "Gunsmith Customs" könnt ihr künftig Aufsätze aus Blaupausen derselben Waffe kombinieren. Damit ist es euch möglich epische Hybrid-Blaupausen mit einzigartigen Design, Stil und Funktionen zu erstellen.
MK9 Bruen LMG
Die neue Waffe MK9 Bruen LMG könnt ihr über zwei Wege erhalten. Zum einen über den kostenlosen Weg. Dazu müsst ihr eine Herausforderung abschließen. Weitere Details dazu findet ihr Morgen im Spiel. Navigiert unter Waffen, geht auf die neue Waffe, dort wird euch angezeigt, was ihr erledigen müsst. Der andere Weg ist über das neue 'Encryption' Bundle, welches in dieser Woche seinen Weg in den Store finden wird. Dort ist die Waffe als legendärer Bauplan 'The Glitch' zufinden.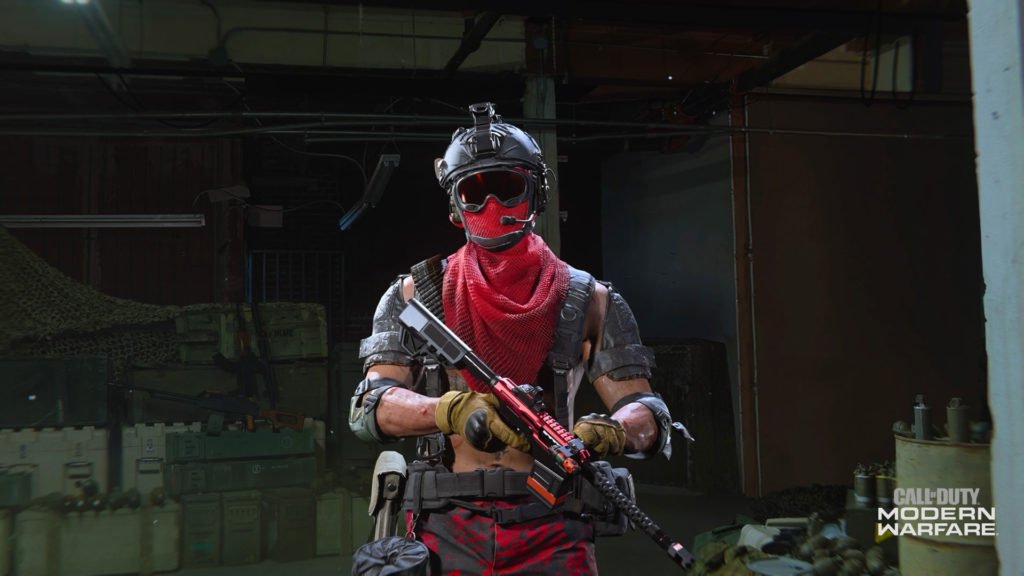 Das Bundle beinhaltet des Weiteren den 'Firestarter' Skin für Krueger, den legendären Bauplan Caldera, einen neuen Finishing Move, Wurfmesser und mehr.
Fire Claw III' bundle
Ein weiteres Bundle in dieser Woche wird Fire Claw III' . Darin enthalten sind ein legendärer SMG Bauplan 'By the Toe', ein Talisman und ein Spray.
Weitere Inhalte des Updates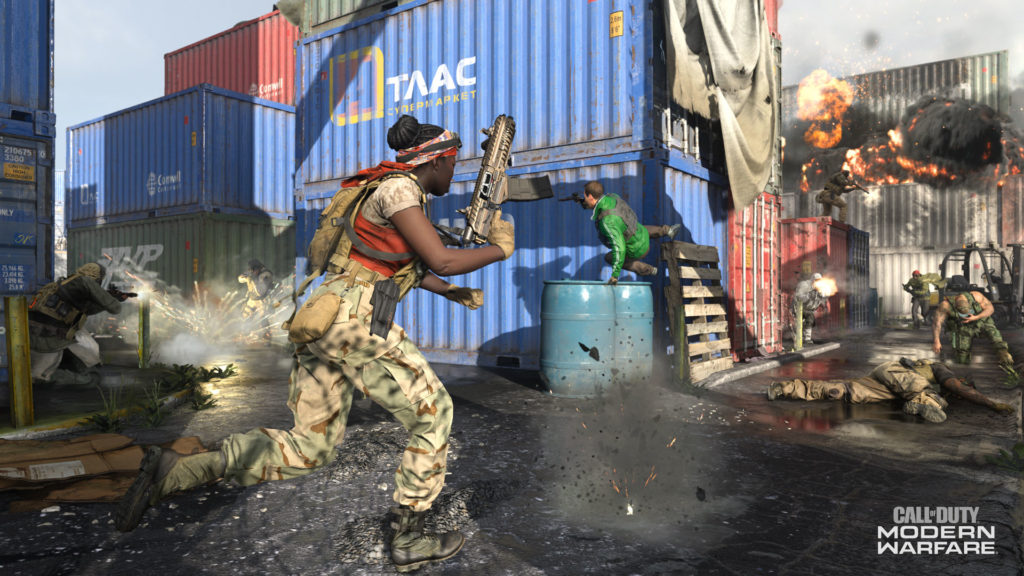 Morgen folgt ebenfalls ein neues Playlist Update, welches Shoot the Ship 24/7 (mit einem Mix aus Cranked und Grind) sowie weiteren Feuergefecht-Variationen mit sich bringt. Darüber hinaus wird es die neue Spezial Waffentarnung "Obsidian". Diese kann für jede Waffe im Mehrspieler Modus freigeschaltet werden. Die Voraussetzung dafür ist, dass ihr die jeweilige Waffe bereits auf Gold gespielt habt. Damaskus ist keine Voraussetzung dafür.
Most Wanted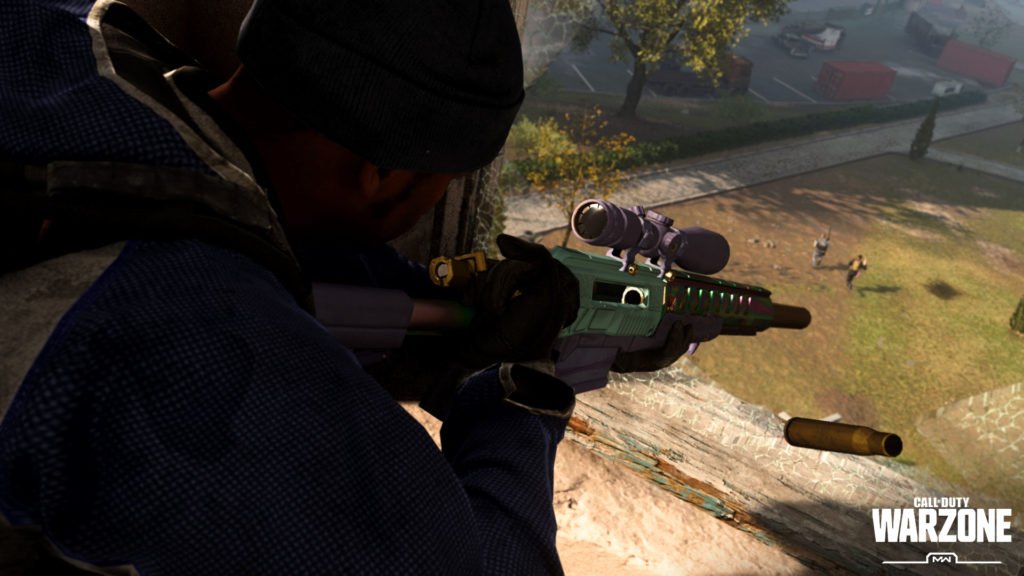 In Warzone wartet ein neuer Auftrag auf euch. Mit diesem Auftrag macht ihr euch selbst und euer Team zum Kopfgeldziel. Wenn ihr diese Herausforderung meistert, erhaltet ihr für alle gefallenen Teammates ein redeployment. Der Auftrag kann in Solos, Trios oder Quads im Battle Royale Modus und in Trios im Beutegeld Modus abgeschlossen werden.
DATA PACK DOWNLOAD:  Modern Warfare auf PS4 und Xbox One

Wie wir euch bereits gestern berichtet haben, erfordert das kommende Titel Update auch den Download eines Data-Packs auf Xbox One und Playstation 4. Dieses ist knapp 15 GB groß und wird automatisch heruntergeladen, sobald ihr im Hauptmenü einen beliebigen Modus (Multiplayer, Kampagne, Spe Ops, etc.) wählt. Infinity Ward rät dazu, das Spiel zu beenden und neu zu starten, sobald der Download des Data-Packs abgeschlossen ist. Das Data Pack muss zusätzlich zum Titel Update geladen werden.
Fehlerkorrekturen
Mit dem Update werden ebenfalls Fehlerkorrekturen vorgenommen. Die vollständigen Patch Notes werden nächste Woche folgen. Ihr findet sie dann wie immer hier, in unseren News.
Fix for a bug where PC players using a Vega64 GPU could see corrupted outlines around their character models and weapons.
Fix for a bug where selecting the USEF 1 skin for the Mil-Sim Operator appears as the default skin in Co-op
Adjusted the speed and sizing of the circle in Warzone
Fix for a bug where completing the completionist challenges for the SKS are unlocking the associated camos for the Renetti
Fix for a bug where unlocking camos for the SKS was inconsistent with other camo challenges for marksman rifles
Fixed a bug where the "Hard Wired" skin for Alex would appear in thermals while Cold Blooded is equipped
Fixed a bug where some watches were appearing the wrong direction when gesturing
Fixed a bug where players could lose the option to pick their favorite Faction in the Operator menu
Fixed a bug where white lighting could be seen while moving or firing a weapon near specific locations
Für diese Saison stehen auch noch die Modern Warfare 3 Remake-Karte "Hardhat" und die Feuergefechtkarte "Wilco" auf dem Plan. Es besteht also die Möglichkeit, dass eine dieser Karten ebenfalls Teil des kommenden Updates sein wird. Es ist nicht unüblich, dass Infinity Ward nur eine Teil-Vorschau für Content Updates gewährt, um dann am Release Tag mit der neuen Karte für eine kleine Überraschung zu sorgen.
Wann erscheint das Update?
Infnity Ward hat bisher nur das Datum genannt. Dienstag, den 28. April 2020. In den letzten Wochen kam es aber schon vor, dass Titel Updates erst um 11 pm pazifischer Zeit veröffentlicht wurden. Das würde also aufgrund der Zeitverschiebung bedeuten, dass das Update hier bei uns erst mittwochmorgens bereitsteht. Stellt euch also auf eine Veröffentlichung zwischen dem 28. April um 19 Uhr und dem 29. April um 8:00 Uhr ein.
2xEvent
Zum Wochenende dürft ihr euch außerdem auf ein weiteres 2XP Event freuen. Darin könnt ihr euch vom 1. Mai, um 19 Uhr bis zum 4. Mai um 19 Uhr 2XP, 2x Waffen XP und 2xTier Up für den Battlepass verdienen.
---
---
Stay in touch
Weitere Leaks, Patch Notes und Infos zum Spiel findet ihr in unserer Themenübersicht (hier klicken). Folgt uns gerne auf Facebook, Instagram und Twitter, um künftig keine News mehr zu verpassen. Wer auf der Suche nach einer Community ist, kann gerne in unserer Facebook Partnergruppe "Call of Duty Germany" vorbeischauen. Hier findet ihr Hilfestellungen, neue Mitspieler und vieles mehr.