S.T.A.L.K.E.R. 2 Gameplay Trailer vom Xbox Game Showcase 2021| Stalker 2
Im Rahmen des Xbox Game Showcase 2021 wurde der Gameplay Trailer zu S.T.A.L.K.E.R. 2: Heart of Chernobyl veröffentlicht. Er gibt euch einen ersten Vorgschmack auf das, was euch in der Sperzone erwartet. Außerdem wurde auch der Release Termin des Horror-Shooters enthüllt. Der Titel erscheint am 28. April 2022 auf Xbox Series X|S und dem PC. Stalker 2 Heart of Chernobyl wird ab Tag 1 der Veröffentlichung über den Xbox Game Pass verfügbar sein. Nachfolgend könnt ihr euch den Gameplaytrailer anschauen.
STALKER 2 Heart of Chernobyl Trailer
Wenn ihr die alten S.T.A.L.K.E.R. Titel gespielt habt, dürftet ihr einige der Schauplätze wie den Aussichtsturm im Sumpf im Trailer wiedererkennen. Außerdem seht ihr im Trailer, wie ihr mithilfe von einem Artefakt namens Jelly eure Ausdauer wieder herstellen könnt. In der Chemiefabrik könnt ihr zudem einen Blick auf die neue Fraktion im Spiel werfen. Ebenfalls wurde Sergiy Grygorovych, der Schöpfer der S.T.A.L.K.E.R.-Serie im Stalker 2 Heart of Chernobyl verewigt.
S.T.A.L.K.E.R. 2: Heart of Chernobyl — Gameplay Trailer
Über das Spiel
In STALKER 2 Heart of Chernobyl spielt ihr in der Rolle des Protagonisten "Skif" und erkundet die Sperrzone. Auf eurem Weg ins das Herz Tschernobyls erlebt ihr eine epische, non lineare Geschichte in einer nahtlos offenen Spielwelt. Der Titel kombiniert die Elemente Ego-Shooter, Horror und immersive Simulation zu einem einzigartigen Spielerlebnis.
Die Sperrzone von Tschernobyl hat nach der zweiten Reaktorexplosion im Jahr 2006 dramatische Änderungen erfahren. Durch brutale Mutanten, tödliche Anomalien und kriegführende Fraktionen wurde die Zone in einen Ort verwandelt, an dem das Überleben zur Herausforderung wird. Mitten im Zentrum der Zone befindet sich eine Quelle mit unglaublicher Kraft und diese stellt eine mehr als ernst zu nehmende Bedrohung für die gesamte Menschheit dar. Trotz dieser Gefahren begeben sich die sogenannten STALKER in die Zone, um Artefakte von unschätzbarem Wert zu finden und zu bergen. Manche von Ihnen wollen außerdem herausfinden, was sich wirklich im Herzen Tschernobyls verbirgt. Ihr spielt einen dieser STALKER.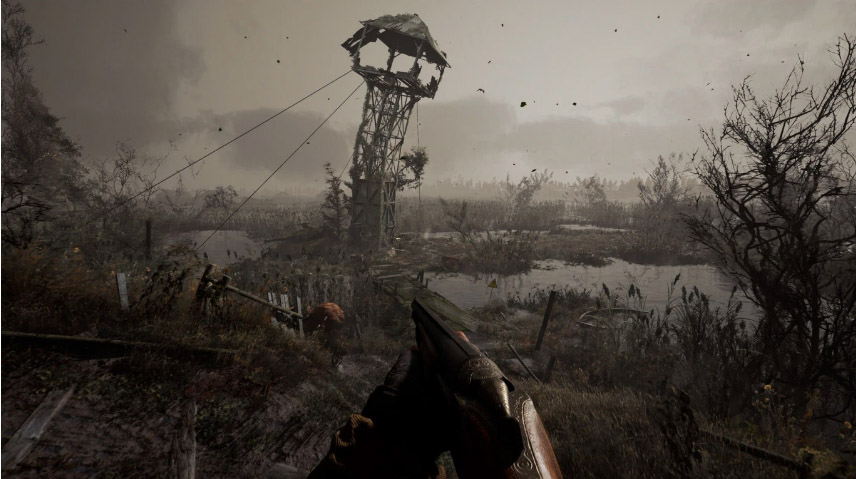 Im Spiel erwartet euch eine Vielzahl verschiedener Waffen, die ihr kombinieren könnt, unzählige Feinde mit einer verbesserten KI, dynamisches Wetter sowie ein Tag- und Nachtzyklus. Außerdem setzten die Entwickler auf das A-life 2.0"-System zur Lebenssimulation, um der Spielwelt eine ungekannte Lebendigkeit zu verleihen. Auch grafisch setzt STALKER 2 auf modernste Fotogrammetrie- und Scan-Technologien, um so neue Maßstäbe zu setzten.
---
Stay in touch
Weitere Leaks, Patch Notes und Infos zum Spiel findet ihr in unserer Themenübersicht (hier klicken). Folgt uns gerne auf Facebook, Instagram und Twitter, um künftig keine News mehr zu verpassen.
---