Modern Warfare 2 Beta Inhalte Wochenende 1 & Wochenende 2
An diesem und am kommenden Wochenende findet die Beta zu "Call of Duty: Modern Warfare 2" statt. Das erste Wochenende findet exklusiv auf Playstation statt und ist in zwei Phasen unterteilt (16. bis 17. September 2022 Early Access | 18. bis 20. September offen für alle). Die Server werden heute Abend gegen 18 Uhr online gehen . Die zweite Beta Phase, bei der auch Xbox und PC Spieler Zugang erhalten, startet am kommenden Wochenende, ebenfalls ab ca. 19 Uhr und ist auch in zwei Phasen eingeteilt (Early Access 22. bis 23. September | Offen für alle 24.- 16. September). In diesem Beitrag findet ihr alle wichtigen Informationen über die verfügbaren Modern Warfare 2 Beta Inhalte sowie den maximal freispielbaren Rängen der jeweiligen Beta-Phasen.
Das sind die Inhalte von Wochenende 1 & 2
Zu den Modern Warfare 2 Beta Inhalten am ersten Wochenende zählen ausgewählte Mehrspielerkarten für die verschiedenen Modes sowie klassische Spielmodi wie TDM und weitere. In der nachfolgenden Gliederung haben wir alle Inhalte zusammengefasst, die in der Beta verfügbar sind. Bitte beachtet, dass manche Ausrüstungsgegenstände erst am zweiten Wochenende verwendet werden können, wenn der maximale Soldatenrang auf Level 30 angehoben wird. Während des ersten Wochenendes ist der Rang auf Level 15 begrenzt. Am zweiten Wochenende werden zudem weitere Modi und eine neue Karte hinzugefügt werden.
Karten: Farm 18, Mercado Las Almas, Breenbergh Hotel,  Valderas Museum, Sa'id, Santa Seña, Sarrif Bay
Modes: TDM, Herrschaft, Gefangenenrettung, Knock-Out, SuZ (Tag 2), 3rd Person Moshpit (Tag 3), Stellung (Wochenende 2) und Invasion (Wochenende 2 / Tag 1)
Waffen: 
Taktik Ausrüstung:

Spotter Scope – Zur Erkennung und Markierung von Feinden
Blendgranate
Betäubungsgranate
Rauchgranate
Snapshot Granate
Herzschlagsensor
Stim
Ablenkungsgranate
Gas Granate
Schockstock

Tödliche Ausrüstung:

Claymore
Frag Granate
Molotow Cocktail
C4
Bohrladung
Sticky Granate
Nährungsmine
Thermit

Perks:

Basis Perks

Kampfgestählt: Verringert die Wirkung feindlicher Blend- Betäubungs- EMP. und Gasgranaten sowie von Schockstäben. Darüber hinaus macht es euch Immun gegen Schnappschussgranaten.
Eiltempo: Verdoppelt die Dauer von Tatktiksprint, steigert die Kriechgeschwindigkeit um 30%.
Overkill: Ermöglicht tragen von zwei Primär Waffen
Plünderer: Ermöglicht Munitionsnachschub und Wurfmesser von eliminierten Spielern aufzusammeln.
Starker Arm: Ausrüstung kann weiter geworfen werden und ihr könnt eine Vorschau der Flugbahn sehen.
Spurenleser: Feinde hinterlassen Fußabdrücke und Markierungen bei Todesorten von Feinden werden Sichtbar. Das feindliche Team kann keine Todesmarkierungen sehen.
KRD: Reduzierter Schaden durch Sprengwaffen, die keine Abschussserien sind. Zünd-Timer werden beim Aufnehmen scharfer Granaten zurückgesetzt.
Zusätzliche Taktikausrüstung: Ihr steigt mit einer zusätzlichen Taktik-Ausrüstung ins Spiel ein.

Bonus Perks

Aufstocken: Ihr steigt mit einer zusätzlichen Primärgranate ein. Eure Ausrüstung wird innerhalb von 25 Sekunden aufgefüllt.
Fokus: Reduziertes Zittern und Zicken bei Einsatz der Zielvorrichtung. Zudem Möglichkeit, den Atem länger anzuhalten.
Kaltblütig: Nicht zu ordnen durch K.I-Zielsysteme und Thermalvisiere. Verhindert auslösen der Alamiert-Warnung, durch das perk Alarmiert. Außerdem wird die Markierung durch feindliche taktische Kameras, Aufklärungsdrohnen und Scout-Zielfernrohre verhindert.
Flinke Hände: Schnelleres Nachladen von Waffen und Benutzen von Ausrüstung sowie schnellerer Waffenwechsel.
Kundschafter: Ermöglicht das aufspüren feindlicher Ausrüstung, Feldausrüstungen und Abschussserien durch Wände hindurch. Die Zielvorrichtung markiert sie zudem für euer Team. Darüber hinaus könnt ihr feindliche Claymores, Näherungsminen, C4 und Trophy-Systeme hacken.
Zusammenflicken: Das Töten von Spielern löst direkt die Gesundheitsregeneration aus. Das Einnehmen und Halten von Zielen steigert das Gesundheitsregenerationstempo

Ultimative Perks

Geist: Nicht zu orten durch Drohnen, tragbares Radar und Herzschlagsensor.
Hardliner: Abschussserien benötigen einen Abschuss weniger. Kosten für Punkteserien werden um 125 reduziert.
Übertackten: bewirkt eine zusätzliche Feldausrüstung-Aufladung. Erhöht die Aufladerate von Feldausrüstung um 40%. Bei Verdienst: erhaltet ihr eine Feldausrüstungs-Aufladung.
Alarmiert: Sichtfeld pulsiert, wenn euer Gegner euch sieht, während er sich außerhalb eures Sichtfelds befindet.
Überlebenskünstler: Startet im Todesfall einmal Pro Leben den Eliminator mit der Fähigkeit zur Selbstwiederbelebung. Teammitglieder können besiegte Spieler schneller wiederbeleben.
Vogelblick: Die Minimap zoomed heraus. Drohnen und Radar zeigen die Richtung von Feinden. Bei Verdienst: Offenbaret Feinde auf der Minimap.

Feldausrüstung:

Mobile Deckung
Taktikeinstieg
Trophy-System
Totenstille
Tragbares Radar
Kampfwut
Störmine
Ausrüstungslieferung
Taktik-Kamera
Munitionskiste.
Rauchabwurf
Aufblasbarer Täuschkörper
Aufklärungsdrohne
DDOS
Panzerbrechende Munition

Operator
Fahrzeuge Bodenkrieg

Land

ATV (All-Terrain Vehicle)
UTV (Utility Terrain Vehicle)
TAC-V (Tactical Vehicle)
Hatchback
Chop Top
SUV
Cargo Truck

Land (Nur Bodenkrieg)

Heavy Tank
Light Tank
APC (Armored Personnel Carrier)
Luft
Light Helo
Heavy Chopper

See

RHIB (Rigid-Hull Inflatable Boat)
Armored Patrol Boat
---
MWII CROSS – GEN – BUNDLE VORBESTELLEN *AD
---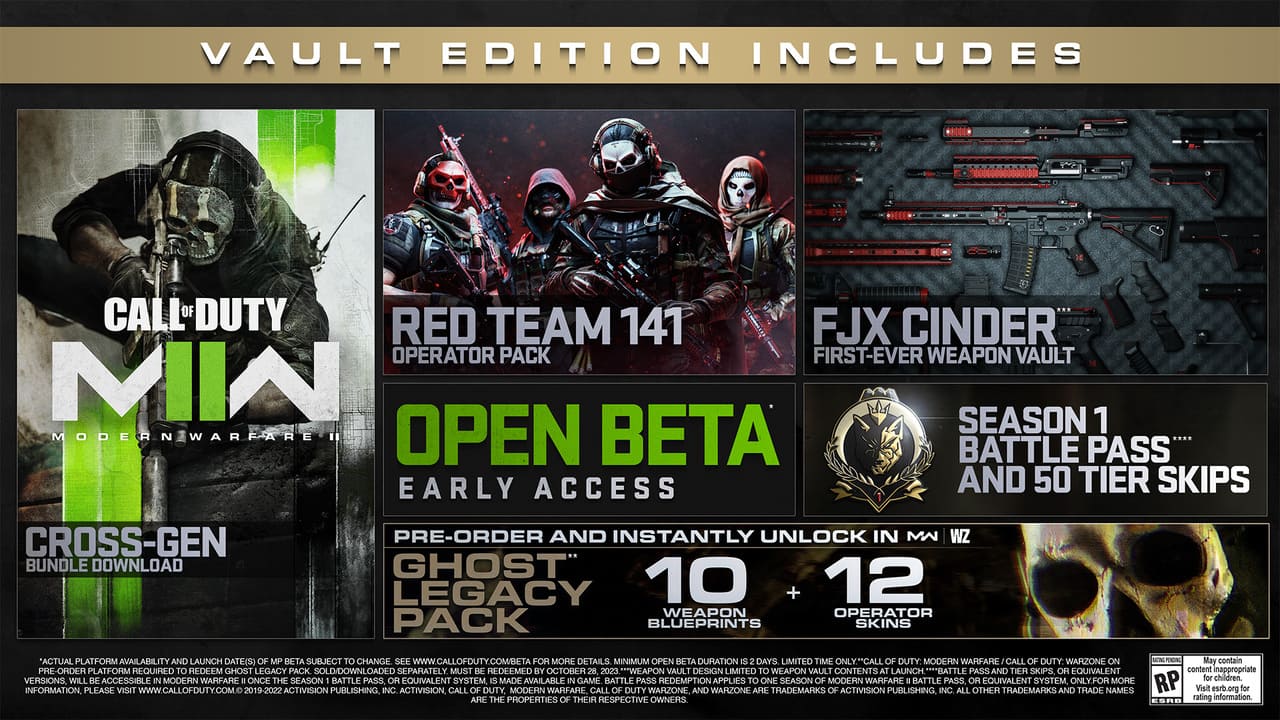 ---
MERCH | NEUHEITEN
---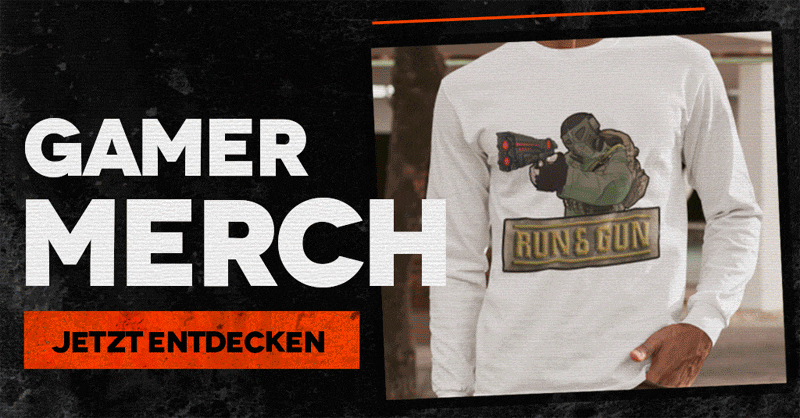 ---
Stay in touch
---
Weitere Leaks, Patch Notes,  Infos sowie Tipps und Tricks zum Spiel findet ihr in unserer Themenübersicht (hier klicken). Folgt uns gerne auf Facebook, Instagram und Twitter, um künftig keine News mehr zu verpassen. Wer auf der Suche nach einer Community ist, kann gerne in unserer Facebook Partnergruppe "Call of Duty Germany" vorbeischauen. Hier findet ihr Hilfestellungen, neue Mitspieler und vieles mehr. Wir suchen außerdem Content Creator (M/W) und Sprecher*inen für künftige Projekte. Wer Teil des Trippy Leaks Network werden möchte, kann sich gerne bei uns melden (hier klicken).
---
---