Modern Warfare 3 (III) Zombies Trailer | MW3 Zombies
Heute wurde der Cinematic Trailer für "Call of Duty: Modern Warfare 3 (Modern Warfare III) Zombies inkl. erster Story Details enthüllt. Mit Modern Warfare 3 Zombies (kurz MWZ) erwartet euch ein Open World Erlebnis, das einer Mischung aus Outbreak und DMZ gleicht. Entwickelt wurde der Modus vom Entwickler Studio Treyarch. Im nachfolgenden findet ihr alle wichtigen Informationen.
Über MW3 Zombies
In Modern Warfare Zombies erwartet euch ein PvE Modus, in dem ihr in einer offenen Welt, Seite an Seite mit anderen Trupps, gegen gewaltige Zombie Horden kämpft. Schauplatz dieses Modus ist Las Almas – es ist die selbe Karte, die in "Call of Duty: Warzone 2.0" im Laufe von Season 1 hinzugefügt wird. Der Modus ist für insgesamt acht Trupps, bestehend aus je 3-Spielern ausgelegt – also insgesamt bis zu 24 Spieler pro Runde.
Modern Warfare 3 Zombies Cinematic Trailer – Der Einbruch
Die Szene beginnt mit einer Gruppe von Männern in Militärkleidung, die im Begriff sind, eine nächtliche Razzia an einem unbekannten Ort durchzuführen. Das Team wird zur Unterstützung gerufen. Es soll die örtliche Polizei ablenken, während die Militäreinheit vorrückt, um die Hintertür eines Hotelgebäudes aufzubrechen. Im Inneren platzieren sie eine Sprengladung und sprengen ein Loch in die Wand, um eine Treppe dahinter freizulegen, die zu ihrem unterirdischen Ziel führt. Was sie in diesem Raum finden, verändert schlagartig die Art der Bedrohung!
Zombies Cinematic | Call of Duty: Modern Warfare III
Weitere Details zu MW3 Zombie
In Modern Warfare III (MW3) Zombies gibt es sowohl untote als auch lebende Feinde. Die Bedrohung durch die Lebenden kommt in Form von Terminus Outcomes, einem privaten Militärunternehmen, das Zakhaev zur Verstärkung angeheuert hat. Angeführt von einem gewissen Jack Fletcher – dem überlebenden Soldaten neben Zakhaev am Ende des Trailers – beurteilt das PMC weder die Motive noch die Ethik seiner Klienten. Wenn das Geld stimmt, übernehmen sie den Job.
Operation Deadbolt
Während des Kalten Krieges wurde nach einem Ausbruch Operation Deadbolt von der CIA als Notfallplan ins Leben gerufen. SSO Laswell erhält die Aufgabe, den Plan vorzubereiten, und setzt SSO Selma Greene als De-facto-Kommandeurin der Operation vor Ort ein. Als das Team zusammen mit Soap und Ravenov in der Sperrzone ankommt, sind bereits einige Wochen seit den im ersten Teil des Trailers gezeigten Ereignissen vergangen.
In MW3 Zombies schließt ihr euch mit eurem Operator / eurem Operator Team anderen multinationalen Operatoren an, um der Bedrohung in der Sperrzone entgegenzuwirken, die alle unter dem Grundprinzip der Operation Deadbolt laufen: "Nichts kommt rein, nichts kommt raus."
Ihr werdet euch gemeinsam mehren schwierigen und mehrstufigen Aufgaben stellen, während Soap und Co. versuchen, Zakhaev und Terminus daran zu hindern, noch mehr Ressourcen zu plündern, und gleichzeitig versuchen, die aktuelle Bedrohung einzudämmen bevor es außer Kontrolle gerät.
MW3 Zombies Kombiniert die besten Map Features & Systeme von MW und Zombies
Modern Warfare Zombies kombiniert die besten Kartenfunktionen und -systeme von Modern Warfare mit den bewährten Kernfunktionen von Treyarch Zombies und präsentiert eine völlig neue Variante des Zombie Modus. Macht euch bereit für dein Einsatz in verschiedenen Regionen, um dort die Bedrohung einzudämmen, während der Schwierigkeitsgrad ständig zunimmt.
Euch erwarten neue Missionen, bekannte Gegner und eine Menge versteckter Geheimnisse. Auf der Karte findet ihr Buy Stations, Munitionsdepots und Mystery Boxes sowie Pack-A-Punch und Wall Buys. Ähnlich wie in Outbreak könnt ihr einen EXFIL starten und werdet für die erfolgreiche Evakuierung belohnt. Außerdem könnt ihr während einer Rund aus dem Kampfbereich der Hauptkarte in eigene Abschnitte herausteleportieren um dort Aufklärungsdaten zu sammeln. Ihr seht dabei auch einige Cinematic Cutscenes.
Für die Vorbestellung erhaltet ihr den Ghost Zombie Operator Skin.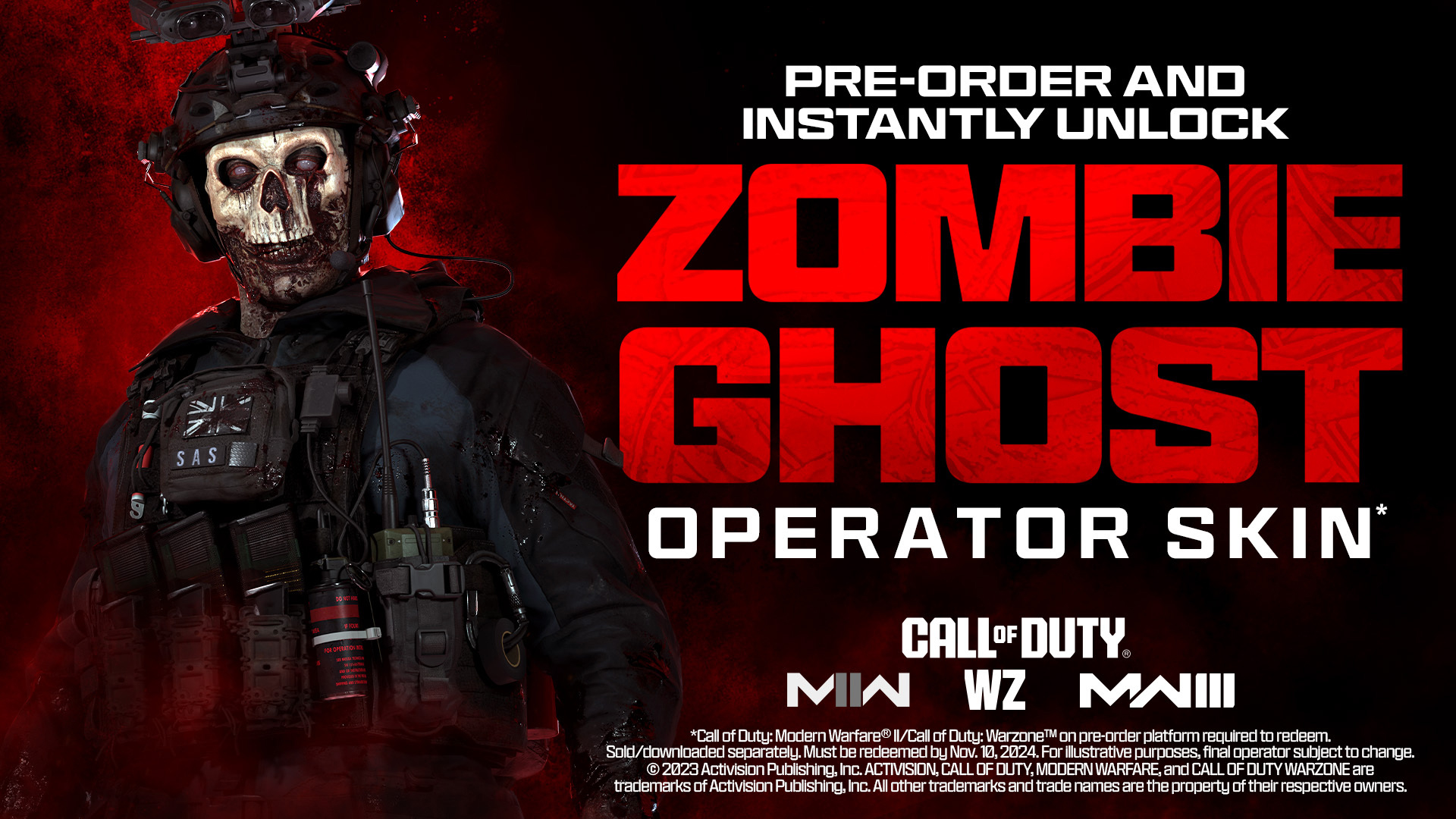 ---

---
Stay in touch
---
Weitere Leaks, Patch Notes,  Infos sowie Tipps und Tricks zum Spiel findet ihr in unserer Themenübersicht (hier klicken). Folgt uns gerne auf Facebook, Instagram und Twitter, um künftig keine News mehr zu verpassen. Wer auf der Suche nach einer Community ist, kann gerne in unserer Facebook Partnergruppe "Call of Duty Germany" vorbeischauen. Hier findet ihr Hilfestellungen, neue Mitspieler und vieles mehr.