Call of Duty: WW II – Inhalte der Pro Edition, Gamestop Exklusives Cap & mehr
Weitere Bilder zeigen die Inhalte der Call of Duty: WW II Pro Edition sowie ein Gamestop-Exklusives Cap. Darüber hinaus tauchten außerdem weitere Fotos zu Promoplakten in London und Paris auf.
Der diesjährige Ableger verfrachtet euch in den 2. Weltkrieg. Euch erwartet eine Einzelspieler-Kampgane mit reichlich Blockbuster Action und lebensechten Darstellungen. Call of Duty:WWII erzählt eine Geschichte von Bruderschaft und schickt euch dabei in Schlachten auf der ganzen Welt. Zudem dürft ihr euch auf eine separate Co-Op Mission mit einer eigenständigen Geschichte und natürlich einen traditionellen Multiplayer Modus freuen. Gestern tauchten weitere Bilder auf, welche die Inhalte der Pro Edition sowie ein Gamestop Exklusives Cap zeigen. Zudem gibt es weitere Aufnahmen von Promoplakaten aus London und Paris. Die weltweite Premiere erfolgt am Mittwoch, den 26. April 2017 um 19Uhr.

Call of Duty: WWII bei Amazon vorbestellen
Call of Duty: WW II war eine Entscheidung von ganz oben
In einem Interview mit Polygon spricht Eric Hirschberg, CEO von Activision, über die Entscheidung mit dem Franchise zurück zu den Wurzeln zu gehen. Unter anderem teilte er mit, das es eine Entscheidung von höchster Ebene gewesen sei, jedoch auch die Meinung der Entwickler berücksichtigt wurde, die zum Glück für diese Idee zu haben waren. Call of Duty: WWII soll zurück zu den Wurzeln gehen und Zugleich neue Inovative Ideen bereit halten. Darüber hinaus war auch ein wenig Riskiobereitschaft von nöten, da niemand wusste, wie der Markt für WWII Shooter in 2017 aussehen würde.
"Die Idee, zurück zu den Wurzeln zu gehen, startete bei jenen, die das gesamte Call of Duty Franchise verwalten. Aber es war zunächst nur ein Vorschlag, denn man kann kein Spiel machen, für das man selbst keine Leidenschaft besitzt, denn das würde niemals erfolgreich. Als wir 2014 mit dem Studio von Sledge Hammer Games und dern CEO's zusammen saßen und unsere Idee mitteilten, war das Team sofort begeistert Call of Duty zurück zu seinen Wurzeln zu bringen und zugleich mit neuen Ideen für frischen Wind zu sorgen."
"Ich meine vor drei Jahren, als wir von diesem Spiel geträumt haben und beschlossen, dass es an Zeit wäre, zu unseren Wurzeln zurückzukehren, konnten wir nicht wissen, dass das Jahr, in dem wir es Veröffentlichen würden, ein Jahr ist, in dem es mehrere Welt-Kriegs-Filme in den Kinos geben würde und dass es andere Konkurrenten geben würde, die auf diese historischen Settings zurückgehen würden in ihren Spielen."

NFL Star is begeistert vom neuen CoD
Sledge Hammer Games zeigt aktuell das Spiel einigen geladenen Promi-Gästem. Unter anderem auch dem Football Spieler Torrey Smith von den Philadelphia Eagles. Dieser zeigte sich auf Twitter mehr als begeistert vom diesjährigen Call of Duty Ableger.
https://twitter.com/TorreySmithWR/status/857000997826252802
Inhalte der Call of Duty: WW II Pro Edition
Käufer der Call of Duty: WW II Pro Edition erhalten ein Steelbook sowie den Season Pass der vier DLC Pakete enthalten wird. Als Vorbesteller gibt es außerdem Zugriff zur geschlossenen Beta, welche auch in diesem Jahr zuerst auf der Playstation 4 stattfinden wird. Des Weiteren erhalten alle Vorbesteller bei Gamestop eine limitierte Edition mit einem Cappy. Bisher ist dies nur für Gamestop US bestätigt. Ob auch die europäischen Filialen eine solche Aktion bieten, ist bisher nicht bekannt. Nachfolgend gibt es erste Promobilder.
Call of Duty WWII erscheint am 3 November für Xbox One, Playstation 4 und PC.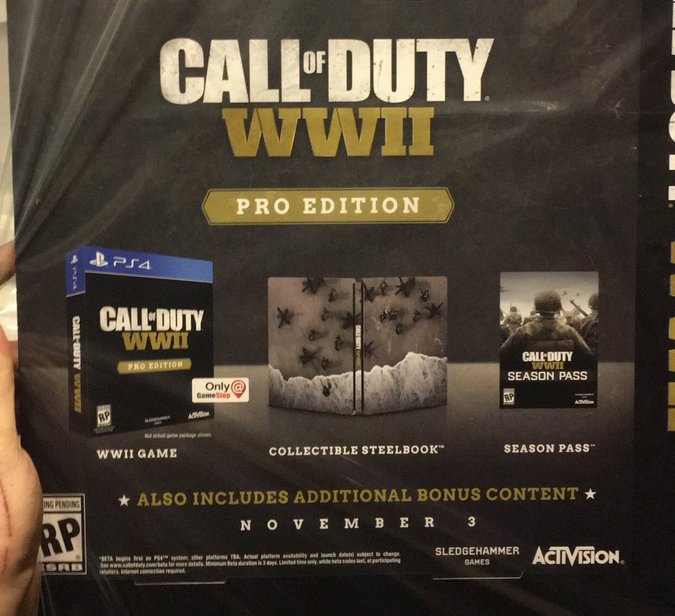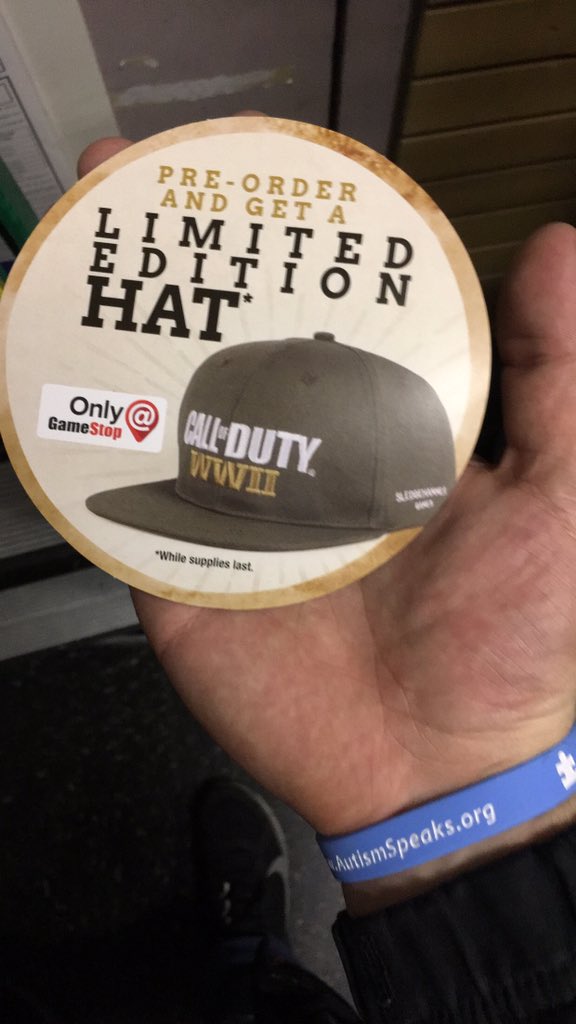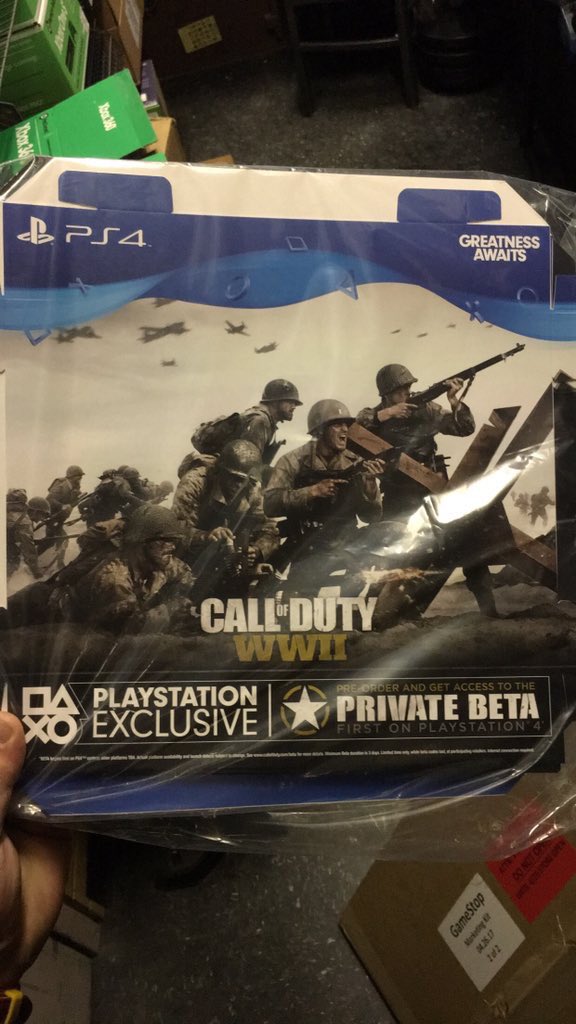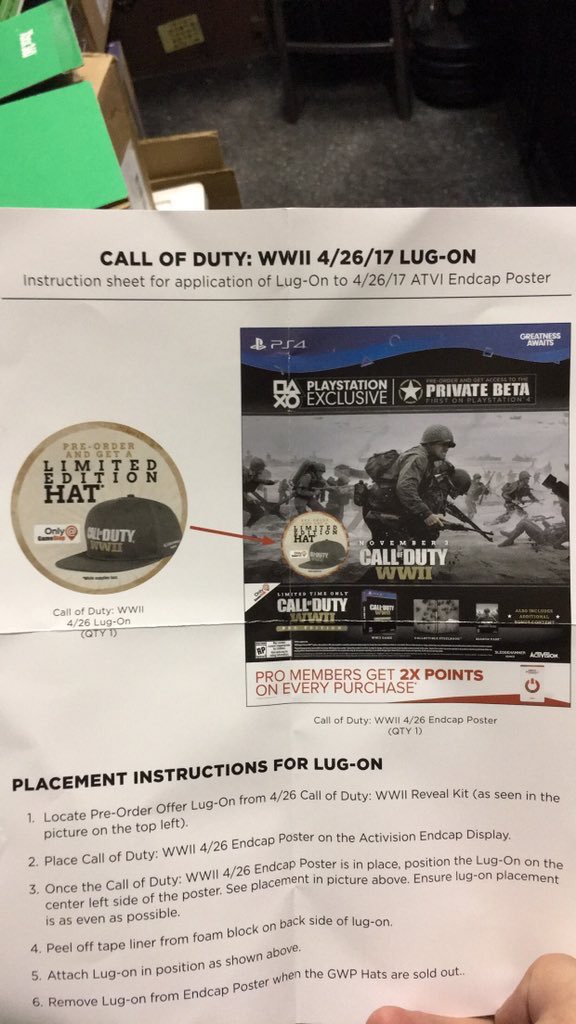 Promo Wände in London und Paris