Call of Duty: WW II : Army of the Dead – Zombie Trailer geleaked
Eigentlich sollte der Trailer zum Zombie Modus von "Call of Duty: WW II" am 20. Juli 2017 auf der Comic Con in San Diego offiziell enthüllt werden. Doch nun ist der Clip bereits heute auf Reddit aufgetaucht. Nachfolgend könnt ihr das Video anschauen.
Der Zombie Modus des diesjährigen Call of Duty Ablegers wirkt sehr düster und blutig. Im Vergleich zu denen der Vorherigen Ableger erwartet euch hier etwas vollkommen anderes. Wie SHG in einem Interview mit dem EDGE Magazin verraten hat, soll die Hintergrundgeschichte des Zombie Modus auf wahren Begebenheiten basiern. Darüber hinaus wird man in diesem Modus auch Stilmittel aus "Dead Space" wieder finden. Erste Details zum Cast wurden ebenfalls gestern Abend geteilt. David Tennant, Star der BBC Serie Dr. Who, wird im Zombie Modus von Vall of Duty: WW II die Rolle von Drostan Hynd verkörpern. Weitere Informationen sollten in wenigen Tagen enthüllt werden.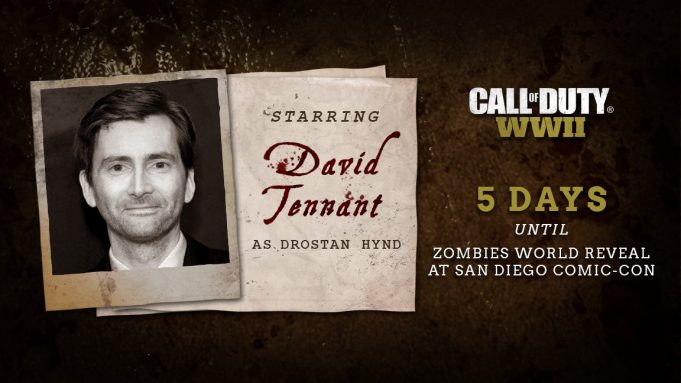 Rohschnitt Fassung des Trailers
Der nachfolgende Trailer ist ein Rohschnitt und zeigt Teile der Karte "Army of the Dead". Sledge Hammer Games und auch Micheal Condrey, CEO des Studios, teilten via Twitter mit, dass sich die Finale Version des Trailers noch im Schnitt befindet und in der kommenden Woche auf der Comic Con in San Diego vorgestellt wird.
https://youtu.be/nLvq2sVDS70
Leaks aren't ideal, but know that we appreciate the support. We're almost done with the Nazi Zombies Trailer. Hang tight, it'll be worth it!

— Sledgehammer Games (@SHGames) July 15, 2017
We're working hard to finish the official Nazi Zombies trailer. Please respect the craft & avoid spoilers today, final trailer coming soon. pic.twitter.com/gE93Ucdeh7

— Michael Condrey (@MichaelCondrey) July 15, 2017
Start der Beta im August auf Playstation 4
Ab dem 25. August 2017 haben alle Vorbesteller der Playstation 4 Version zugriff auf die Multiplayer Beta von Call of Duty: WW II.  Spieler auf der Xbox One müssen sich ca. eine Woche länger in Geduld üben bis sie den Shooter antesten können. Dort sollte die Beta voraussichtlich Anfang September verfügbar sein.

Call of Duty: WWII bei Amazon vorbestellen
Call of Duty WWII erscheint am 3. November 2017 für Xbox One, Playstation 4 und PC.
Keine News mehr verpassen? Folgt uns auf Facebook