TruePlay: Anti-Cheat Tool für UWP & Play-Anywhere Spiele / Windows 10
Mit TurePlay stellt Microsoft ein Anti Cheat Tool für UWP und Play Anywhere Spiele bereit. Es ist Teil des aktuellen Herbst-Creators Update für Windows 10 und funktioniert ähnlich wie Valve's das Anti-Cheat-Tool (VAC). Das System sammelt während des Spielens Daten über die jeweiligen Titel und versendet im Fall von ungewöhnlichem Verhalten Warnmeldungen an deren Entwickler. Dadurch bietet es künftig auch Konsolenspielern, deren Gegenüber via Cross-Plattform-Play vom PC aus gegen sie antritt, mehr Schutz vor Cheatern.
Wer die Funktion unter Windows 10 aktivieren möchte, findet sie unter Einstellungen -> Xbox -> TruePlay.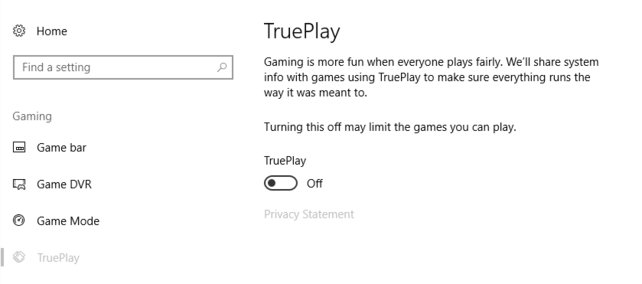 TruePlay überwacht nicht alle Spiele
Noch gibt es neben "Rise of the Tomb Raider" jedoch nur wenige Spiele, die TruePlay unterstützen. In Zukunft werden sich aber sicher einige mehr finden, da die Entwickler nun nach und nach ihre Titel als UWP-Spiel über den Windows Store veröffentlichen.