Black Ops 4: Game-Settings Update bringt Infected Modus (PS4); Alcatraz (XB1/PC) und mehr [Patch Notes]
Mit dem heutigen Game-Settings-Update für "Call of Duty: Black Ops 4" wird der "Infected Modus" auf PS4, Alcatraz für alle Plattformen und Skill Divisions für League Play freigeschaltet. Der Barbones Modus bleibt weiter in der "Vorgestellt"-Playlist aktiv. Die Patch Notes werden wir für euch im Laufe des Abends ergänzen, sobald diese verfügbar sind.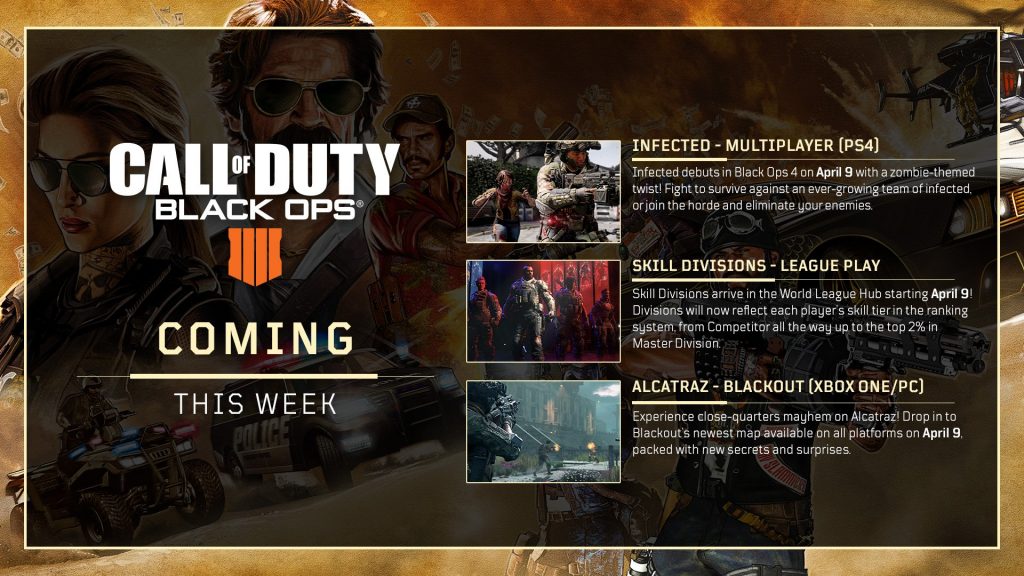 Patch Notes
Infected Makes its Black Ops 4 Debut on PS4
Black Ops 4's latest Party Game is here! Infected pits a team of Survivors against an ever-growing horde of Infected, starting with a randomly-selected patient zero. Survivors will have to outlast the onslaught until the timer runs out, while the Infected claim victory by spreading their disease to every Survivor in the map. This time around, Infected has a zombie-themed twist – every member of the Infected team is entirely zombified, with a full zombie character model and sound effects to match! Check out Infected today on PS4 and let us know what you think.
Skill Divisions Now Live in League Play
Starting today on all platforms, the World League Hub's new Skill Divisions now reflect each player's skill level within the World League Rank system based on their standing in the overall competitive population, in addition to League Play's existing progressive rank system. Players will be placed into specific Skill Divisions based on their current skill rating, starting with 50% of the population in Competitor Division and culminating with the top 2% in Master Division. Time to climb!
Alcatraz Map Available on All Platforms in Blackout
Blackout's new Alcatraz map is now available on all platforms starting today, as Blackout's Free Access period continues on PS4, Xbox One, and PC through April 30th! Grab your friends and drop into the new zombie-infested prison island and hit the ground running in an insane close-quarters fight for survival. Pro-tip: if you find yourself surrounded by a pack of zombies, take the time to wipe them out if you want to get your hands on a devastating new Wonder Weapon…
Here's what's new since our last community update:
Infected added as Featured Playlist in Multiplayer (PS4).

KN-57 weapon tuning adjustments in Multiplayer, live as of 4/5.

Skill Divisions now live in League Play on all platforms.

Alcatraz map now available on all platforms in Blackout.

Blackout Duos returning on 4/10 to PS4 and Xbox One.
MULTIPLAYER
Weapons

KN-57

Increased 4-shot range.

Slightly increased recoil.

Create-a-Class

Added sound FX when selecting any MKII Weapon in Create-a-Class.
WORLD LEAGUE HUB
Skill Divisions

New Skill Divisions now reflect each players' skill rating based on the overall competitive player population:

Competitor (50%)

Advanced (20%)

Expert (15%)

Elite (13%)

Master (Top 2%)

Specialist Cooldowns

In CWL Game variants, Specialist Weapon cooldowns now progress solely based on Score.

The amount of Score needed for the Specialist Weapon can vary between Specialists.

UI

Resolved a UI error that could occur after League Play matches.
BLACKOUT
Map: Alcatraz
Alcatraz map available in Blackout on all platforms, added as Featured Playlist.

Quads with 40 maximum players per match.

Up to 5 total redeployments per player before the final circle, as long as one member of the squad remains alive at the time of each redeploy.

Deploy via portals into close-quarters combat on Alcatraz island.

New named destinations, including the Warden's House, Docks, New Industries, and Cellhouse.

Players can pick up Wall Buy weapons throughout the map that disappear after pickup.

New Zombies-themed weapon available in the Mystery Box.
UI
Addressed a UI error in the Paintshop when viewing MKII Weapons.
ZOMBIES
Ancient Evil

Miscellaneous

Players can no longer acquire two of the same Wonder Weapon in co-op games.

Helmeted Spartoi will now be properly killed in one shot by the Insta-Kill powerup.

Addressed an issue that prevented the Oracle Boon from functioning properly.

Addressed an issue that caused the match to end prematurely after the boss fight.

Stability

Fixed a crash that could occur related to Gegenees' attack FX.
MULTIPLAYER
Infected
Infected added as Featured Playlist on PS4.

Players are divided into two teams: Survivors vs. Infected, with one player randomly selected as the first Infected.

Infected players hunt down the Survivors and attack them to spread their disease, converting their victims into members of the Infected team.

Survivors choose from preset classes and kill/avoid the Infected throughout the match.

Survivors win by having at least one surviving member when the timer runs out. Infected team wins by infecting every Survivor in the map before time runs out.

Infected team can respawn an infinite number of times. Survivors have one life before they become Infected.

Timer resets every time a Survivor falls victim to the Infected team, or when a Survivor becomes Infected via suicide.

Preset classes for Survivors include:

Scrapper

Primary Weapon: Cordite w/ Laser Sight and Extended Mags

Secondary Weapon: Mozu w/ High Caliber

Equipment: Concussion

Perks: Gung-Ho, Lightweight, Dexterity

Wildcard: Perk 2 Gluttony

Impaler

Primary Weapon: VAPR-XKG w/ ELO and Bayonet

Secondary Weapon: Strife

Equipment: Molotov

Perks: Scavenger, Dexterity, Dead Silence

Wildcard: Primary Operator Mod

Lead Spitter

Primary Weapon: Titan w/ Reflex, Stock, and Quickdraw

Secondary Weapon: RK 7 Garrison

Equipment: Frag

Perks: Skulker, Dexterity, and Team Link

Wildcard: Perk 2 Greed

Perforator

Primary Weapon: ABR 223 w/ Suppressor, Quickdraw, and Extended Mags

Secondary Weapon: Strife

Equipment: Molotov

Perks: Scavenger, Skulker, and Dead Silence

Wildcard: Primary Gunfighter 1

Meat Bagger

Primary Weapon: Mozu w/ Speed Loader and Quickdraw

Secondary Weapon: MOG 12 w/ Quickdraw

Equipment: Concussion

Perks: Scavenger, Dexterity, and Team Link

Wildcard: Underkill

Headhunter

Primary Weapon: Paladin HB50 w/ High Caliber and Stabilizer

Secondary Weapon: MOG 12 w/ Long Barrel and Barrel Choke

Equipment: None

Perks: Dexterity, Skulker, and Tracker

Wildcard: Perk 2 Greed
---
---
Folgt uns gerne auf Facebook und Twitter, um künftig keine News mehr zu verpassen. Wer auf der Suche nach einer Community ist, kann gerne in unserer Facebook Partnergruppe "Call of Duty Germany" vorbeischauen. Hier findet ihr Hilfestellungen, neue Mitspieler und vieles mehr.
Call of Duty Sammelfiguren
Für alle Sammler, schaut gerne bei unseren Partnern von Actionfiguren24 vorbei. Dort findet ihr diverse Figuren aus dem Call of Duty Universum. Unter anderem mit dabei: Soap MacTavish und Simon 'Ghost' Riley aus der Modern Warfare Reihe und viele mehr. Hier geht's zum Shop: Actionfiguren24 *Ad