The Division 2: Trailer & Infos zum Raid "Operation Dunkle Stunden"
Ubisoft gab heute bekannt, dass Operation Dunkle Stunden ab dem 16. Mai um 18 Uhr weltweit verfügbar sein wird. Es ist der erste 8-Spieler-Raid in der Geschichte von Tom Clancy's The Division und wird für Xbox One, PlayStation 4  und  PC erhältlich sein.
THE DIVISION 2 RAID TRAILER - OPERATION DUNKLE STUNDEN (OFFIZIELL) | Ubisoft [DE]
Infos zum Raid
Mit Operation Dunkle Stunden stellt Ubisoft die bisher härteste aller Herausforderungen vor. Operation Dunkle Stunden stellt die Teamarbeit und die Fähigkeiten der erfahrensten Agenten auf die Probe, die den Weltrang 5 erreicht und Tidal Basin besiegt haben. Operation Dunkle Stunden bringt die Agenten zum Washington National Airport, welcher von den Black Tusks kontrolliert wird. Dieser wird von den Black Tusks genutzt um Soldaten und Vorräte einzufliegen. Die Einnahme des Flughafens wird ihre Vorhaben erheblich stören. Die Spieler werden feststellen, dass die Technologien der Black Tusks noch fortschrittlicher sind als alles was sie bisher kannten.
Arbeitet eng zusammen als Team
Die Spieler nehmen es mit einigen der bisher anspruchsvollsten Bosse des Spiels auf. In einem Team von 8 Spielern müssen die Agenten die Kampftechniken beherrschen und eng als Team zusammenarbeiten um ihre Strategien umzusetzen und diese hartnäckigen Gegner zu überwinden. Der Raid belohnt die Spieler mit exklusivem Loot, wie neuen Ausrüstungsgegenständen, einer exotischen Waffe und anderen einzigartigen Belohnungen.
Rewards für das erste Gewinner Team
Das erste Team, welches Operation Dunkle Stunden nach dem Start abschließt, wird im Spiel für immer verewigt, indem ein Teamfoto und die Namen im Weißen Haus von Division 2 für alle Spieler sichtbar platziert wird. Alle anderen Spieler, welche Operation Dunkle Stunden zwischen dem 16. und 23. Mai abschließen, erhalten ein Erinnerungsabzeichen am Ärmel. Alle Spieler, die den Raid danach abschließen werden mit einem Clan-Banner-Symbol und einer Trophäe in ihrem Clan-Bereich belohnt.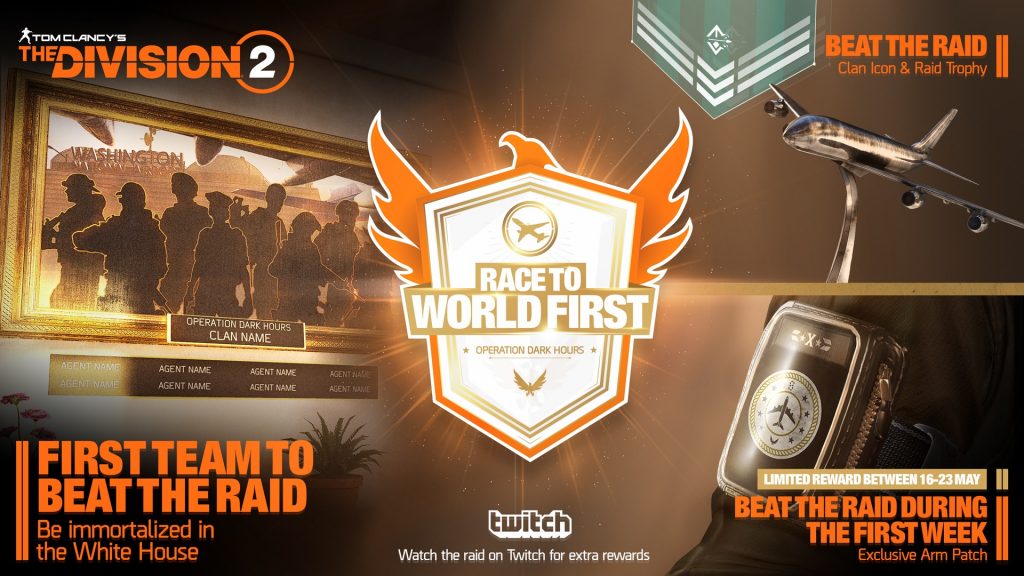 Fans können den Wettlauf um die Raid-Krone miterleben, indem sie ab 18 Uhr Operation Dunkle Stunden: Race to a World First im Twitch-Rivals-Programm unter https://www.twitch.tv/twitchrivals verfolgen.
---
---
Mehr Infos zum Spiel, wie Patch Notes zu verfügbaren Updates, geplante Änderungen, Raids, Clans und mehr, findet ihr in unserer Themenübersicht (hier klicken). Folgt uns gerne auf Facebook, Instagram und Twitter, um künftig keine News mehr zu verpassen.