The Division 2: Spezielle Feldforschung für den Richtschützen; Belohungen in der Übersicht
Um die neue Spezialisierung "Richtschütze" in "Tom Clancy's The Division 2" freizuschalten, müsst ihr spezielle Feldforschung betreiben. Sie besteht aus fünf spielinternen Herausforderungen mit eigenen Zielen und Belohnungen. Durch den Abschluss aller fünf Abschnitte erhaltet ihr Zugang zur Spezialisierung des Richtschützen und die neue individuelle Waffe im SHD-Arsenal. Zusätzlich gibt es auch Premium Belohungen für Year 1 Pass Besitzer. Nachfolgend könnt ihr einen Blick auf die Belohungen werfen.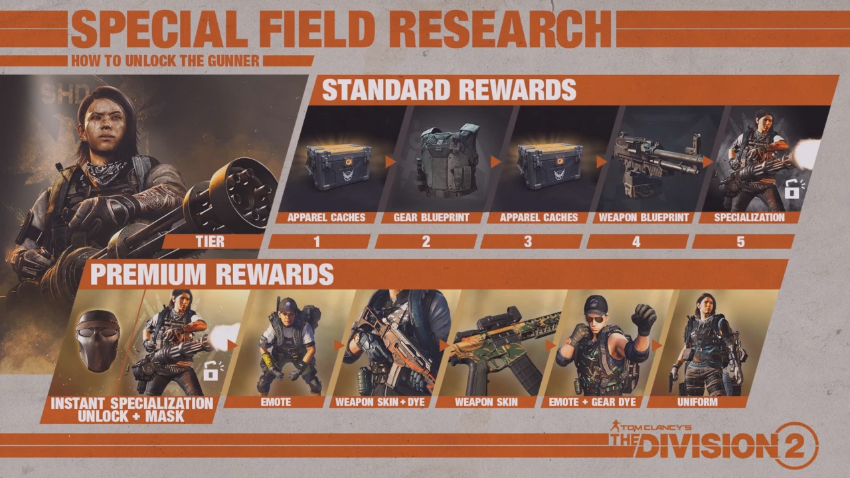 Wenn ihr über den Year 1 Pass verfügt, schaltet ihr die Richtschützen-Spezialisierung sofort frei. Ihr könnt natürlich immer noch an der speziellen Feldforschung teilnehmen, dafür erhaltet ihr im Verlauf der Abschnitte zusätzliche, exklusive, kosmetische Belohnungen: die Gesten Faustkampf und Anspannen vorne, die Farben Holzkohle und Trümmer für die Ausstattung, die Waffenskins Rosendorn und Ananas, die Richtschützenmaske und die Richtschützenuniform.
Infos zur Spezialisierung: Richtschütze
Bei Aktivierung erhält der Richtschütze Bonus-Rüstung, die auf der Menge der Spezialisierungsmunition basiert, die er mit sich führt und kann kurzzeitig eingehenden Schaden tanken, während er seine Minigun nutzt, um Gegner unter Sperrfeuer zu nehmen. Die Sache hat allerdings einen Haken. Wenn die Waffe gezogen ist, kann der Richtschütze keine Deckung einnehmen, Hindernisse überspringen oder rollen.
Ausgelegt auf schweren Schaden (panzerungen etc). Anhaltender Beschuss.

Beschuss nur außerhalb von Deckungen möglich

Richtschütze versorgt auch das Team mit Munition und füllt sie wieder auf.

Ihr verdient Signature Munition durch das töten von mindestens 2 Gegnern mit einem anhaltenenden Burst.
Pulse Variante  – Banshee
Diese Variante ist exklusiv für die neue Gunner-Spezialisierung verfügbar
Verwirrt alle NPCs innerhalb eures Radius – auch wenn sich die NPCs in Deckung befinden. Skill kann auch aufgeladen werden, um mehr Wirkung zu erzielen.

Im PVP wirkt sich die Fertigkeit störend auf die anderen Spieler aus, sodass sie ihre Fertigkeiten nicht einsetzen können.

Im PVP erhältt man auch eine Benachrichtigung, wenn der Skill aktiviert wird.
OFFICIAL THE DIVISION 2 - PLAY AS A GUNNER TRAILER
---
---
Mehr Infos zum Spiel, wie Patch Notes zu verfügbaren Updates, geplante Änderungen, Raids, Clans und mehr, findet ihr in unserer Themenübersicht (hier klicken). Folgt uns gerne auf Facebook, Instagram und Twitter, um künftig keine News mehr zu verpassen.