The Division 2: Vorschau auf Titel Update 5
Das Team von Massive ging heute näher auf die Änderungen ein, welche mit Titel Update 5 ihren Weg in "The Division 2" finden werden. Dazu zählen Anpassungen für Re-Kalibrierung, Blaupausen, Exotics, Buff für den Richtschützen, Upgrade für Craftingstation und mehr. Die Testserver werden am Montag online gehen. Die wöchentlichen Serverwartungsarbeiten finden außerdem morgen um 15 Uhr statt und betragen voraussichtlich drei Stunden. Es erfolgt unter anderem ein Reset für Holster, auf die das Dodge City Holster Talent übertragen wurde.
Loot in The Division
Massive ist sich der Kritik der Community bewusst und arbeitet derzeit an Verbesserungen für das Gear-System.
---
Title Update 5 / Episode 1 PTS
Testserver starten Montag.

Die neuen Inhalte werden in Phasen verfügbar gemacht, so das die spezifischen Inhalte ausführlich genug getestet werden können.

Der genaue Ablaufplan folgt zu einem späteren Zeitpunkt.
Wichtige Änderungen in der Übersicht:
Blaupausen
Der gesamte Blueprint-Pool von Inaya, den Projekten und Kontrollpunkten wird jetzt geshared. Wenn ihr also ein Projekt verpasst habt, könnt an den Kontrollpunkten darauf zugreifen.
Exotics
Heroische Bosse dropen Exotics

Es wird keine Stat-Downgrades mehr geben, wenn ihr ein exotischen Gegenstand auf GS 500 updated. Upgraded Exotics rollen auf Max-Level – Wenn ihr ein GS 500 Nemesis habt,  ist es das gleiche GS 500 Nemesis wie bei allen anderen.
Richtschützen Buff
Cassie Mendoza verkauft nun GS500 Items.

Darüber hinaus verkauft sie namhafte Items und Exotics.
Crafting Station Upgrade
Crafting Station kann auf GS 500 aufgerüstet werden.

Das Upgrade erfordert eine GS 490 Gun, GS 490 Ausrüstungsstück und Materialien.
Recalibration
Hergestellte Gegenstände können jetzt rekalibriert werden.
Flashlight
Flashlight Attachment für Pistolen.

Kann an bestimmten Orten gefunden werden.
Zwei neue Waffen

Zwei neue Waffen werden mit  Title Update 5 hinzugefügt.

Carbine 7 Assault Rifle

Stoner LMG

Beide erhalten neue Talente.

Diamond Back Leaver Action Rifle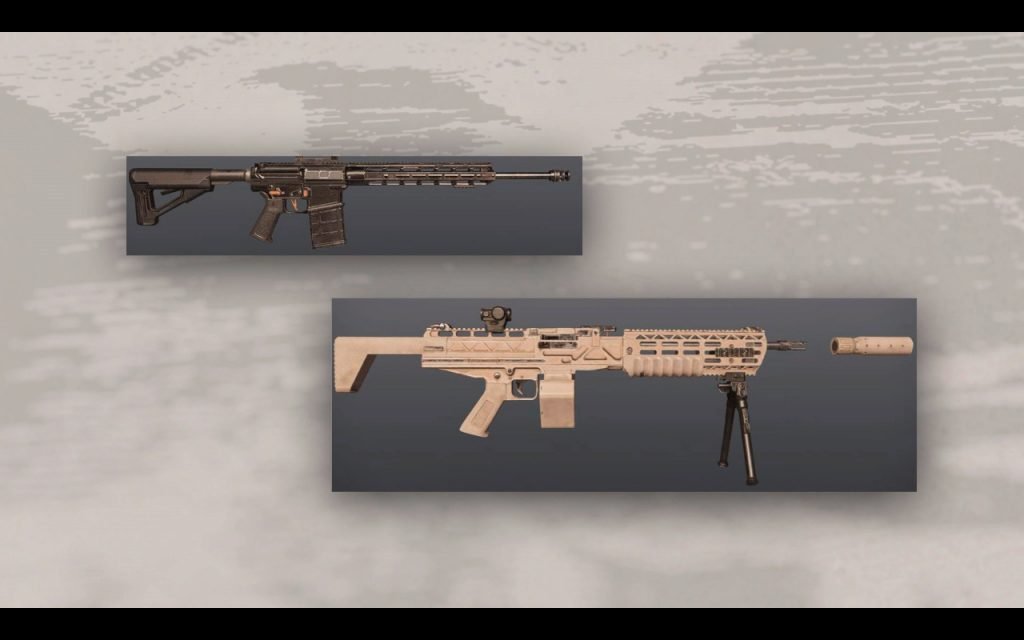 Neue Handschuhe
Neuer Exotischer BTSU (Black Tusk Special Unit) Handschuhe .
Spezialisiert auf hybrid Skill Builds (Offensive / Crowd Control Combos). Wenn ihr zwischen den Skills wechselt, erhaltet ihr sehr gute buffs.
Z.B. erhält der Remote Pulse einen Detoniereffekt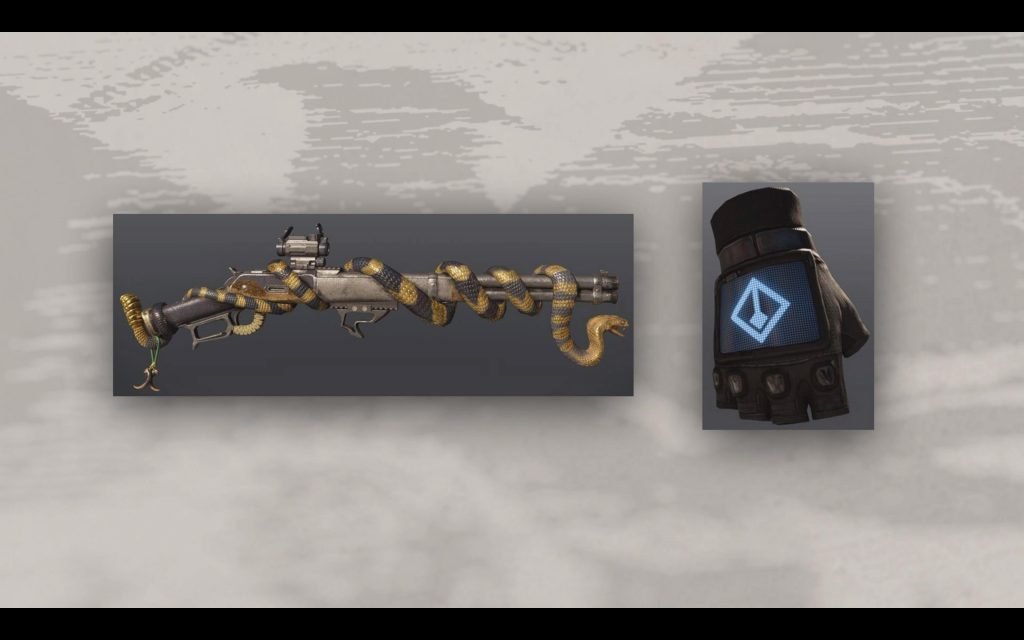 ---
Überarbeitung der Fertigkeiten
Massive hat alle Skills überarbeitet. Insbesondere, wie ihr mit Skill-Mods interagiert – wie sie gebufft und effektiver werden. Zu den erfolgreichsten Fertigkeiten zählten explosive Fertigkeiten – jetzt sind sie noch stärker, während die anderen wie das Geschütz oder Schild diesen ebenbürtig sind.
Absicht dahinter
Es begann im Wesentlichen mit dem Blick auf die DPS-Meta Daten und wie viel Schaden ihr mit Waffen anrichten könnt. Aktuell könnt ihr mit einem Sturmgewehr bis zu 3 Millionen Schaden pro Sekunde anrichten. Dieser Wert wurde dann als Maßstab genommen, um an den Skill Builds zu arbeiten, damit sie damit Schritt halten können. Das Ziel war nicht, die Waffen zu zerfetzen – sondern zu verstärken, eine 100%ige Fertigkeit, die darauf abzielt, bis zu diesem Level aufzubauen.
Was geändert wird
Gear Mods
Die Gear Mods erhalten einen großen buff im Bezug auf ihren Einfluss auf die Fertigkeiten:
Beispiel:
TU4: Eine 3k Skill Power Turret Mod wird den Schaden auf 25-30% verstärken.
TU5: Eine 3k Skill Power Turret Mod wird den Schaden auf 150% verstärken.
Abklingzeitverringerung wird zu Fertigkeitstempo
Massive hat auch einen Blick auf die Effektivität des aktuellen Cooldownsystem geworfen. Es war sehr einfach einen Skill Cooldown von 90% zu erhalten und den Cooldown so auf 10 Sekunden zu bekommen. Dies sieht man als Problematische Situation. Daher wurde die Verringerung des Cool-downs zu Fertigkeitentempo. Das Fertigkeitentempo geht weit über 100% und führt zu einem gesünderen System, welches sich auch langfristig positiv auf die Gesundheit des Spiels auswirkt.
Cooldown Reduction bei allen Gegenständen in Fertigkeitentempo umbenannt.

Die sktuellen Werte werden um 33% verstärkt.

Es wird außerdem starke Fertigkeitstemp Mods geben – Wenn ihr z.B. eine Fertigkeitenstärke von 3K  besitzt, könnt ihr bis zu 200% Fertigkeitentempo erreichen.
Verstärkter Schaden für Fertigkeiten
Um mehr Schaden gegen NPCs zu erreichen, wurde auch der Fertigkeitsschaden erhöht – sogar noch bevor die buffs der Spezialisierung dazu addiert werden. Wenn ihr eine Fertigkeitenstärke von 3k erlangt habt, könnt ihr also eignes mehr an Schaden ausrichten, auch mit herausfordernder Schwierigkeitsstufe. Bei heroisch benötigt ihr aber immer noch mehr Geduld.
Waffen sind auch weiter brauchbar
Auch mit den Buffs für die Fertigkeiten sind eure Waffen immer noch eure gefährlichsten Mittel. Ziel dieser Änderungen ist es nicht "Waffen-Builds durch Fertigkeiten-Builds zu ersetzen", sondern sie zu einer praktikablen Option auf dem Schlachtfeld zu machen.
Schildskills haben auch Buffs erhalten, um sie mehr zu einer Option im Kampf zu machen.
---
Known Issues
Special Ammo Pickup – Still has issues in some cases, that is being investigated.
150 Special Ammo Bug – They are aware of that issue and are working on it.
Long Loading Times and error codes when login:  There is an issue where you have long loading times – they are working on a fix. When you have an Oscar 03 error, try to download the patch over another internet connection.
Foxtrot Errors: There seems to be an issue with servers on the west coast of the US. They are working on that.
Players locked in place when dying while locked down: There is an issue that you can't move when you died while locked down with Riot Foam (for example). They are working on that.
Increased Difficulty: Some players reported increased difficulty. That is being investigated.
Special ammo from killing animals: That is a bug and will be addressed.
---
---
Mehr Infos zum Spiel, wie Patch Notes zu verfügbaren Updates, geplante Änderungen, Raids, Clans und mehr, findet ihr in unserer Themenübersicht (hier klicken). Folgt uns gerne auf Facebook, Instagram und Twitter, um künftig keine News mehr zu verpassen.