The Last of Us Part II: Neuer Trailer veröffentlicht; Release im Feburar 2020 bestätigt
Sony enthüllte heute im Rahmen der State of Play Show einen neuen Trailer zu "The Last of US Part II". Darüber hinaus wurde der Release Termin bekannt gegeben. The Last of Us Part II erscheint am 21. Februar 2020 exklusiv auf Playstation 4. Eine Übersicht zu den kommenden Editionen wurde ebenfalls enthüllt. Nachfolgend findet ihr den Trailer, ein Statement von Sony und eine Übersicht zu den geplanten Editionen.
Ím Statement heißt es:
Seit über fünf Jahren arbeiten wir jetzt an diesem Spiel. Der Druck, der nach dem ersten Spiel auf uns lag, lässt sich nur schwer beschreiben. Wir wissen, wie sehr ihr diese Welt und ihre Charaktere liebt – ganz besonders Ellie und Joel. Glaubt mir, wir sind Fans, genau wir ihr. Wir lieben sie. Deswegen haben wir jahrelang daran gearbeitet, ein Spiel zu erschaffen, das all dem gerecht wird und eine differenzierte Geschichte erzählt, eine Geschichte, die sich mit der Kernfrage beschäftigt:

Wie weit würdet ihr gehen, um den Menschen Gerechtigkeit widerfahren zu lassen, die euren Liebsten Leid zufügen?

Es ist eine überaus emotionale Geschichte mit komplexen Themen, die sich in die Welt von The Last of Us fügen. Schon sehr früh haben wir festgestellt, dass wir hier am ehrgeizigsten und längsten Spiel in der 35-jährigen Geschichte von Naughty Dog arbeiten. Um so eine Geschichte erzählen zu können, muss das Spiel gewaltige Ausmaße annehmen. Ohne jetzt zu viel verraten zu wollen, zeigt auch dieser brandneue Trailer, der heute bei State of Play seine Premiere feierte, nur die Spitze des Eisbergs – das Spiel hat noch so viel mehr auf Lager:
The Last of Us Part II | Release-Date Trailer | PS4
Neben dem Trailer freuen wir uns auch, die verschiedenen Editionen des Spiels bekannt zu geben, darunter die The Last of Us Part II Standard Edition, Special Edition, Digital Deluxe Edition und Collector's Edition. Zusammen mit PlayStation haben wir daran gearbeitet, aus diesen Versionen etwas ganz Besonderes zu machen, daher bieten sie Inhalte und Gegenstände aus dem Spiel sowie von den Charakteren.
Collector's Edition:
Sie beinhaltet eine wunderschöne Ellie-Figur (12 Zoll, 30cm), eine lebensgroße Nachbildung von Ellies Armring, eine spezielle SteelBook-Hülle, ein 48-seitiges Mini-Artbook von Dark Horse, ein Set aus sechs Emaille-Ansteckern, ein Lithografie-Grafikdruck sowie ein fünfteiliges Sticker-Set. Mit der Collector's Edition erhaltet ihr außerdem einen Gutschein für digitale Inhalte, darunter ein dynamisches Design für PlayStation 4, ein Set aus PSN-Avataren, einen digitalen Soundtrack und die digitale Version des Mini-Artbooks.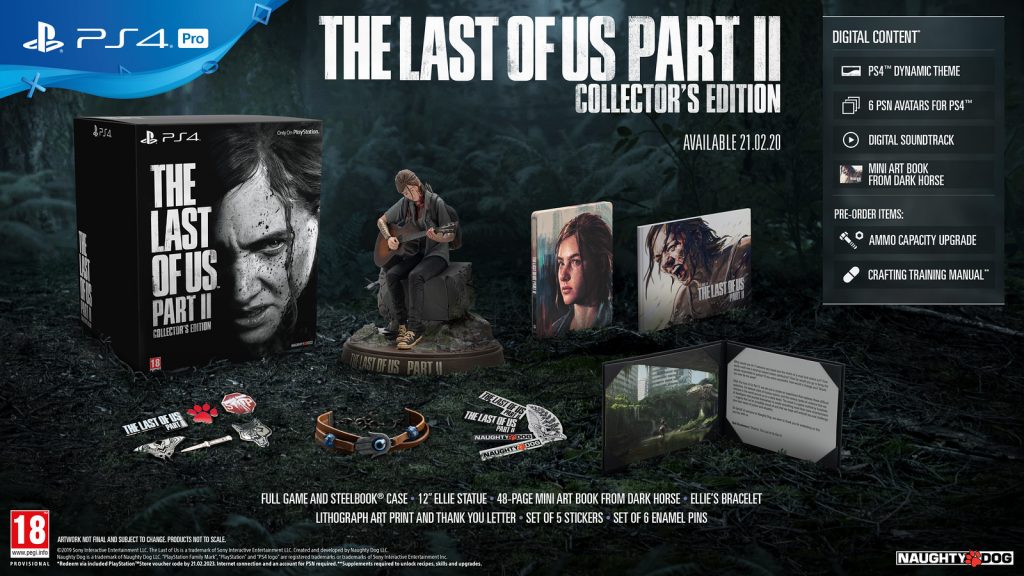 Special Edition
Die Special Edition hat ein spezielles Stellbook Case und alle digitalen Inhalte die auch in der Collector's Edition zu finden sind.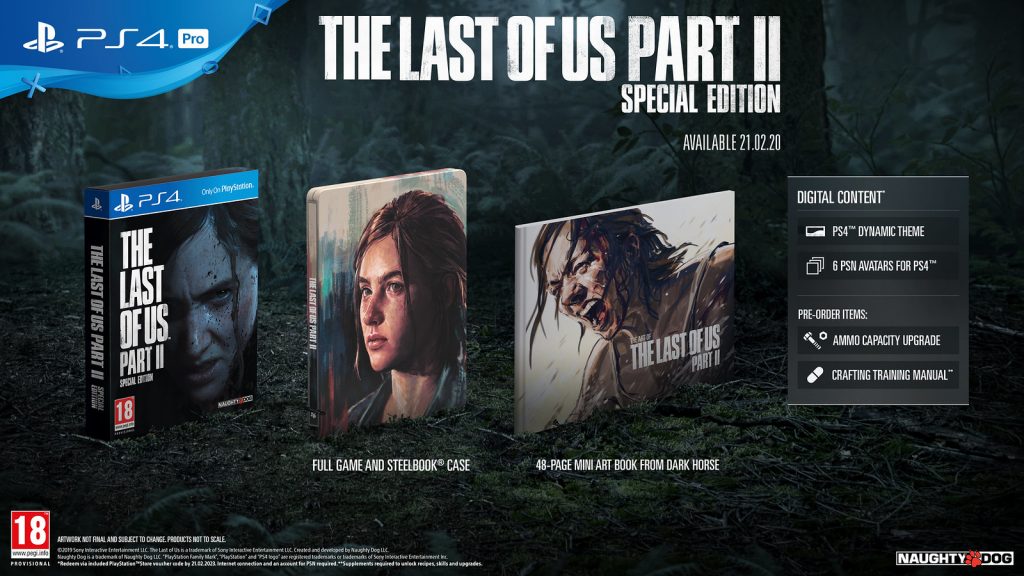 Digital
Für alle, die es lieber digital mögen, haben wir die Digital Deluxe Edition. Sie beinhaltet die oben bereits erwähnten digitalen Inhalte sowie eine digitale Version der Standard Edition. Wenn ihr eine dieser Versionen im PlayStation Store vorbestellt, erhaltet ihr sofort einen PSN-Avatar für The Last of Us Part II mit Ellies Tattoo.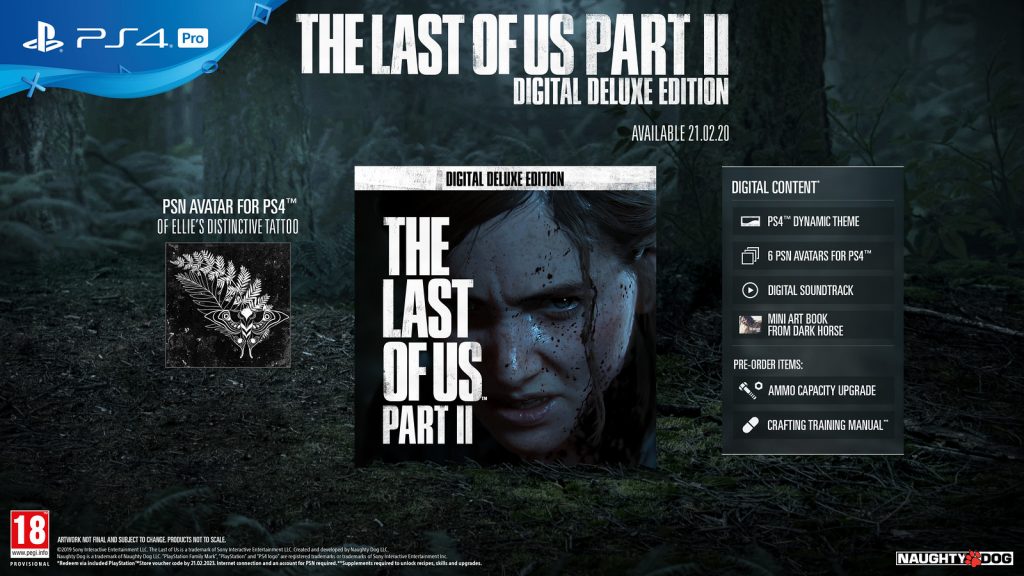 Vorbestelller Boni
Übrigens: Egal welche Edition ihr vorbestellt, direkt bei Erscheinen der Vollversion schaltet ihr dadurch zwei Funktionen im Spiel frei:
Munitionskapazität-Verbesserung: Schaltet sofort die Munitionskapazität-Verbesserung für Ellies Pistole frei.
Fertigungshandbuch: Schaltet sofort das Fertigungshandbuch frei, das Zugriff auf neue Rezepte und Verbesserungen gewährt.
---
---
Folgt uns gerne auf Facebook, Instagram und Twitter, um künftig keine News mehr zu verpassen. Wer auf der Suche nach einer Community ist, kann gerne in der Gruppe "The Last of Us 1+2 German" vorbeischauen.