The Last of Us Part II: Aus Mulitplayer Modus wird neues Projekt; Weitere Details zu Gameplay-Neuerungen
Wie wir euch bereits gestern berichteten, wurde der Multiplayer Modus von "The Last of Us Part II" gestrichen. Dies geschah zugunsten der Story. Das Team von Naughty Dog hat sich nun in einem Statement gemeldet und erklärt, dass man den Mehrspieler-Modus zwar aus "The Last of Us Part II" entfernt hat, aber dieser in einem neuen Projekt Verwendung finden soll. Der Modus wurde einfach zu ambitioniert und es hätte das Team zu viel Zeit gekostet, die dann bei der Arbeit an der Geschichte verloren gegangen wäre. Einen Termin für das neue Projekt, sowie erste Details dazu gibt es allerdings noch nicht.
An update regarding multiplayer: pic.twitter.com/CUd98LgJGC

— Naughty Dog (@Naughty_Dog) September 27, 2019
Neue Gameplay Featues
Naughty Dog hält auch viele Neuerungen und Verbesserungen für "The Last of Us Part II bereit. Unter anderem wurde die KI deutlich verbessert. Das merkt man z.B. daran, dass eure Verbündeten nun viel Hilfreicher sein werden. Zudem werden sie auch in der Lage sein, sich besser durch die Umgebung zu bewegen und zu schleichen. Sie bleiben im verborgenen und stehen euch nicht mehr im Weg. Die Grundlage der verbesserten Buddy-KI wurde mit Uncharted 4 gelegt. Auch die gegnerische KI hat viele Verbesserungen erhalten, was dazu führt, dass sich die Gegner nicht mehr so einfach überwältigen oder aus der Deckung heraus eliminieren lassen.
Verbessertes Movement
Neben der Verbesserten KI gibt es ebenfalls verbesserungen für euren Charakter. Wie ihr bereits wisst, spielt ihr in "The Last of Us Part II" als Ellie. Sie wird viel beweglicher sein. Ihr könnt springen, um höhere Vorsprünge zu erreichen oder kleine Abgründe zu überqueren. Darüber hinaus könnt ihr gegnerischen Nahkampfangriffen auszuweichen. Auch neu ist das "sich zu boden werfen", um schnell aus dem Blickfeld der Gegner zu verschwinden, durch enge Lücken zu kriechen oder unauffällig zu bleiben. Mit dem neuen analogen Schleichsystem von The Last of Us Part II schleicht ihr durch hohes Gras, um patrouillierende Gegner zu überraschen oder Verfolgern zu entkommen
Wachhunde und neue Infizierte Gegener
In "The Last of Us Part II" warten auch neue infizierte Gegner und Wachhunde auf euch. Die ausgebildeten Wachhunde haben Hundeführer und sind auf Streife. Sie können eure Witterung aufnehmen und eure gut durchdachten Plänedurchkreuzen. Einzelne Hunde sind ohne ihr Herrchen schwer im hohen Gras auszumachen, deshalb ist es nicht immer ratsam die Herrchen zu eliminieren. Man soll die Passagen auch komplett abschließen können, ohne Hunde zu töten.
Bei den neuen infizierten handelt es sich um Shambler. Diese sind furchterregende, wandelnde Eiterhaufen, die gasförmige Säure auf euch spritzen, wenn ihr euch nähert, und Unmengen an Schaden einstecken können. Wenn sie erledigt werden, explodieren diese eitrigen Monster mit enormer Kraft. Sie sind schneller, als sie aussehen, und bieten einen fürchterlichen Anblick.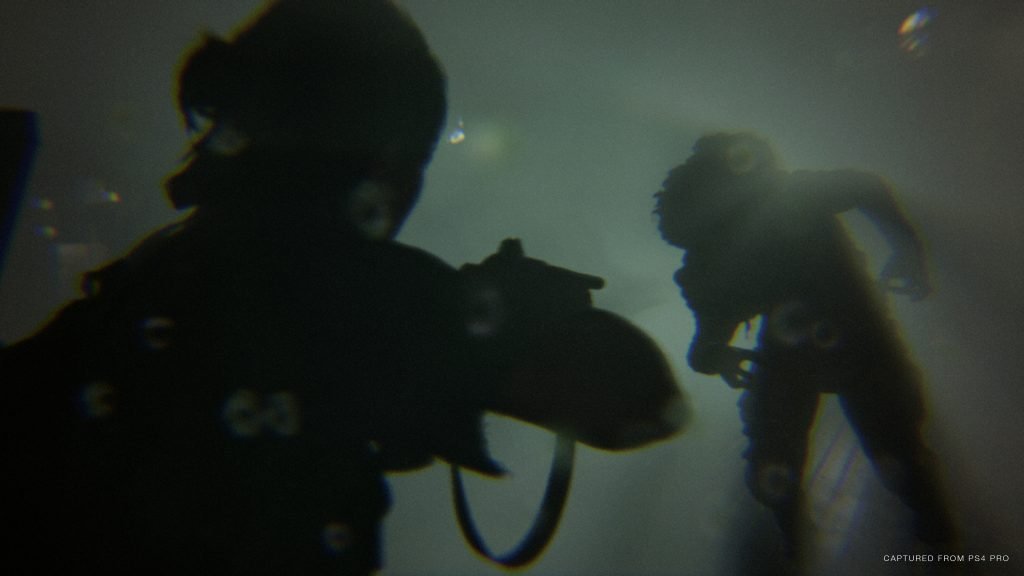 Neue Fähigkeiten
Eine weitere Neuerung in "The Last of Us Part II" sind Pfade für Fähigkeitsverbesserungen. Euch stehen nun mehrere zur Verfügung, um Ellie dem ganz eigenen Spielstil anzupassen. Überleben konzentriert sich auf Gesundheitsverbesserungen, erhöht die Reichweite des Lauschmodus sowie die Wurfdistanz. Mit Fertigung kann Ellie Nahkampfverbesserungen vornehmen, Schockbomben mit Rauch ergänzen und ihre Fertigungsgeschwindigkeit erhöhen. Tarnung erhöht das Bewegungstempo in Bauchlage, beschleunigt lautlose Kills und schaltet Pistolenschalldämpfer frei.
The Last of Us Part II erscheint am 21. Februar 2020 exklusiv auf Playstation 4. Weitere Infos zum Spiel findet ihr in unserer Themenübersicht (hier klicken). Folgt uns gerne auf Facebook, Instagram und Twitter, um künftig keine News mehr zu verpassen.
---
---