Project xCloud: 50 Neue Spiele, neue Partner, start in Westeuropa 2020, support für Sony Dualshock 4 Controller & mehr
Auf der X019 gab es neue Informationen zu Project xCloud, dem Streamingdienst von Microsoft. Die verantwortlichen teilten mit, dass man vor hat, den Service nach und nach auf andere Systeme auszuweiten. Zunächst wird neben IOS und Android auch Windows 10 den Dienst unterstützen. Weitere Plattformen sollen folgen. Welche das sind, wurde jedoch noch nicht verraten.
Xbox Game Pass wird Teil von xCloud, weitere Partnerchaften & mehr
Außerdem wird auch der Xbox Game Pass Teil von Project xCloud. Ihr könnt also neben all euren digital erworbenen Spielen auch das Line Up aus dem Games Pass auf jedem Gerät streamen. Zudem hat Microsoft weitere Partnern wie EA, Sega, THQ Nordic, 2K, BigBen, Team 17 und mehr gefunden, die Titel für den Dienst verfügbar machen werden.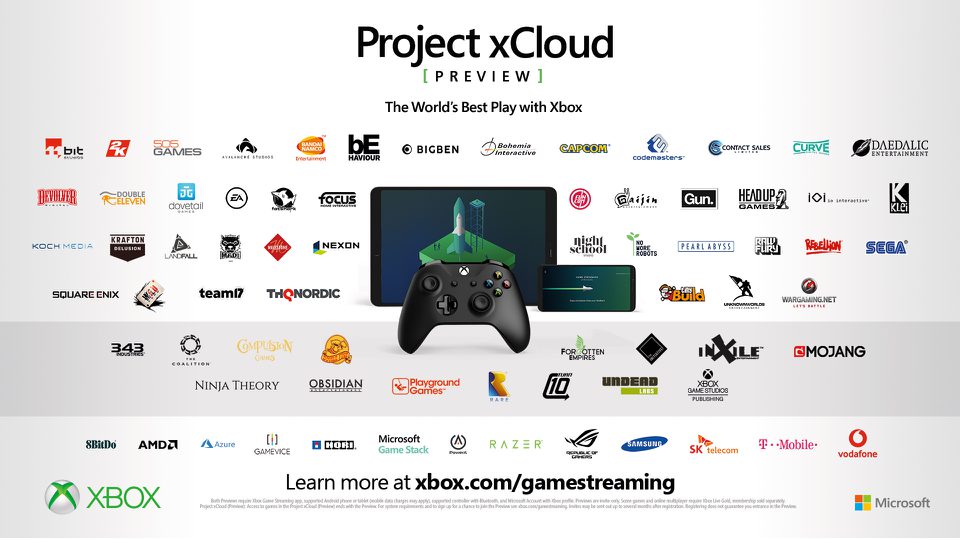 Mehr als 50 neue Spiele
Auf dem Event wurde auch Zuwachs für die xCloud Bibliothek angekündigt. Ihr dürft euch auf über 50 neue Spiele freuen und der Katalog wird kontinuierlich erweitert. Neben Titeln der Xbox Game Studios wie Gears 5, Forza und Halo warten dann auch Spiele wie Devil May Cry 5, Tekken 7, World War Z, Madden NFL 20, Soulcalibur VI, Dark Siders 3 und Ori and the Blind Forest: Definitive Edition und viele mehr.

Nutzung von Dualshock 4 & Razer Controllern
Um den Spielern auch bei den Eingabegeräten die freie Wahl zu lassen, wurden weitere Bluetooth-Controller, unter anderem Modelle von Razer und Sony's Dual Shock 4 Controller kompatibel gemacht, und können nun ebenfalls verwendet werden.
Folgt uns gerne auf Facebook, Instagram und Twitter, um künftig keine News mehr zu verpassen.