Modern Warfare: Start von Season #1 am 3. Dezember; 7 neue Karten, 4 Spec Ops Missionen, 3 Modes & 2 Waffen
Infnity Ward hat die erste Saison für "Call of Duty: Modern Warfare" nun offiziell angekündigt. Euch erwartet der größte Content Drop in der Geschichte des Franchise. Insgesamt stehen mehr als sechs neue Mehrspielerkarten, verteilt auf alle Modi auf dem Plan. Darüber hinaus verspricht die Roadmap vier neue Spec Ops Missionen, drei neue Modi und zwei neue Waffen. Nachfolgend findet ihr eine vollständige Übersicht der neuen Inhalte. Infnity Ward teilte mit, dass manche Inhalte nicht sofort zum Start der Saison verfügbar sind, sondern erst im Laufe der Saison integriert werden. Auch sollen weitere, noch unangekündigte Inhalte im Laufe der Saison folgen.
---
---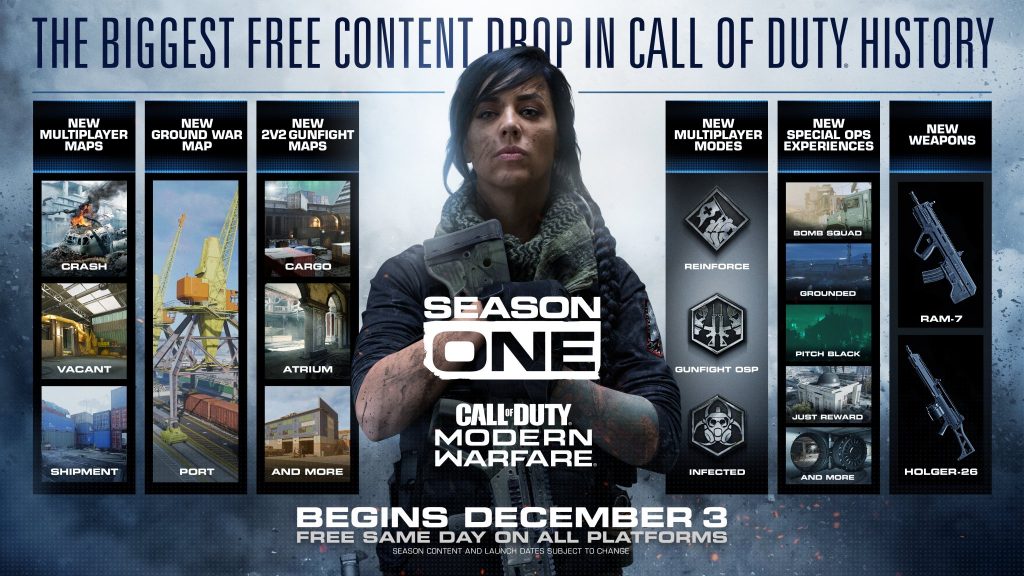 Zwei neue Operator: Mara und Nikto
Neue Ausrüstung (Gas Barrel)
Neur 6v6 MP Maps:
Neue Bodenkrieg Map

Neue 2v2 Feuergefecht Maps

Neue MP Modes:

Reinforce – Mix aus Herrschaft und SuZ. Jeder Spieler hat nur ein Leben und man Kämpft um die Kontrolle der Flaggen.
Gunfight OSP – man startet unbewaffnet und muss die Waffen auf der Karte finden.
Infected – Man spielt als Jäger oder ist der gejagte.

Neue Special Ops Missionen:
Bomb Squad – Barkovs Truppen haben Sprengstoff in die Stadt Al-Raab platziert. Ihr müsst die Situation entschärfen.
Grounded – Feinde haben Barkovs ehemaligen Luftwaffenstützpunkt erobert. Setzt euch ihnen entgegen und eliminiert sie.
Pitch Black – Infiltriert Barkovs ehemaliges Anwesen und stellt alle erforderlichen Informationen wieder her, bevor ihr einen Tactical Rover einsetzt.
Just Reward – Ihr habt es darin auf den Kopf einer feindlichen Finanzoperation abgesehn, hackt deren Rechenzentren und gewinnt Informationen.
und mehr

Neue Waffen

RAM-7 – Ein Bullpup-Sturmgewehr mit integrierten Picatinny-Schienen auf 3, 6 und 9 Uhr.
Holger-26 – LMG-Ausführung des Holger-Modellgewehrs mit integrierter Visierschiene und Trommelmagazin für zusätzliche Munitionskapazität.
Das Update für Season #1 erscheint am 3. Dezember auf Xbox One, PS4 und dem PC. Mit der neuen Saison wird auch eine neue Variante des Battle Pass eingeführt. Dieser kommt ohne Lootboxen und enthält kosmetische Items, die über das Gameplay erspielt werden können. Der Battle Pass erscheint in einer Free und einer premium Variante.
Neuer Battle Pass
Es wird ein neues Battle Pass System eingeführt, ohne Lootboxen
Alle funktionellen Items wie Waffen und Aufsätze können über Gameplay freigespielt werden.
Das neue Battle Pass System lässt euch sehen, welche Inhalte ihr freispielen und welche ihr kaufen könnt. Der Pass ist abgestimmt auf Post Launch Seasons und enthält zum Thema der Saison passende Items.
Ihr verdient mit dem neuen neuen Battle Pass System "COD Punkte" beim spielen.
Es wird einen kostenlosen Stream und einen Premium Stream geben. Neue Waffen und Aufsätze werden über Gameplay freigespielt.
Der Battle Pass und der Store beinhalten nur kosmetische Gegenstände, die keine Auswirkung auf die Spielbalance haben.
Die Call of Duty Punkte, die ihr im Spiel verdient, können genutzt werden, um den Premium-Pass zu erwerben. Mit dem Start der ersten Saison erwarten euch neue Operatoren, Karten, Modi, Rufzeichen, Exekutionen, Uhren für euren Operator, Waffencharms und vieles mehr. Alle Inhalte werden zeitgleich auf allen Plattformen erscheinen. Ein genaues Datum für den Start der ersten Saison wird noch angekündigt.
---
---
Stay in touch
Weitere Leaks und Infos zum Spiel findet ihr in unserer Themenübersicht (hier klicken). Folgt uns gerne auf Facebook, Instagram und Twitter, um künftig keine News mehr zu verpassen. Wer auf der Suche nach einer Community ist, kann gerne in unserer Facebook Partnergruppe "Call of Duty Germany" vorbeischauen. Hier findet ihr Hilfestellungen, neue Mitspieler und vieles mehr.